Putin 21-Year Quest to Be Russian Guardian Began in Estonia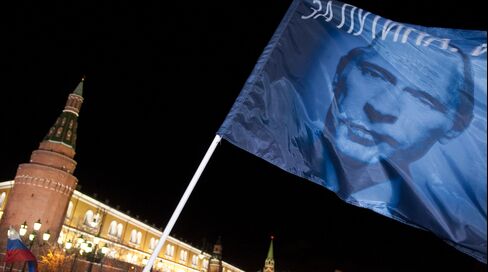 Two decades before seizing Crimea, Vladimir Putin showed his willingness to challenge the post-Cold War order in defense of Russians in Estonia, a country now bracing for the possibility he may go even further.
In 1993, as the St. Petersburg official running foreign affairs, the former KGB colonel helped the Russian majority in the Estonian border city of Narva approve a referendum on autonomy that was later struck down as unconstitutional, according to Vladimir Chuykin, who then headed the city council.
A unit of pro-Russian Cossacks, who once policed the tsarist empire by horse, had amassed on the Russian side of the Narva River before the ballot. Its organizers, who wanted a "clean" referendum, feared bloodshed if they were allowed to cross, Chuykin, 62, said in an interview.
"I held talks with Putin about the need for Russia to close its border so these guys couldn't come here," Chuykin said. "I knew Putin and his boss, Mayor Anatoly Sobchak, and they arranged a meeting for me with basically the KGB. We agreed that no 'third forces' would be allowed to interfere."
'Genuine Tragedy'
Unlike Crimea's vote to join Russia and Putin's annexation of the Ukrainian peninsula, which the U.S. and the European Union declared illegal, the Narva initiative didn't have the backing of the Kremlin, so there was no outside pressure to grant Russians greater autonomy, Chuykin said. That experience may have helped shape Putin's approach to helping Russians throughout the former Soviet Union, which became a foreign policy priority after he was elected president in 2000.
"Putin, surely, is the main guarantor of the security of the Russian world," the president's spokesman, Dmitry Peskov, said on state television last month. "And Putin has rather unambiguously stated that."
In 2005, after winning a second presidential term, Putin told the nation that the Soviet collapse in 1991 was a "genuine tragedy" for the Russian people.
"Tens of millions of our fellow citizens and countrymen found themselves beyond the fringes of Russian territory," Putin said at the time.
Pro-Russia Separatists
Since Ukraine's Kremlin-backed leader, Viktor Yanukovych, was deposed during bloody protests in February, Putin has pushed for greater autonomy for Russian-majority regions in eastern Ukraine. He's also won parliamentary approval to use force as needed to protect Russians inside Ukraine, setting off alarm bells in Estonia and other former communist colonies with sizable Russian minorities.
Protests by pro-Russian separatists in eastern Ukraine escalated yesterday near Slovyansk, about 240 kilometers (150 miles) from the Russian border. Camouflaged gunmen fired on troops during an anti-terror operation, killing one serviceman and wounding five, the government said.
European Union foreign ministers, meeting today in Luxembourg, said the bloc should be prepared to impose a third round of sanctions, including economic measures, as armed separatists in eastern Ukraine ignored a deadline to free official buildings they've occupied. Russian Foreign Minister Sergei Lavrov denied his nation is involved.
"We should have no illusions about Russia having detailed plans on protecting the rights of Russian-speakers and Russian citizens in the Baltics, mirroring those carried out in Crimea," said Vladimir Jushkin, who heads the Baltic Center for Russian Studies in Tallinn.
In 2012, when Putin won a third term in the Kremlin, Jushkin predicted he would send troops into Crimea or Narva on the pretext of defending Russians.
Compatriot Program
During that election campaign, Putin published an article in Moskovskiye Novosti saying Russia needed to "increase by an order of magnitude" its educational and cultural activities around the world, "particularly in countries where part of the population speaks Russian or understands it."
After his victory that March, Putin signed a decree boosting funding for the Foreign Ministry and other government agencies to increase protection for Russian citizens and compatriots who live abroad. He also said the role of Russians abroad needed to be "completely rethought."
"Many want to be useful to their historic home country, want to support it, but our foreign institutions still occasionally -- I want to put it carefully -- fail to appreciate such an attitude and such possibilities," Putin told a group of Russian ambassadors in July 2012, according to a transcript of the meeting posted on his website.
Empire Threat
The ethnic divisions that lead to the Narva referendum have never fully healed. That's led native Estonians, who make up 70 percent of the population and just 4 percent of Narva's 63,000 residents, to grow increasingly concerned that Putin's moves in Ukraine may be a prelude to something similar in their country, even though its been a NATO and EU member since 2004.
Putin's policy of promoting hostility toward the government among Russian-speaking Estonians is a threat to the country's constitutional order, said Arnold Sinisalu, the head of the Estonian Internal Security Service.
"The events in Ukraine have opened the eyes of many to the true goal and nature of the Russian compatriot policy," Sinisalu said in the foreword to his agency's annual report, published today. "Russia wants to expand the Russian empire using Russian-speaker residents as one of its tools."
Estonian President Toomas Ilves and Latvian Foreign Minister Edgars Rinkevics have likened Putin's seizure of Crimea to the Soviet Union's agreement with Nazi Germany that paved the way in 1940 for the Red Army to retake the three Baltic states, which had been independent since 1918.
Putin's Father
During World War II, Putin's father Vladimir was almost killed when his paramilitary unit was "betrayed" by native Estonians during a mission behind the front lines west of St. Petersburg, according to "First Person," a book of Putin interviews published in 2000.
"Father was forced to breathe through a straw submerged in a swamp," Putin said in the book. Only four of the 28 soldiers in the unit survived.
That ordeal led Estonia's Foreign Ministry to conclude that "Putin has a personal gripe with Estonia," according to a secret 2009 cable published by Wikileaks.
Russia has repeatedly condemned Estonia and neighboring Latvia for violating the rights of their Russian-speaking minorities. The two countries must fulfill recommendations from international groups such as the Organization for Security and Cooperation in Europe to end the "shameless" phenomenon of "statelessness," Foreign Minister Lavrov said Feb. 18.
Citizenship Denied
When Latvia and Estonia, with 2.1 million and 1.3 million people each, respectively, regained independence in 1991, they didn't grant citizenship automatically to people who moved there during the Soviet era, classifying them as either non-citizens or stateless.
Latvia has about 46,000 Russian citizens and 291,000 non-citizens, while Estonia has 95,000 Russian citizens and 91,000 stateless people, government data show. The third Baltic state, Lithuania, which has fewer Russians among its population of 3 million, granted everyone citizenship after independence.
While membership in the EU and the U.S.-led North Atlantic Treaty Organization hasn't stopped Putin from punishing the Baltic states through measures such as trade sanctions, the three countries were included in NATO's military planning after Russia's 2008 war with Georgia to defend two breakaway regions. The alliance initiated military exercises in the Baltics in 2010 to counter Russia's annual war games.
Troop Buildup
Russia started amassing troops on its Baltic borders in 2009, increasing the contingent to almost 100,000 from 16,000, then-Estonian Defense Minister Urmas Reinsalu said last September. It's also built a landing strip for jet fighters in Belarus, near Lithuania's border, and a helicopter base in Ostrov, near the Latvian border, Latvian Defense Minister Artis Pabriks said then, according to the Latvijas Avize newspaper.
The standoff over Ukraine and Putin's decision last month to deploy about 150,000 soldiers for snap military drills on Russia's western frontier prodded NATO to bolster air defenses in the Baltic states for the first time since 2004, when they joined the military bloc. The U.S. deployed six warplanes to Lithuania on March 6, expanding its squadron to 10, and added another dozen in Poland.
"There is a deep apprehension that Moscow may invade eastern and southern Ukraine, pressing west to Transnistria, and also seek land grabs in the Baltics," Republicans on the U.S. House Armed Services Committee said in an open letter to President Barack Obama on March 26.
Back in Narva, it's hard to find anyone that wants to be part of Russia again, unlike in Crimea, Mayor Eduard East said, adding that media speculation about the likelihood of another referendum is "insulting" to residents who are now part of Estonian society.
"The fact that some people don't share all the political views of most Estonians is a normal thing," East said. "We don't need a society where only one opinion is allowed."
Before it's here, it's on the Bloomberg Terminal.
LEARN MORE