Libya Rebels Report Accord 'in Principle' to Reopen Ports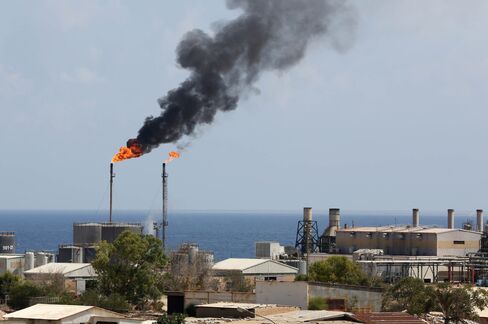 The prospects for a recovery in Libyan oil exports moved closer after rebels blocking shipments from the country's east said they agreed in principle with the government to allow a resumption.
The rebels' Executive Office for Barqa, representing the eastern region of Cyrenaica, reached an accord that four terminals halted since July can reopen, Ali Al-Hasy, a spokesman for the group, said April 2. Barqa politicians indicated the ports could operate within 24 to 48 hours, Sliman Qajam, a member of the energy committee in Libya's government, said by phone yesterday from Tripoli, the capital.
Libyan oil production plunged by more than 1 million barrels a day in the past year as protests halted oil fields and ports. Brent crude futures, used to price more than half of the world's oil, are near the lowest level since November amid speculation that the export terminals may re-open, adding to supply. The Barqa group is led by Ibrahim Al-Jedran, a former commander in the Petroleum Facilities Guard, which is responsible for protecting oil installations for the government.
"Jedran is under pressure to show that he can deliver energy income to his constituency," Firas Abi Ali, a London-based analyst at IHS Country Risk, a consulting firm, said by phone today. "This is likely to force him to agree to some interim solution that grants the Barqa region some energy income in exchange for reopening the ports."
The central government hasn't confirmed the agreement in principle, and this isn't the first time eastern rebels have said exports could resume. Al-Jedran's brother and aide, Salem, said last month that the ports could reopen "very soon," and the group made similar comments in November. Al-Hasy denied local press reports that there's already a plan in place to hand over Zueitina, one of the closed ports.
Narrowing Spread
The prospect of additional Libyan supply eroded Brent's premium to West Texas Intermediate, the U.S. oil benchmark, to its narrowest level in six months, according to analysts at Natixis SA and Commerzbank AG. The spread shrank for a sixth day on April 2, closing at $5.17, the narrowest since Oct. 2.
Al-Jedran's forces closed four of the North African nation's nine export terminals in July, including Zueitina and Es Sider, Libya's largest with a capacity to load 300,000 barrels a day. His group failed in an attempt to export crude last month after the U.S. Navy captured a tanker that loaded oil at Es Sider and turned it over to the central government.
Al-Hasy, the rebel spokesman, said he hopes the government delegation that negotiated the April 2 agreement will return in a few days with official confirmation of the accord. The deal provides for the rebels to end their blockade of the ports in return for the government's withdrawal of a threat to use military force to expel them from the facilities, he said.
The accord includes provisions for an audit to be conducted on crude sales managed by central authorities over the past three years and for the two sides to agree on "an oil-export mechanism," Al-Hasy said.
Pricing In
Libya, a member of the Organization of Petroleum Exporting Countries, pumped about 250,000 barrels a day of crude last month, according to a Bloomberg survey of companies, producers and analysts. It produced 1.4 million barrels daily a year earlier.
"Libya is a fresh input which is starting to be priced in, but not fully priced yet," Olivier Jakob, managing director of Zug, Switzerland-based researcher Petromatrix GmbH, said by e-mail yesterday. "It wasn't a factor in the weakening of the Brent structure the last 10 days but will now become a factor and maintain the pressure."