Notorious Former Coal Chief Makes His Case for Vindication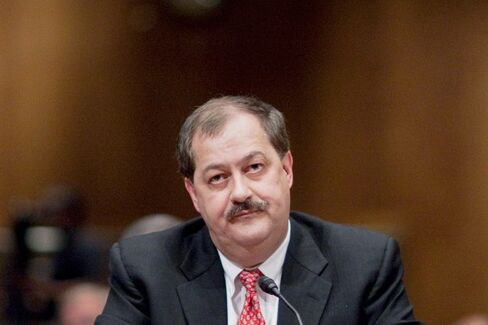 Whatever else you might say about Don Blankenship, the union-busting former chief executive of Massey Energy, a coal company notorious for putting workers at risk, grant the man this: He's got chutzpah.
To mark the four-year anniversary on Saturday of the explosion at Massey's Upper Big Branch mine in West Virginia's Raleigh County—a disaster that killed 29 men in the worst coal accident in nearly 40 years—Blankenship has released a documentary absolving himself of blame and spewing venom toward regulators and political enemies. The 51-minute video, Upper Big Branch: Never Again, became available this week, and Blankenship visited Bloomberg Businessweek this morning to promote it.
Back in 2011, West Virginia—a state notably sympathetic toward the coal business—placed primary responsibility for the Upper Big Branch conflagration on a Massey corporate "culture in which wrongdoing became acceptable, where deviation was the norm." Speaking so softly he was difficult to hear, Blankenship, 64, called that conclusion baloney.
Under his leadership, he said, Massey stressed miner safety above all else. The 2010 explosion resulted from a previously unprecedented natural gas "inundation" of the mine that could not have been anticipated, he added. "Don Blankenship, the man directly blamed for this tragic accident, believes he has always done his best to live up to his responsibility to miners' safety," the narrator of Blankenship's film says.
Judging from his unruffled demeanor and unwavering refusal to concede any culpability, Blankenship does indeed believe what his self-funded video declares. His challenge is that a lot of other people will continue to view Upper Big Branch in the context of the rest of his industry career. He retired in 2011 after Alpha Natural Resources acquired Massey.
For evidence of the resistance Blankenship faces, one need look no further than U.S. Senator Joe Manchin, the West Virginia Democrat whose enthusiasm for his home state's coal industry knows no rivals on Capitol Hill. The Blankenship film includes numerous excerpts of an interview with Manchin, who appears to support the documentary's point of view. On Monday, however, Manchin called the video "propaganda" and said he was tricked into participating. "Had I known the film was in any way associated with Don Blankenship, I would have never agreed to the interview," the senator said in a statement.
Asked about Manchin's objection, Blankenship said mildly that he didn't understand what the senator is so upset about. Why, Blankenship asked, would knowing the purpose or financing of the film have affected what Manchin had to say? Blankenship said he had hired a Virginia company called Adroit Films to interview Manchin and others depicted in the video and said he was not involved in Adroit's production. Blankenship said he viewed only the finished product.
Multiple government and independent investigations concluded that the Upper Big Branch disaster grew out of a pattern of company violations of official safety standards for mine ventilation and the control of explosive coal dust. Those failures contributed to ignition of methane gas and a massive explosion, according to the official findings.
In contrast, Blankenship and various experts interviewed in his film say the forensic evidence points to an accidental release of natural gas that Massey couldn't have expected. "I don't think any coal company had ever focused on a natural gas release," Blankenship said in the interview. He stressed that the purpose of his video is to warn the industry about the dangers of such natural gas debacles and to prod federal regulators to help advance industry changes that would make mines safer.
The retired executive, who now lives in Las Vegas, first gained public attention in 1984 when he led a successful antiunion campaign at Massey marked by violence on both sides. The victory over the United Mine Workers of America contributed to a broader erosion of the union's influence throughout Appalachia. Blankenship argued in his interview that hostility from the UMW and its Democratic political allies explains most, if not all, of the controversy that has dogged him for decades.
As Massey's chief executive officer, Blankenship pushed relentlessly for increased production and lower costs. Worker safety suffered as a result, according to a May 2011 investigative report commissioned by the West Virginia governor's office. From 2000 through 2010 no U.S. coal company compiled a worse fatality record than Massey, which reported 54 deaths in its mines, including Upper Big Branch, the state report said. Blankenship says there have been 120 miner fatalities in the industry since he retired.
When Alpha acquired Massey in 2011, it emphasized that it put all former Massey employees through a program called "Running Right," which stressed that protecting miners and producing coal are mutually reinforcing goals. In 2005, Blankenship had circulated an internal memo at Massey widely interpreted as embracing an either-or perspective on safety and productivity. "If any of you have been asked by your group presidents, your supervisors, engineers or anyone else to do anything other than run coal," Blankenship wrote, "you need to ignore them and run coal. This memo is necessary only because we seem not to understand that coal pays the bills."
The 2005 memo seems to have escaped the attention of the documentary makers at Adroit Films whom Blankenship hired to repair his legacy.
Before it's here, it's on the Bloomberg Terminal.
LEARN MORE