Chinese Investments in U.S. Commercial Real Estate Surges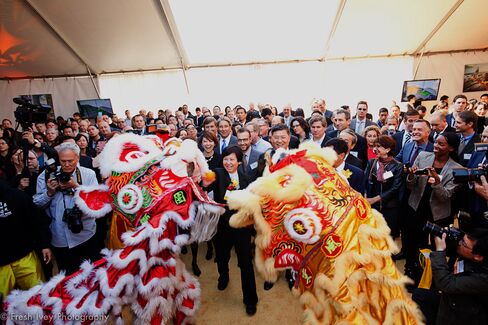 It took just one 15-minute phone call in July to persuade Ifei Chang to join Shanghai-based developer Greenland Holding Group Co. and lead a U.S. expansion. Within three months, she was running $6 billion of projects as part of a record push by Chinese investors into American property.
Greenland reached a preliminary agreement in October to buy a 70 percent stake in the $5 billion Atlantic Yards development in Brooklyn, New York. That followed a July deal to acquire a $1 billion residential-and-entertainment project in downtown Los Angeles. Chang, who took charge of that site upon arriving in the U.S., is now on the hunt for more investments.
"In China, you climb a ladder where everything is floating and moving so fast," Chang, 49, said in an interview at her sparsely furnished 46th-floor L.A. office overlooking the empty lot where the Metropolis project will be built. "We come from a country of 1.4 billion people and a lot of economic growth. This kind of project and investment speed is very normal in China. That's why we are so confident we will deliver this project."
Greenland, like other Chinese companies, is committing to a growing number of multibillion-dollar developments outside of its home market. Chinese investments in U.S. commercial properties jumped almost 10-fold last year from 2012, with Manhattan the biggest area for purchases, followed by other New York City boroughs and Los Angeles, according to research firm Real Capital Analytics Inc.
Greenland Expansion
Greenland, the state-owned builder that's also developing one of China's tallest towers, has become one of its country's biggest investors in U.S. real estate. The company's Metropolis project, acquired from the California State Teachers' Retirement System, is planned as a 275,450-square-foot (25,600-square-meter) development with hotels, apartments and luxury condominiums. Chang, president and chief executive officer of Greenland U.S. Holding Inc., expects completion within five years, with aspirations "to graduate early," she said.
"This billion-dollar investment not only will bolster downtown Los Angeles's economy, creating hundreds of jobs and generating ongoing tax revenue, but it will bring the kind of world-class amenities that will enhance the appeal of our city center nationally and internationally," Los Angeles Mayor Eric Garcetti said in an e-mail.
Greenland agreed to buy most of Brooklyn's Atlantic Yards from the site's original developer, Forest City Ratner Cos., after a couple of phone calls, a dinner and a visit by the seller's executive team to Greenland's Shanghai headquarters.
Definitive Contract
"Three weeks later, we had an agreement," Chang said. The memorandum of understanding signed in October became a definitive contract in December.
Regulatory approval for Atlantic Yards LLC, the joint venture for the project, is expected by mid-year, Chang said. The 22-acre (8.9-hectare) development was initially approved in 2006 and delayed in part by the recession. Greenland's investment will include 14 apartment buildings in Brooklyn, where rents are surging.
"The process and the people have been intense," MaryAnne Gilmartin, president and CEO of Forest City Ratner, said in an e-mail. "Ifei has proven to be a force of nature -- determined, insightful and highly capable."
Chang's international background helped prepare her to implement Greenland's ambitions. The Taiwanese-born developer is the third of five daughters. Her father was once an anti-communist soldier from mainland China, and her mother is a "tiger mom" who set expectations high for their children, Chang said.
Childhood Fascination
She developed a fascination with architecture as a child, making mental notes of buildings and streetscapes. Her parents' aspirations were met by her admission to Yale University after completing undergraduate studies in Taiwan. At Yale, she earned two master's degrees, in architecture and environmental design.
"I know the freedom of thinking from my studies in the States," she said. "No boundaries. It's that kind of cowboy spirit."
Chinese developers are on an expansive shopping spree in the U.S. Completed commercial real estate transactions by Chinese investors in the six biggest metropolitan areas totaled almost $3 billion in 2013, up from $335.3 million the previous year, according to New York-based Real Capital. Those figures exclude the total value of such developments as Metropolis and Atlantic Yards, where investments will span several years.
China Vanke
In San Francisco, China Vanke Co., the nation's biggest publicly traded developer, teamed with New York-based Tishman Speyer Properties LP to develop the 655-unit Lumina high-rise towers in the South of Market area. Vanke, with investment partner Aby Rosen, broke ground in February on a luxury midtown Manhattan condominium tower for its first New York City project.
Chinese builders are seeking the stability and predictable population growth offered by major U.S. cities, and are taking advantage of the Chinese government's loosening of rules on direct investment overseas.
"It's a very good thing for China to grow and develop, and it's a good thing for Chinese people to get rich," Greenland Chairman Zhang Yuliang said at the Metropolis groundbreaking ceremony in February. "When they go abroad, they can be a driver of the economies of other countries."
Chang, at Greenland, has become one of those drivers. After her initial 15-minute call with Zhang in mid-July, when the two discussed Greenland's vision for expansion in the U.S., Chang received a second call from Zhang on July 25, after he came back from a trip to the country. Chang was officially appointed to her new role the same day.
'Fiercely Intelligent'
Michael Sorkin, founder of Michael Sorkin Studio in New York City and a former Yale architecture professor, said Chang is the most prolific student he had in his 30 years teaching.
"She's fiercely intelligent and has more energy than any average 40 people on the planet," Sorkin said. "When you look at her resume, you'd think she's 70 years old with all the work she's done."
As an architecture student, Chang had a penchant for "thinking outside of the box," preparing her to become a large-scale developer, a role that often demands more attention to profits, timelines and regulatory obstacles than it does to creativity, said Eric Owen Moss, principal and lead designer at Culver City, California-based Eric Owen Moss Architects and another professor of Chang's at Yale.
"Some students want to make certain types of things or push a certain way to look at architecture," Moss said. "Ifei was more willing to try a number of ideas with no particular allegiance, just the idea of being productive and energetic."
Japan, Shanghai
Chang worked in Japan for architect Osamu Ishiyama for five years, then for Greenland from 2001 to 2006 as project manager for a Shanghai development. For her first interview at Greenland, she was the only woman at a long conference table crowded with the company's general managers.
Chang favors plain black slacks and a simple black Chinese button top, keeps her cropped hair short and doesn't wear make-up -- deliberate choices as being a woman makes her a rarity in the world of commercial construction, she said.
"It's not about the make-up or perfume or the dress," she said. "As long as you deliver the job, it's not a problem."
Only 7.3 percent of U.S. construction-management jobs were held by women last year, according to the Bureau of Labor Statistics.
Male-Dominated
"The real estate and development industry has been dominated by men, but that's changing," Kathleen Carey, co-founder of the women's leadership initiative at the Urban Land Institute, a development trade group, said in a telephone interview. "It doesn't have anything to do with women not being suited for development. I think it's really the history of the industry."
From 2007 to 2010, Chang worked in St. Petersburg, Russia, as design director for Shanghai Overseas United Investment Co., which was co-developing a $4 billion master-planned community called Baltic Pearl. She then spent a year in Hong Kong working for a European company before getting the call that led her to return to the U.S.
Representatives of Chinese companies -- even those with extensive international experience -- often experience culture shock when first faced with the U.S. legal system, approval processes and paperwork, Chang said.
"Everybody is afraid of getting sued," she said. "In China we may step on somebody else's feet, but so what? Sometimes somebody else will step on mine. It's all good. I won't sue them."
Culture Shock
The culture shock is sometimes mutual. Rob Jernigan, a managing principal at Gensler, the lead architect on the Metropolis project, was surprised to have Chang show up in his downtown Los Angeles office as many as 10 times a week and get calls from her on Sunday afternoons.
"At first it's a bit daunting, but once you get in sync and you understand she doesn't have the expectation of any special treatment, you're on board," he said. "You realize she's really part of the team."
Chang's own architecture background also has affected the way she works with Gensler, Jernigan said.
"Most clients won't come into your office and start red-marking your drawings," he said with a chuckle.
Greenland isn't interested in well-developed areas such as Manhattan. Rather, it focuses on neighborhoods undergoing transformation. Downtown Los Angeles and Brooklyn fit the bill because a "developer can be a big player on the chessboard," she said.
'Fast Transformation'
"We want to be the early pioneer and to echo a city's need," Chang said. These projects "will be the prototype for Greenland to enter a city under very fast transformation with the potential still underestimated."
Chang said she plans to ultimately return to Asia to slow down the pace of her life and spend time with friends and her aging parents. Her father is 85 years old and her mother 72. If the Metropolis and Atlantic Yards projects are far enough along, Chang may be able to return home within two to three years, she said. Single and without children, Chang said she envies people who have enough time to take care of a dog.
"Right now there is no time to think of parents, of old girlfriends, and no time to respond to personal e-mails, no time to visit friends," Chang said.
Chang does allow herself the occasional break to throw a small office party. At one such gathering on a March afternoon, her coworkers ate cupcakes while she translated her American colleagues' names into Chinese.
Mostly, though, she's focused on Greenland's U.S. projects and getting American cities to run at a Chinese pace.
"We hope the city permit procedure will pick up the speed we want, pick up the speed that businesses want, pick up the speed investors want, pick up the speed the citizens really need," Chang said. "We should all move very fast. We should catch the moment."
Before it's here, it's on the Bloomberg Terminal.
LEARN MORE