Arianna Huffington's New Rules for Women: Less Leaning, More Sleeping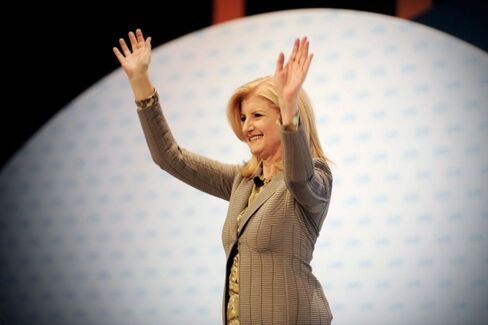 Because I'm a young woman—and I have a job—I have a habit of reading articles about the sad, unbalanced work-vs.-home life that is my inevitable future. I can't help it. Give me a story titled "Feminism Has Made Women Less Happy," and I'll click on it faster than a BuzzFeed list about baby pandas. But to be honest, these articles and the cultural discussions they inspire are rarely helpful. In most cases all they do is freak me out.
First, I learned that I can't have it all. Then I read that I can have it all, I just have to lean in to get it. But when I lean in, everyone thinks I'm bossy. If I marry and have kids, should one of us lean in while the other leans out? But which one of us leans which way? I honestly don't know. Reading think piece after think piece is the sociological equivalent of the time I searched "upset stomach" on WebMD and spent three days convinced I had pancreatitis.
Into this crowded, often contradictory self-help array jumps Arianna Huffington, whose new book, Thrive: The Third Metric to Redefining Success and Creating a Life of Well-Being, Wisdom, and Wonder, comes out on March 25. Despite the fluffy title, Huffington offers some refreshingly practical advice: You can have as much as you want, in whatever form that may be, as long as you get some sleep.
She speaks from experience. In 2007, Huffington was working crazy, around-the-clock hours as editor-in-chief of the two-year-old Huffington Post, averaging four or five hours of sleep a night. She was also the mother of two daughters and had just returned from touring colleges with one of them when she collapsed from exhaustion in her home office, smashing her cheekbone on the corner of her desk. "I had to slow down and reevaluate the choices I was making," she told Bloomberg Businessweek last year. "The reality was I couldn't do it all."
That experience ultimately led her to write Thrive. The book is written for women, but its advice is more in line with the gender-neutral mindfulness movement slowly spreading across the country. Like Tiffany Shlain or the folks at Digital Detox, Huffington recommends taking real vacations and unplugging from your devices at night. She's also big on meditation and naps. In 2012 the Huffington Post installed "nap pods" in its offices. Huffington claims she doesn't mind when her employees work from home.
But what excites me most about Thrive is its exploration of the values that make women feel like we have to work so hard in the first place. Are we placing too much emphasis on money and success? What do we really want to get out of life? So far, that discussion has been largely absent from the current work-life debate. The sad reality is that there isn't enough time to do everything, there aren't enough walls for everyone to have a corner office, and there is no one "it" that women—or anyone—should strive to have. Sheryl Sandberg's Lean In may be able to tell women how to get what they want, but Thrive may help them figure out what that is. And that's not scary at all.
Before it's here, it's on the Bloomberg Terminal.
LEARN MORE