Citic Private Equity Said to Consider Biosensors Acquisition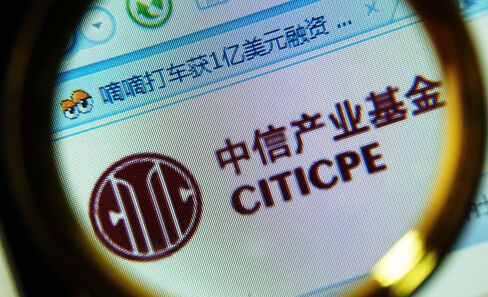 Feb. 18 (Bloomberg) -- Citic Private Equity Funds Management Co. is considering buying full control of medical devices maker Biosensors International Group Ltd., said two people with knowledge of the deliberations.
The Beijing-based firm, an arm of China's state-backed Citic Group Corp. conglomerate, is in talks with several banks about financing for a deal, said the people, who asked not to be identified because the information is private. It owns about 22 percent of the Singapore-listed company, which had a market value of S$1.5 billion ($1.2 billion) as of yesterday. Biosensors shares were suspended after surging today.
Citic Private Equity is considering an offer for the rest of Biosensors after the company lost about half its value from a February 2012 peak, the people said. It could be the second-largest buyout by a Chinese private equity firm in the past decade, based on Biosensors's market capitalization, data compiled by Bloomberg show.
Citic Private Equity bought the stake in Biosensors in November from Shandong Weigao Group Medical Polymer Co. for $312.3 million, or S$1.05 per share, according to exchange filings. Biosensors shares have fallen 17 percent since then to close at S$0.87 yesterday. The stock was halted from trading in Singapore after jumping 14 percent today, the biggest gain since December 2008.
Four calls to Citic Private Equity's head office in Beijing went unanswered. John Wong, the Singapore-based head of investors relations at Biosensors, declined to comment.
Blocked Arteries
Biosensors makes medical devices including drug-eluting stents, which are used to prop open blocked arteries. Its net income for the three months ended Dec. 31 fell by more than half to $11.1 million as costs jumped.
Hony Capital Ltd., the private-equity fund backed by the parent of Chinese computer maker Lenovo Group Ltd., bought a stake in Biosensors for S$0.8888 a share in 2010 and now holds about 16 percent of the company, according to data compiled by Bloomberg.
Hony Capital, which manages more than $6.8 billion, is examining a potential bid for United Biscuits Holdings Ltd., the British maker of Digestives biscuits, people with knowledge of the matter said last month. United Biscuits owners bought the company for more than $2.6 billion in 2006.
Focus Media Holding Ltd., a Shanghai-based advertising company, was acquired last year for $3.8 billion by investors led by Carlyle Group LP. Chinese firms FountainVest Partners, Citic Capital Partners, CDH Investments and China Everbright Ltd. participated in that buyout.
To contact the reporters on this story: Zijing Wu in Hong Kong at zwu17@bloomberg.net; Cathy Chan in Hong Kong at kchan14@bloomberg.net
To contact the editor responsible for this story: Philip Lagerkranser at lagerkranser@bloomberg.net