Samsung, Google Sign Agreement to License Each Other's Patents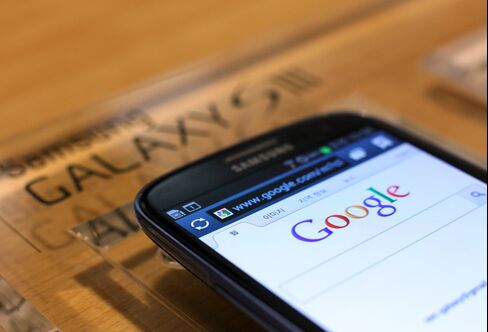 Samsung Electronics Co., the world's biggest maker of smartphones using Android software, signed a global patent-licensing agreement with Google Inc. to share their technologies.
The agreement covers existing patents and those filed during the next 10 years, according to an e-mailed statement today. The strengthened cooperation between the companies may reduce potential litigation, they said.
While the maker of Galaxy devices has risen to the top of the smartphone market using Android, the South Korean company is also working with others, including Intel Corp., on the Tizen open-source platform. Samsung said previously it would release its first Tizen phone in February through wireless operators including Japan's NTT Docomo Inc., which this month said it won't bring out a phone using the new system "for the time being."
"It seems like Samsung's strategy over Tizen-powered smartphones is fizzling out," said Lee Seung Woo, an analyst at IBK Securities Co. in Seoul. "Samsung seems to be reworking its strategy and sticking with Android on smartphones and developing Tizen for other applications, including its home appliances and TVs, instead."
Samsung, which released the Galaxy S4 and Note 3 last year, planned a Tizen device as one of three new high-end smartphones to compete with Apple Inc. in the most-profitable segment of the smartphone market. A February release would be four months later than the company had initially forecast.
Apple Battle
Samsung's rise has also been accompanied by patent litigation with Apple that has spanned four continents. Apple is trying to force Samsung to change or stop selling some smartphones and tablet computers, and previously won a $1 billion judgment in the U.S.
The agreement between Samsung and Mountain View, California-based Google may help the Suwon, South Korea-based company in its legal battles with Apple.
"Since Google is also a big U.S. company and has a broad range of high-profile patents and technologies, that will make Apple more cautious about future litigation," said Jung Dong Joon, a patent lawyer with SU Intellectual Property in Seoul. "It means Samsung has earned a huge ally in the ongoing legal dispute with Apple."