Germany Snubs Export Critics as Surplus Outstrips That of China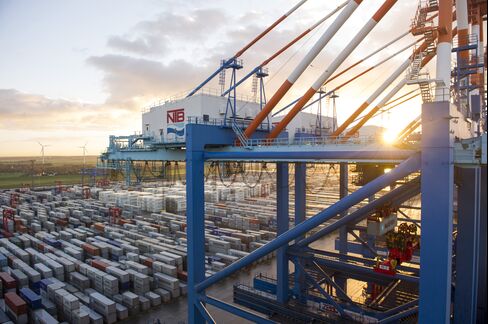 A prominent member of Chancellor Angela Merkel's government rejected criticism of Germany's export surplus, saying that Europe's biggest economy isn't about to change course.
Germany has no reason to be anything other than pleased about its export record, which brings benefits to its partners and encourages them to emulate its example, Deputy Finance Minister Steffen Kampeter said today on ARD television. Those who say that Germany's export drive is delaying economic recovery in the euro region are mistaken, he said.
"The criticism is unjustified," said Kampeter, a member of Merkel's Christian Democratic Union who was reappointed last month to the Finance Ministry under Wolfgang Schaeuble. Germany can't and won't adjust policy "to ban the export of cars or chemicals," he said.
German officials are lining up to defend their country's economic model amid renewed criticism in Europe and the U.S. that Merkel's government could and should do more to spur the global recovery.
The critics were handed more ammunition by the Munich-based Ifo Institute in a report yesterday estimating that the excess of foreign sales over imports in 2013 may have reached $260 billion, a record that placed Germany ahead of China's $195 billion trade surplus. In euro terms, that created a German current-account surplus of 7.3 percent, forecast to swell to 7.4 percent this year, according to Ifo.
U.S. Concerns
"We have raised concerns about the balances, the positive balances, in surplus economies generally," U.S. Treasury Secretary Jacob J. Lew told reporters at a joint press briefing with Schaeuble in Berlin on Jan. 8. "We continue to believe that policies that would promote more domestic investment and demand would be good for the German economy and the global economy."
Lew joins the International Monetary Fund and the European Commission in prodding Germany to bolster domestic spending. Detractors including Nobel economics laureate Paul R. Krugman charge that euro-region indebtedness is exacerbated by purchases of German exports that also depress the development of local industries and domestic demand.
The commission, the European Union's executive arm, began a probe last month into Germany's current-account surplus for breaching policy guidelines.
Economic growth that relied on private consumption in 2012 and last year has been cited by officials as evidence that the trade imbalance will progressively decline. The economy expanded 0.4 percent in 2014, with imports rising 1.3 percent compared to export growth of 0.6 percent, the Federal Statistics Office said today.
Before it's here, it's on the Bloomberg Terminal.
LEARN MORE