GE Leads $427 Billion of U.S. Debt Due in 2014: Credit Markets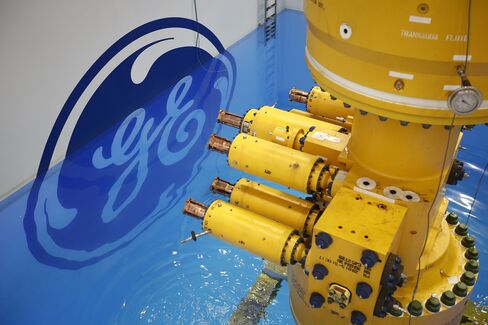 General Electric Co. is leading U.S. corporate issuers that have about $427 billion of bonds and loans maturing this year, down 5 percent from 2013, as borrowing costs ascend from record lows.
GE, the largest maker of jet engines, has $35.2 billion of debt due in 2014, mostly at its finance unit, followed by banks including JPMorgan Chase & Co. and its $28.2 billion, and Bank of America Corp.'s $26.9 billion, data compiled by Bloomberg show. Non-financial issuers have $178 billion maturing, ranging from Cincinnati-based Procter & Gamble Co.'s $6 billion to junk-rated Dish Network Corp.'s $1 billion.
Companies have exploited unprecedented stimulus from the Federal Reserve over the past five years to refinance bonds and loans, leaving impending maturities about 30 percent less than the $620 billion confronted in 2012. After rising last year by the most since 2009, yields on benchmark 10-year Treasury notes are forecast to jump again in 2014 for the first back-to-back increase since 2005 and 2006, Bloomberg surveys show.
"One of the beneficial byproducts of this refinancing cycle is that it's afforded companies the opportunity to extend maturities significantly into the future and reduce near-term funding requirements," said Edward Marrinan, a macro credit strategist at Royal Bank of Scotland Group Plc's securities unit in Stamford, Connecticut. "This has definitely helped to suppress default risk."
Rising Yields
Concern is mounting that borrowing costs are on the rise. Yields on 10-year Treasuries, which are a benchmark for corporate bonds, ended 2013 at 3.03 percent, up from 1.76 percent at the end of 2012. Yields will likely finish this year at 3.4 percent, according to the median estimate of 64 economists and strategists surveyed by Bloomberg.
Average yields on the $3.73 trillion of investment-grade bonds tracked by Bloomberg fell to 2.54 percent in May before ending the year at 3.23 percent. Junk bond borrowing costs dropped to 4.66 percent before climbing to 5.86 percent.
The corporate debt coming due in 2014, which includes investment-grade and high-yield securities, accounts for about 7 percent of the $5.75 trillion in outstanding obligations, Bloomberg data show. That compares with 2013, when about 8 percent of the $5.44 trillion in bonds and loans matured. In 2012, debt due within a year was about 12 percent of borrowings.
Record Sales
Non-financial companies with the largest maturities include Procter & Gamble, the maker of Crest toothpaste, and Palo Alto, California-based Hewlett-Packard Co., at $5.5 billion. The amount due at GE Capital, which includes $3 billion of dollar-denominated bonds maturing Jan. 7, is down from $40 billion at the start of 2013, Bloomberg data show.
Seth Martin, a spokesman for Fairfield, Connecticut-based GE, declined to comment on its finances.
The debt due this year from Englewood, Colorado-based Dish, rated Ba3 by Moody's Investors Service and an equivalent BB- at Standard & Poor's, represents about 8 percent of its $12.3 billion of bonds due through 2023, Bloomberg data show. High-yield, high-risk, or junk, debt is rated below Baa3 by Moody's and lower than BBB- at S&P.
Companies have capitalized on unprecedented investor demand and low interest rates with record issuance of dollar-denominated bonds. Companies sold $1.51 trillion of bonds in the U.S. in 2013, split between $1.14 trillion of investment-grade debentures and $380 billion of junk bonds.
'Maturity Wall'
JPMorgan was the largest underwriter with 12.2 percent of the market, followed by Bank of America at 10.5 percent and Citigroup Inc. at 9.8 percent, Bloomberg data show.
The record bond issuance has coincided with a ballooning market for speculative-grade loans, propelled by demand for floating-rate debt that can offer protection from rising interest rates. Loan borrowing passed the 2007 peak of $581.5 billion in November, Bloomberg data show.
Concern has waned that companies won't be able to repay bank loans used to finance a boom in leveraged buyouts before the financial crisis, according to Barclays Plc.
Borrowers that in 2009 faced more than $200 billion of debt maturing in five years have since extended their obligations, leaving a loan maturity profile that's "much less daunting now and sufficiently backloaded," Barclays analysts including Bradley Rogoff and Eric Gross wrote in an October report.
Default Outlook
Conditions are ripe for the default rate on high-yield bonds and loans to remain below 2 percent through 2015, compared with a long-term average of at least 3.5 percent, JPMorgan strategists wrote last month in a report. Their estimate excludes Dallas-based Energy Future Holdings Corp., the subject of the largest leveraged-buyout in history, which has signaled it may need to file for bankruptcy protection.
"The maturity wall has been lifted," Jessie Harris, the head of taxable fixed-income research at U.S. Trust, said in a telephone interview. "You've got runway that's been cleared, so it's hard to imagine that defaults increase in the near term."
About 6.5 percent of outstanding junk-rated obligations, or $140 billion, are set to mature within the next two years, JPMorgan data show. That's down from 10.5 percent at the end of 2009, when the Fed's balance sheet was about $2.2 trillion.
The central bank's assets have since climbed above $4 trillion as it purchases Treasury and mortgage-backed bonds to pump cash into the financial system, limit interest-rate increases and encourage investment in riskier assets.
'Significant Refinancing'
The yield on the Bank of America Merrill Lynch U.S. Corporate & High Yield Index ended last year at 4.03 percent, 1.87 percentage points more than similar-maturity Treasuries. That's down from a yield of 11.1 percent and a spread of 8.64 percentage points on Nov. 24, 2008, the day before the Fed announced the first of three quantitative easing programs.
"Low rates and accommodative Fed policy have led to significant refinancing activity, pushing out a lot of near-term maturities and giving issuers a lot of liquidity and runway," Gross, a credit strategist at Barclays in New York, said in a telephone interview.
Elsewhere in credit markets, the market for corporate borrowing through short-term IOUs contracted by the most in four years as financial institutions' issuance plunged. Cengage Learning Inc., the college textbook publisher that agreed in July with lenders to restructure $5.8 billion of debt, is seeking as much as $2 billion in loans to exit bankruptcy.
Credit Benchmarks
The cost to protect against losses on U.S. corporate bonds rose. The Markit CDX North American Investment Grade Index, a credit-default swaps benchmark used to hedge against losses or to speculate on creditworthiness, increased 0.8 basis point to 63.2 basis points as of 11:32 a.m. in New York, according to prices compiled by Bloomberg. The index ended Dec. 26 at 62 basis points, the lowest since October 2007.
In London, the Markit iTraxx Europe Index of 125 companies with investment-grade ratings added 0.4 to 70.6.
The indexes typically rise as investor confidence deteriorates and fall as it improves. Credit swaps pay the buyer face value if a borrower fails to meet its obligations, less the value of the defaulted debt. A basis point equals $1,000 annually on a contract protecting $10 million of debt.
The seasonally adjusted amount of U.S. commercial paper dropped $55.1 billion to $1.046 trillion outstanding in the week ended yesterday, the Federal Reserve said today on its website. That's the biggest decline on a percentage basis since $94.2 billion in the period ended Jan. 6, 2010, and the lowest level since Oct. 16.
Funds Paring
Money-market funds, among the biggest investors in the debt, may have reduced the amount of unsecured commercial paper from foreign banks they were holding at the end of the year in favor of assets perceived to be safer, such as repurchase agreements, which are backed by collateral, according to Howard Simons, strategist at Bianco Research LLC in Chicago.
Corporations sell commercial paper, typically maturing in 270 days or less, to fund everyday activities such as rent and salaries.
Cengage's financing would consist of a $250 million revolving line of credit and a term loan between $1.5 billion and $1.75 billion, according to a Dec. 27 court filing. A hearing will take place on Jan. 9 at 11 a.m. New York time.
The company, which was seeking to eliminate more than $4 billion of its debt burden, is seeking the exit financing six months after it obtained Chapter 11 protection. Apax Partners LLP and Omers Capital Partners bought Stamford, Connecticut-based Cengage in 2007 from Thomson Reuters Corp. for $7.75 billion. The acquisition was partially funded with $5.6 billion in borrowings.
The following is a table of the largest U.S. corporate debt maturities next year, using data calculated by Bloomberg:
Company                         2014 Debt Maturities
General Electric Co.                 $35 billion
JPMorgan Chase & Co.                 $28 billion
Bank of America Corp.                $27 billion
Citigroup Inc.                       $22 billion
Morgan Stanley                       $20 billion
Goldman Sachs Group Inc.             $20 billion
Wells Fargo & Co.                    $9.5 billion
MetLife Inc.                         $7.4 billion
Caterpillar Inc.                     $6.7 billion
Procter & Gamble Co.                 $6 billion
Before it's here, it's on the Bloomberg Terminal.
LEARN MORE