Planes Parked in Weeds in Kabul After $486 Million Spent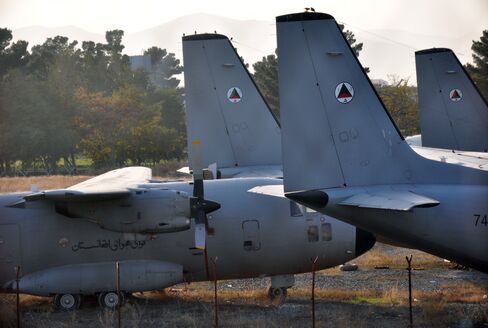 Sixteen broken-down transport planes that cost U.S. taxpayers at least $486 million are languishing among the weeds, wooden cargo boxes and old tires at Kabul International Airport, waiting to be destroyed without ever being delivered to the Afghan Air Force.
The special inspector general for Afghanistan is investigating why the refurbished G222 turboprop aircraft from Finmeccanica SpA's Alenia Aermacchi North America unit no longer can be flown after logging only 200 of 4,500 hours of U.S.-led training flights and missions required from January to September 2012 under a U.S Air Force contract because of persistent maintenance issues.
The unused transport planes are in addition to the billions of dollars in wasted U.S. funds documented by the inspector general's office since American troops entered Afghanistan after the Sept. 11 terrorist attacks. They also compound the doubts about the Afghan Air Force's capability to operate independently after U.S. forces withdraw by the end of next year.
"We need answers to this huge waste of U.S. taxpayer money," John Sopko, the special inspector general for Afghanistan reconstruction, said in an e-mailed statement. "Who made the decision to purchase these planes, and why? We need to get to the bottom of this, and that's why we're opening this inquiry."
Asked about the planes after they were photographed at the airport in Afghanistan by a Bloomberg News reporter, Sopko said he also saw them "sitting in the weeds" during a recent visit.
The G222 transports refurbished by the unit of Rome-based Finmeccanica were supposed to make up about 15 percent of the 105-aircraft Afghan Air Force, flying top Afghan civilian officials and combat troops and conducting medical evacuations.
Alenia 'Struggled'
Instead, six of the planes already have been cannibalized for spare parts, a separate audit by the Pentagon inspector general found. In addition to the 16 planes in Kabul, there are four in Germany.
The U.S. Air Force didn't renew Alenia Aermacchi's maintenance contract in March because it "struggled to consistently meet contractual requirements," Ed Gulick, a spokesman for the service, said in an e-mailed statement.
"Faced with long-standing and well-known issues with the program, Alenia did take action to improve their performance in some areas, but the Air Force was not convinced Alenia could meet and sustain all contractual obligations," Gulick said.
Alenia spokesman Dan Hill said the company "is proud of its work" on the transports.
"At the time that the U.S. Air Force chose not to renew the contract," the aircraft "were successfully performing missions in Afghanistan and exceeding the program objectives. While disappointed, we respect their decision not to continue," he said in an e-mailed statement.
Averting a Repeat
Sopko's investigation will review the decision to select the Alenia aircraft, determine the total spent to buy, sustain, and dispose of them and evaluate what procedures are in place to prevent similar failures with other purchases for the Afghan Air Force.
The inquiry was prompted by "the need to ensure that the U.S. government does not repeat the mistakes made throughout this nearly half-billion dollar program," Sopko said in a Dec. 5 letter to Defense Secretary Chuck Hagel.
Navy Commander Elissa Smith, a Pentagon spokeswoman, said in an e-mail that the G222 aircraft's failings have "had no impact on the readiness of the Afghan Air Force" because it has been operating 26 Cessna Aircraft Co. 208 Caravan planes "exceedingly well during the last several years and has been able to compensate."
'Hotter, Dustier'
The G222s eventually are to be replaced by C-130H transports from Lockheed Martin Corp. that the Pentagon says won't begin operating until 2016. The C-130H "will provide better range, as well as passenger and cargo movement" than the G222, Smith said.
U.S. training for the Afghan Air Force to fly the new planes may be affected by the fate of an agreement for some U.S. and allied forces to remain after 2014. Afghan President Hamid Karzai has balked at U.S. calls for him to sign that accord quickly.
The U.S. Air Force views the G222 as a "lesson-learned" case, said Lieutenant General Charles Davis, the service's top military acquisition official,
"Just about everything you can think of was wrong for it other than the airplane was built for the size of cargo and mission they needed," Davis said in an interview. "Other than that, it didn't really meet any of the requirements."
Once the planes were in Afghanistan it became clear that they were flying in a "hotter, dustier" environment than they could handle, he said.
No Buyers
"It was contractor performance," it was difficulty finding capable pilots, "it was a very unsustainable airframe," he said. "It was about everything you could think of that went into this."
By the time President Barack Obama started to draw down forces in Afghanistan, training officials with the North Atlantic Treaty Organization decided that "these airplanes are never going to meet the needs of the Afghan Air Force, so we need to get rid of them," Davis said.
"We looked for buyers, people to accept those, and nobody was interested in trying to maintain an airplane that was no longer sustainable, so that's why" these aircraft "are sitting on the ramp and not going to fly," Davis said.
Davis said he expected that at some point the G222s will be stripped of military gear "and destroyed and moved out of the country."
In its Jan. 31 report marked "For Official Use Only," the Pentagon inspector general said the NATO and U.S. training commands "have not effectively managed the program."
In biannual reports to Congress on the status of the Afghan military, the Pentagon initially highlighted the aircraft as key to building the Afghan Air Force and then minimized its troubles.
A report in July said without elaboration that the G222 transport "has been removed from service."