ADM's GrainCorp Bid Would've Been Blocked by Others, Abbott Says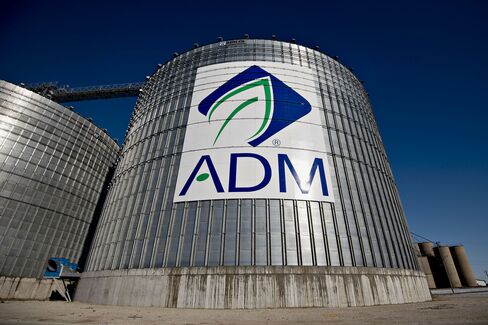 Australia's decision to block Archer-Daniels-Midland Co.'s $2 billion bid for GrainCorp Ltd. would have been made by other large economies in similar circumstances, Prime Minister Tony Abbott said.
The decision, which sent shares in Australia's only publicly traded grain merchant falling by the most since its 1998 listing after it was announced Nov. 29, was the right one, Abbott told media at an event in Brisbane yesterday marking the country's presidency of the Group of 20 major economies.
"I doubt that there would be any other G-20 economy where a large foreign business would have been able to purchase an effective monopoly of a major industry," he said. "I accept that some people have been anxious" about the outcome.
The Australian dollar touched a two-month low of 90.56 U.S. cents after the announcement Nov. 29, amid concern that investment flows into the country may slow.
The ruling by Treasurer Joe Hockey sends a "terrible message" about investment in Australia's farm sector and suggests the government is "beholden to special interests, old agrarian socialists in one part of the community," union leader Paul Howes said in an interview on Sky television yesterday.
Abbott, who declared the nation "open for business" in his victory speech after winning the election in September, holds power as part of a long-standing coalition which includes rural-based National Party members who had campaigned against the takeover. The Nationals hold 15 seats in the 150-member governing House of Representatives and five in the 75-member Senate.
Australia's farm sector needs the investment of large diverse companies such as ADM because the vagaries of the country's climate risk undermining the finances of smaller companies during bad harvest years, said Howes, national secretary of the Australian Workers Union. The union represents more than 135,000 workers and is a donor to the opposition Labor party.
"The day of Ma and Pa farming in Australia needs to end," Howes said, referring to family-owned farm businesses. "We need a transformation of that so we can have stability and long-term planning."
GrainCorp has about 60 percent of Australia's grain storage and transport market and processes as many as 22 million metric tons of grain each year, according to a Nov. 15 investor presentation. ADM, based in Decatur, Illinois, is the world's largest corn processor.
The decision is the third-biggest rejection of a foreign company by Australia, according to James Philips, head of mergers and acquisitions at Minter Ellison in Sydney. Royal Dutch Shell Plc had a A$6.5 billion ($5.9 billion) bid for control of Woodside Petroleum Ltd. blocked in 2001 and Singapore Exchange Ltd.'s A$8.4 billion bid for ASX Ltd. was rejected in 2011.
The U.S. has been the biggest foreign investor in Australia each year since 2002, and Australia approved A$36.6 billion of deals involving U.S. investment in the 12 months to June 30, 2012, according to the most recent annual report published by the Foreign Investment Review Board, a government body. A total of 13 of 11,420 applications made to the board were rejected in fiscal 2012, all related to real estate deals, it said.
Other business groups have already criticized the decision. It "risks undermining the federal government's statement that Australia is open for business," the Business Council of Australia said in an e-mailed statement Nov. 29 attributed to Chief Executive Officer Jennifer Westacott.
It will have a real impact on American and foreign perceptions of Australia as a place to invest, Niels Marquardt, chief executive of the American Chamber of Commerce in Australia, was quoted as saying in the Australian Financial Review newspaper Nov. 30.
Before it's here, it's on the Bloomberg Terminal.
LEARN MORE