Moynihan Says BofA 'Battleship' Is Heading Out of Harbor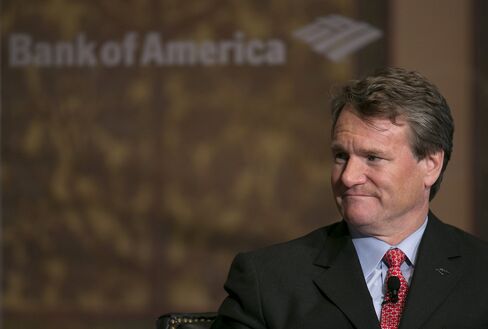 Bank of America Corp. Chief Executive Officer Brian T. Moynihan, who has spent almost four years turning around the lender, likened his company to a warship headed to sea as spending by customers picks up.
"We are a huge company, and we are coming out of the harbor and it's time to take this huge battleship to cruising speed," Moynihan said today at a New York investor conference sponsored by his firm. "We can now focus more and more on each business."
Moynihan, 54, is working to engineer a sustained rebound in profit at the nation's second-largest bank, whose biggest division caters to retail customers. He'll have to overcome slack demand from mortgage borrowers, a sluggish national economy and continuing legal claims tied to faulty home loans that have cost the Charlotte, North Carolina-based company about $50 billion.
U.S. consumers are in "pretty good shape" and spending more with credit cards, Moynihan told the conference. After a lull caused by higher tax rates and political gridlock that unnerved customers, monthly outlays by Bank of America's cardholders are rising at more than 5 percent on a year-over-year basis, he said.
"We just have to make sure we don't talk them out of spending," he said.
The company still has "work to do on litigation," Moynihan said. The industry is focused on resolving legal disputes, cutting costs from overdue mortgages and increasing revenue from core businesses, he said.
Bank of America closed at $14.40 yesterday, bringing its gain for this year to 24 percent and trailing the 28 percent advance in the KBW Bank Index of 24 lenders. The stock was little changed in today's New York trading.