Venezuela Prices Jump Most on Record as Store Shelves Empty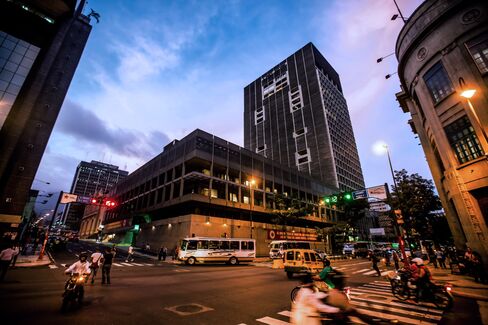 Venezuelan consumer prices increased at a record pace in May as a shortage of dollars reduces supplies of everything from butter to toilet paper.
Prices climbed 6.1 percent from April, the central bank said today in an e-mailed statement, the fastest gain since the price index was created in 2008 and exceeding the 4.1 percent median estimate of four economists in a Bloomberg survey. The annual inflation rate accelerated to 35.2 percent from 29.4 percent the month before. Prices in Caracas rose 6.2 percent in May, the highest monthly jump since June 1996, taking the year-on-year increase to 33.7 percent.
Venezuela's government has held only one auction of dollars since introducing a new exchange system in March, one month after it devalued the currency 32 percent. That has left companies starved of the greenbacks they need for imports, forcing them to turn to the black market rate of about 30 bolivars to the dollar, compared with the official rate of 6.3.
"The growing gap with the black market is distorting price formation, creating self-fulfilling expectations of higher prices," Asdrubal Oliveros, director of Caracas-based research group Ecoanalitica, said by phone today. "Until the government announces a credible foreign exchange supply plan, there will be a lot of volatility in the market."
The subsequent decline in imports is driving up the cost of available goods. Food, restaurants and hotels, and alcohol and tobacco pushed prices higher in May, rising 10 percent, 6 percent and 5.1 percent respectively, the bank said.
Fiscal Deficit
Venezuela in February devalued the bolivar from 4.3 bolivars per dollar in a bid to close a fiscal deficit that last year reached an estimated 14.5 percent of gross domestic product for the government and state oil company Petroleos de Venezuela SA, according to Bank of America Corp. analyst Francisco Rodriguez.
Venezuelan supermarket shelves are becoming increasingly bare as the government struggles to supply essential products by raising price caps and importing emergency supplies of toilet paper. The central bank's scarcity index, which tracks the amount of goods out of stock on the market, fell to 20.6 percent in May from a five-year high of 21.3% in April.
In a bid to mitigate shortages by encouraging local production, the government said May 13 it would raise price caps on beef, chicken, milk and cheese by as much as 20 percent.
As dollars become more scarce and the economy slows, Finance Minister Nelson Merentes said May 30 he will meet investors in North America and Europe in the first such trip for nine years in a bid to bring down perceived investor risk.
Political Pressure
The state of the economy, which grew 0.7 percent in the first quarter after expanding 5.6 percent expansion 2012, is piling pressure on President Nicolas Maduro, who was elected in April with a 1.5 percentage point margin. His opponent, Miranda state Governor Henrique Capriles Radonski, has refused to concede defeat and is contesting the result before the Supreme Court, claiming fraud.
"Since Maduro took office in December, inflation has been the highest in Latin America," Capriles wrote on his Twitter account. "That's how these nepotists govern."
Maduro, whom late President Hugo Chavez named as his successor in December, yesterday denied mounting speculation that the government plans to devalue the currency for a second time this year.
"Inflation is now endemic and the economy could easily veer from the current stagflation equilibrium onto the dangerous and slippery road to hyperinflation," Alberto Ramos, an analyst at Goldman Sachs & Co., said today in a note to clients.
Before it's here, it's on the Bloomberg Terminal.
LEARN MORE