Chinese Stocks Slump to Three-Month Low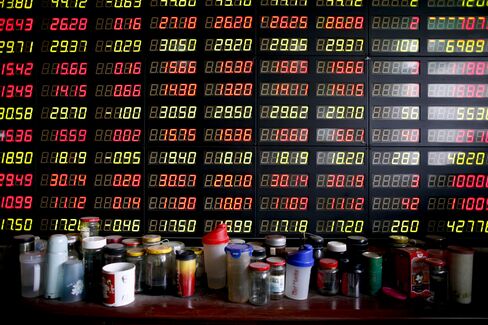 March 28 (Bloomberg) -- China's stocks fell, dragging the benchmark index to its lowest level in three months, as new restrictions on wealth-management products spurred concern that growth in bank earnings and the economy will slow.
Financial shares tumbled. Industrial Bank Co. plunged by the daily 10 percent limit and China Minsheng Banking Corp. slid by the most since 2008 after the banking regulator tightened rules on wealth-management products and the cabinet called for new measures to deregulate interest rates. China Vanke Co. led a retreat by real estate developers. China Life Insurance Co., the nation's biggest insurer, fell 1.7 percent after profit dropped.
The Shanghai Composite Index sank 2.8 percent to 2,236.30 at the close, the most in three weeks and erasing its gain for the quarter. The CSI 300 Index, which tracks stocks in Shanghai and Shenzhen, declined 3.3 percent to 2,499.30. Hong Kong's Hang Seng China Enterprises Index lost 1.7 percent.
"Banks earnings and asset quality will be impacted," Hao Kang, a fund manager at ICBC Credit Suisse Asset Management Co. which oversees about $8.7 billion, said from Beijing. "Property companies are dragged into this, as a lot of their financing comes through wealth management products. Investors are panicking: banks and property are the core of the economy."
Trading volumes in the Shanghai Composite were 14 percent higher than the 30-day average, while its 30-day volatility rose to the highest level in 13 months.
Tighter Rules
The CSI 300 Financials Index slumped 5.3 percent, the most since March 4 and the biggest drop among the CSI 300's 10 industry groups. Industrial Bank dropped to 17.87 yuan. Minsheng Banking tumbled 8.8 percent to 9.62 yuan. Ping An Bank Co. retreated 9.6 percent to 20.02 yuan. China Citic Bank Corp. lost 9.1 percent to 4.79 yuan, the most since September 2008.
The regulator told banks to limit investments of client funds in credit assets that aren't publicly traded, and to isolate the risks from their operations. Wealth management products increased 56 percent to 7.1 trillion yuan ($1.1 trillion) last year, equivalent to 7.6 percent of total deposits, according to Standard & Poor's, prompting warnings from regulators and ratings firms that credit risks are rising.
The latest rule may reduce total financing in China's economy by 1 trillion yuan, Citic Securities Co. estimated in a note today. The average yield of wealth management products was 4.11 percent in 2012, according to the banking regulator. That compares with the benchmark one-year deposit rate of 3 percent.
"Investors are trying to grasp what the new rulings by the regulator entail," Zhou Lin, an analyst at Huatai Securities Co., said by phone from Nanjing. "We are still not totally sure what the eventual impact would be. As a result, investors started to magnify the negative effects, resulting in the slump in stocks today."
Rates, Earnings
Separately, the State Council said yesterday it will take steps this year to loosen state control over interest rates and the yuan as new Premier Li Keqiang seeks to open up the economy to sustain growth. The government
The Shanghai Composite has fallen 8.1 percent from a Feb. 6 peak on concern steps to cool property prices will drag on economic growth and as company earnings trailed estimates. The measure is valued at 9.1 times projected 12-month earnings, the lowest level since December and less than the seven-year average of 15.8, according to data compiled by Bloomberg.
The Shanghai Property Index lost 3 percent, the biggest drop since March 4. Vanke sank 2.6 percent to 10.96 yuan. Gemdale Corp. retreated 4.2 percent to 6.42 yuan.
Property Curbs
So-called tier-2 and tier-3 cities may issue detailed property curbs in early- or mid-April, the China Securities Journal reported today, citing unidentified people. The southern city of Shenzhen will probably raise in April the down payment for second-home purchases to 70 percent from 60 percent currently, the 21st Century Business Herald reported, citing unidentified people.
China Life Insurance declined 1.7 percent to 17.07 yuan. Full-year net income fell 40 percent to 11.06 billion yuan last year, the company said.
Some 64 percent of Shanghai Composite companies posted annual profit that missed estimates, according to data on 225 earnings reports compiled by Bloomberg since Jan. 1.
The Bloomberg China-US Equity Index of the most-traded Chinese companies in the U.S. added 0.2 percent to a two-week high of 92.88 yesterday. The iShares FTSE China 25 Index Fund, the largest Chinese exchange-traded fund in the U.S., rose 0.1 percent to $37.35.
To contact Bloomberg News staff for this story: Weiyi Lim in Singapore at wlim26@bloomberg.net
To contact the editor responsible for this story: Darren Boey at dboey@bloomberg.net