Amazon Raises $3 Billion in First Bond Offering in Decade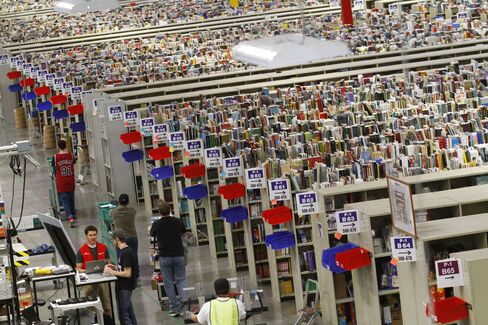 Amazon.com Inc., the world's largest online retailer, issued $3 billion of debt to help finance the purchase of its Seattle headquarters in its first bond offering for more than a decade.
Amazon, which had no bonds outstanding, sold $750 million of 0.65 percent three-year notes that yield 38 basis points more than similar-maturity Treasuries, $1 billion of 1.2 percent five-year debt with a 63 basis-point spread and $1.25 billion of 2.5 percent securities maturing in 10 years that yield 93 basis points more than benchmarks, according to data compiled by Bloomberg. A basis point is 0.01 percentage point.
Proceeds will be used for general corporate purposes including the $1.16 billion real-estate transaction, according to Moody's Investors Service, which rated the bonds Baa1. Standard & Poor's rated the debt four levels higher at AA-.
Amazon last sold dollar debt in 1999, raising $1.25 billion of 4.75 percent, 10-year convertible notes, according to data compiled by Bloomberg.
"Online retail sales will continue to experience strong growth over the next several years, supporting Amazon.com's growth," Moody's senior credit officer Margaret Taylor wrote in a report today. "However, Moody's expects online retailing will become more competitive as numerous traditional bricks and mortar retailers turn their focus to their online presence and capabilities."
Before it's here, it's on the Bloomberg Terminal.
LEARN MORE