Women in China Leadership Fewer Than Under Mao: Chart of the Day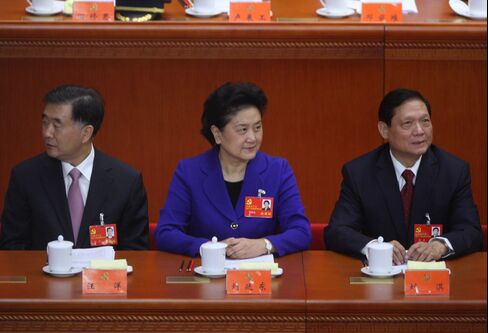 Women have lost clout in the Chinese Communist Party since Mao Zedong met Richard Nixon four decades ago, underscoring an erosion of "state feminism" in China as the gender gap in the U.S. Congress narrowed.
The CHART OF THE DAY shows the falling percentage of women in the ruling Communist Party's Central Committee, a group of about 200 members that includes all seven men on the nation's top decision-making body, the Politburo Standing Committee. Women accounted for 4.9 percent of the latest Central Committee unveiled last week, down from 7.6 percent in 1969, the year Nixon took office. Also shown is a ninefold surge in the number of women in the U.S. Congress during the same period.
China's state feminism that treated men and women identically during Mao's time was abandoned as the country became more focused on economic growth, said Rebecca Karl, an historian at New York University who focuses on China. Since Mao's 1968 declaration that women "hold up half the sky," China's economy has grown more than 200-fold to become the world's second-biggest.
"In the wake of Maoism, that particular version of feminism was ditched," said Karl, author of the 2010 book "Mao Zedong and China in the Twentieth-Century World." "That's where we are today."
In the U.S., there'll be a record 20 female senators when its new session begins in January along with 78 women in the U.S. House. Among them are three women of Chinese descent; Judy Chu of California, Grace Meng of New York and Tammy Duckworth of Illinois. That's 30 percent of all women in China's Communist Party Central Committee.
Sexist attitudes may also play a role. At the just-ended Communist Party Congress in Beijing, Liang Wengen, a businessman worth $5 billion according to the Bloomberg Billionaires Index, told reporters that joining the party was attractive because cadres "can find prettier wives than non-communists." The party's official newspaper, the People's Daily, published an online photo slideshow of women at the congress titled "Beautiful Scenery."
— With assistance by Michael Forsythe, and Penny Peng
Before it's here, it's on the Bloomberg Terminal.
LEARN MORE