Government Can Be 'Leaner and More Efficient,' Obama Says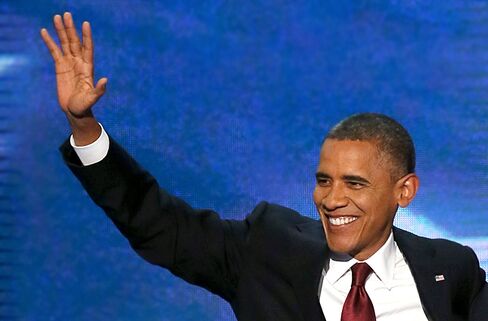 President Barack Obama said he is "more than happy to work with the Republicans" to make the federal government "leaner and more efficient," adding that he would accept $2.50 in spending cuts for every $1 in new revenue.
The president, in a portion of an interview airing today on CBS' "Face the Nation," revived the theme of his speech last week at the Democratic National Convention in Charlotte, N.C, saying "government can be a force for good when it comes to creating opportunity for folks who are willing to work hard and play by the rules to get into the middle class."
"We have an obligation to make sure government works," Obama said. "And there's still waste, there're still programs that don't work."
Republican presidential candidate Mitt Romney's deficit-reduction proposals rely too heavily on spending cuts and don't "add up," the president said.
"You can't reduce the deficit unless you take a balanced approach that says, 'We've gotta' make government leaner and more efficient,' but we've also got to ask people like me or Governor Romney who have done better than anybody else over the course of the last decade and whose taxes are just about lower than they've been in the last 50 years to do a little bit more," Obama said.
Bush Tax Cuts
Allowing the George W. Bush-era tax cuts to expire for individuals earning more than $200,000 a year and families earning more than $250,000 a year would "close the deficit, stabilize the economy, keep taxes on middle class families low," while providing economic certainty, Obama said. The Bush-era tax cuts expire Dec. 31.
While Obama said he would be willing "to make some adjustments to Medicare and Medicaid that would strengthen the programs," he criticized Republican vice presidential candidate Paul Ryan's proposal, which he said would "voucherize" Medicare and drive up seniors' health care costs.
Romney spokesman Ryan Williams said Obama's claims about Romney's Medicare proposal are inaccurate.
"The president's decision to use discredited studies and outright falsehoods to attack Mitt Romney is an admission that he can't talk about his record of crushing the middle class and failing to turn the economy around," Williams said in a statement.
Before it's here, it's on the Bloomberg Terminal.
LEARN MORE