Deutsche Bank Faces Fine for U.S. Power-Market Manipulation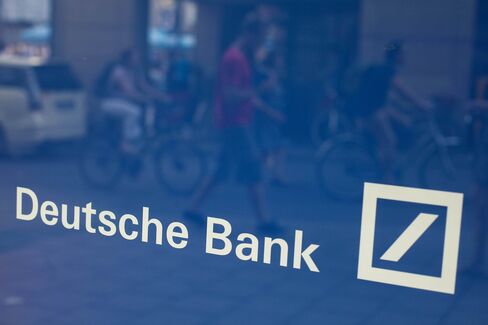 Deutsche Bank AG's energy trading unit faces a $1.5 million fine and must give up $123,198 in profit for allegedly manipulating U.S. power markets, the Federal Energy Regulatory Commission said.
Deutsche Bank Energy Trading LLC submitted false information in connection with its trading in California from Jan. 29, 2010, through March 24, 2010, the agency said in an order issued Sept. 5. The bank must respond to the agency's allegations within 30 days, according to the order.
FERC is investigating JPMorgan Chase & Co. over similar allegations. The agency, under Chairman Jon Wellinghoff, has beefed up oversight of energy trading and in March reached a record $245 million settlement over market manipulation in New York and New England with Constellation Energy Group Inc.
"Enforcement staff alleges that employees of Deutsche Bank, including senior level employees, conceived and executed a fraudulent scheme," FERC said in the order. In December, the agency issued a preliminary determination that the Deutsche Bank unit had manipulated the California power market.
Deutsche Bank considers the FERC enforcement staff's conclusions to be "erroneous" and intends to contest them, Amanda Williams, a company spokeswoman, said yesterday in an e-mail.
"Deutsche Bank Energy Trading engaged in transactions that it believed were appropriate and beneficial to the energy markets and consumers," Williams said. Deutsche Bank is Germany's biggest bank.
Since January 2011 the agency has announced 11 probes of alleged manipulation in electricity and natural-gas markets.
Before it's here, it's on the Bloomberg Terminal.
LEARN MORE