Russia's Chubais Eyes U.S. Tech Firms With Putin Blessing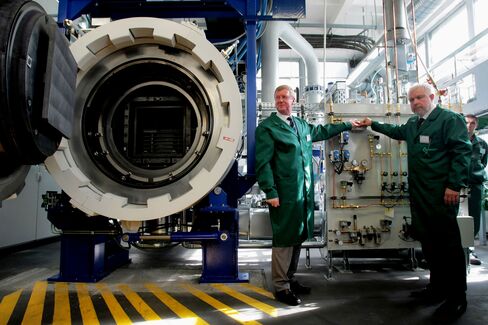 Anatoly Chubais, the mastermind of Russia's first privatization program, is now leading a charge by Vladimir Putin to emulate Silicon Valley's success by investing in high-tech firms, many of them American.
Chubais, who helped organize the state-asset sales in the first post-Soviet decade that created Russia's oligarchs while most citizens sank into poverty, is buying up stakes in research-and-development companies in Europe, China, Israel and especially the U.S. as chief executive officer of Moscow-based OAO Rusnano, the former state-funded Russian Corporation of Nanotechnologies.
A finance minister under Boris Yeltsin who ran the electricity monopoly under Putin, Chubais has "a direct phone line with the tsar," Michael Fonstein, co-founder of Cleveland BioLabs, a Rusnano investment, said in reference to Putin. "You can't have an ally in a better position."
The effort by Rusnano, founded by Putin during his second term, is part of a bid to diversify the $1.9 trillion economy of Russia, the world's biggest energy exporter. Firms that accept Rusnano funds must transfer technologies to Russia, build laboratories there, train local scientists and, in some cases, give Russians patent rights for the products developed, Bloomberg Businessweek reports in its Aug. 27 edition.
'Vacuum Cleaner'
This fall, BIND Biosciences Inc. and Selecta Biosciences, two U.S. biotech companies, will open laboratories in a technology park near Moscow, becoming the first American enterprises to start research in Russia with Rusnano. The effort marks a new start for Russia, which exported high-tech ideas with the West during the Cold War.
"We had no transfer and no technologies in the 1990s," said Andrei Fursenko, a former education and science minister who is now a scientific adviser to Putin. While Russia still lacks "finished scientific projects," America "is like a vacuum cleaner, absorbing innovations, part of which were made by our compatriots who emigrated to the U.S."
Putin gave Rusnano an initial budget of $5.2 billion for 2008-15 as well as access to billions in state-guaranteed loans. Since mid-2010, the company has invested $1.3 billion in 18 U.S. high-tech projects. Rusnano's incorporation in 2007 triggered a kind of nanotechnology fever as hundreds of companies and research groups began adding "nano" to their names in efforts to get state funding.
'Putin's Child'
"It is Putin's child," said Fursenko, adding that he's been talking to U.S. officials and companies about technology transfer since 2002. That process resulted in a "signal that they don't object."
Rusnano now works with U.S. venture funds such as Draper Fisher Jurvetson, well known in Silicon Valley. "For me, Chubais was a representative of a new generation who behaved as American businessmen," said Managing Director Alexandra Johnson, who came to the U.S. from Russia in 1990 to study.
The first direct investment in a U.S. company took place in March 2011, when Rusnano paid $4.5 million for a 29.7 percent stake in BiOptix Diagnostics, a Colorado-based producer of biochips for drug tests whose technology was developed by Nobel laureate John Hall.
Other American deals include Cleveland BioLabs, which is seeking to conduct cancer-drug trials with the Russian company; Quantenna Communications, which develops chips for Wi-Fi video networking devices; and NeoPhotonics, which works on voice and video transmission technology for clients such as Alcatel-Lucent.
Blame Chubais
"Luminaries in science work for these American companies," said Chubais, 57, who was once reviled in Russia for his role in the state-asset sales. "Chubais is to be blamed for everything," a popular saying of the 1990s went. He now collects jokes about himself on his personal website.
While Chubais is in the U.S. at least once a month and is so enthusiastic about western business practices that he peppers his Russian with English-language management terms, the U.S. companies Rusnano courts have sometimes had to educate the Russian company about how business is done in America.
Russian-born Fonstein of Cleveland BioLabs said a 2009 proposal he made to Rusnano marked the start of "a mutually painful learning experience." A state-controlled corporation, Rusnano insisted it can't lose money on its investment, he said.
'Winning Big'
"We had to tell them: 'Guys, there is a potential of losing everything or winning very big.' That was not easy for them to understand," Fonstein said. Rusnano signed an accord with BioLabs in 2011, when the Russian corporation became a joint-stock company.
Other U.S. executives have also gone the extra mile to work with Rusnano. Sam Heidari, chief executive officer of Quantenna, said he visited Moscow six times to "make sure things are going right."
Rusnano has pledged up to $40 million for Quantenna, which may open a research center in Russia. "They had the whole package -- the size of the check -- and they have visibility in that part of the world," Heidari said.
The company, which says it's considering 152 applications from U.S. companies, relies on the continued good will of the U.S. Committee on Foreign Investment, or CFIUS, the watchdog over strategic American assets. "We are now reviewing some projects we'll have to get CFIUS permission for," Chubais said in an interview in Jerusalem on June 26.
John McCaslin, U.S. minister counselor for commercial affairs at the U.S. Embassy in Moscow, said he didn't see any issues. "We routinely recommend to American companies that they should talk to Rusnano," he said.
Still, Chubais doesn't rule out possible misunderstandings with U.S. officials, calling it "a risk that exists" in every country. "We clash over Syria and make up over Afghanistan, but I don't expect an overall worsening that could put a brake on our projects," he said.
Before it's here, it's on the Bloomberg Terminal.
LEARN MORE