Cuomo Considers Pension Funds to Help Finance New Tappan Zee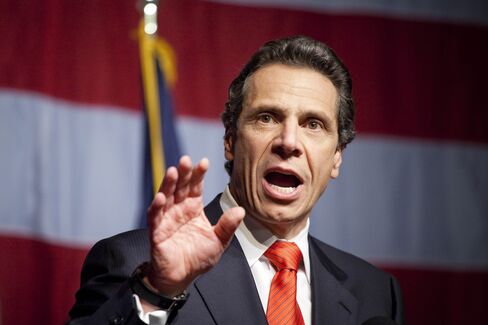 New York is considering using public-employee and trade-union pension funds as well as private-equity firms to finance infrastructure, including a new Tappan Zee bridge, Governor Andrew Cuomo said.
The state, which faces as much as a $3.5 billion budget gap for the fiscal year beginning April 1, needs to find alternative financing, the governor said today on WGDJ-AM in Albany.
"We're trying to put people together and find ways to jump-start the economy," Cuomo said.
The 53-year-old Democrat's comments follow moves by other states' pensions and unions to create jobs. In June, a coalition including the AFL-CIO and the American Federation of Teachers committed to investing $10 billion in pension money in energy-efficient infrastructure. The California Public Employees Retirement System, the largest U.S. government retirement fund, in June agreed to invest as much as $4 billion in bridges, power plants and roads.
New York wants to replace the Tappan Zee Bridge, which spans the Hudson River between Rockland and Westchester counties, connecting the lower Hudson Valley region with New York City. The 3-mile (4.8-kilometer) bridge, which opened in 1955, carries 138,000 vehicles per day and is prone to congestion. Replacing it would cost $5 billion to $6 billion, Cuomo said.
Fast Track
Last month, the Obama administration put the bridge on a list of 14 projects whose approval will be expedited. That means construction may start next year.
Josh Vlasto, a Cuomo spokesman, declined to name pension funds and private-equity firms with which the state is speaking.
The Service Employees International Union, which represents 120,000 workers and is New York's largest private-industry labor organization, is among several that have pressed Cuomo to back the idea, said Mike Fishman, president of local 32BJ in Manhattan.
"A number of labor unions in the city have been talking with the governor and his people to use pension money to rebuild the infrastructure of New York," Fishman said in an interview last week.
Looking North
Union representatives have also met with Borealis Infrastructure Trust, an investment arm of Canada's Ontario Municipal Employees Retirement System, which finances such projects, Fishman said.
"It may or may not be a combination of debt and equity, it may or may not be the Tappan Zee Bridge; we have a long list," he said. "Some want a lower return and less risk, others want to beat what we get on some of our other investments."
The unions haven't decided whether to form in-house investment arms or seek assistance from banks, said Michael Mulgrew, who heads the United Federation of Teachers.
Denis Hughes, president of the 2.5 million member state AFL-CIO, has also been involved, Mulgrew said. Hughes didn't return calls seeking comment.
Infrastructure investing makes "perfect sense" for pension funds, which need steady returns to meet their obligations to retirees, said Joel Moser, a New York-based partner in the energy and project finance group at Bingham McCutchen LLP who is not involved in the plan.
"There are very few investments that are both long and low risk," Moser said. Deals can be structured so that other investors take on more risk, he said.
Testing the Waters
While pensions or private equity firms would demand higher returns than investors who purchase tax-exempt bonds, a project delivered a year early or with fewer cost overruns can be worth more to the state, Moser said.
"For something as large and complicated and unique as the Tappan Zee bridge, it would be absurd for the government not to be exploring every possible model," he said.
One New York lawmaker is laying the groundwork for more private involvement.
Senator Charles Fuschillo, a Nassau County Republican, introduced a bill in May that would let a private entity or public-private partnership build and run infrastructure projects. An "Innovative Infrastructure Development Board" would oversee development.
Cuomo said that the state, not a private entity, would own a Tappan Zee replacement.
The Wall Street Journal reported today that Cuomo was exploring the use of pension funds to finance projects, including a new Tappan Zee crossing.
Before it's here, it's on the Bloomberg Terminal.
LEARN MORE