Spaniards to Vote More Cuts as Polls Signal Rajoy Landslide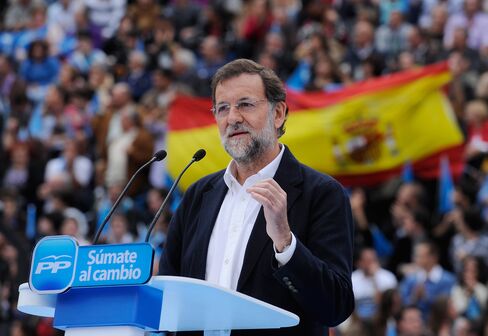 Spaniards, already reeling from the austerity measures that followed the worst recession in 60 years, are poised to vote for more economic pain on Nov. 20.
Voters may hand the opposition People's Party the largest majority any party has won since 1982, polls indicate. PP leader Mariano Rajoy has promised "restraint and rigor" to shrink the euro area's third-largest deficit by about a third to 4.4 percent of gross domestic product next year.
"We have to put up with this so the situation improves," said Goyi Bohoyo, a 61 year-old widow in Madrid whose pension is frozen as part of Socialist Prime Minister Jose Luis Zapatero's May 2010 budget-cuts package. "We are used to worse austerity. Spain was much poorer before the democracy was born and we don't want to go back by 40 years."
The election will make the Spanish government the latest to be toppled by the region's debt crisis after Greece, Italy, Ireland and Portugal. Unlike in those countries, Spaniards may hand a sweeping majority to a party fully supportive of European Union demands for the budget measures that led to economic stagnation and a jobless rate of 23 percent, the EU's highest.
Rajoy's election would "send a message some countries are prepared to go through austerity on a voluntary basis" at a time when "the markets are concerned the appetite to forge what is a United States of Europe, and a necessary condition for the long-term sustainability of the monetary union, is weakening," said Harvinder Sian, an interest-rate strategist at Royal Bank of Scotland Group Plc in London.
Absolute Majority
"Spain wants to be in the euro; this is part of a political project that should be irreversible," Rajoy said in an interview on Onda Cero radio today. "The euro brings with it obligations and commitments. The first is not to spend what you don't have."
The PP may win 198 of the 350 seats in Parliament, compared with 112 for the ruling Socialists, according to a poll in El Mundo on Nov. 13. A survey in El Pais showed Rajoy winning as many as 196 seats. The polls indicate the largest majority for any party since Felipe Gonzalez led the Socialists to victory in 1982 and the first government to rule without a coalition partner since the last time the PP won an election in 2000.
Boom-to-Bust
After ruling for close to eight years, Spain's Socialists are battling record borrowing costs after the EU's inability to shore up Greek solvency caused contagion to other highly indebted nations.
Spanish 10-year bond yields rose to a euro high of 6.90 percent today. The extra yield on the debt compared with German equivalents widened to as much as 503 basis points today before the ECB was said to buy Spanish paper, narrowing the spread to 483 basis points. Three people with knowledge of the deals said the central bank was buying Spanish debt, and the ECB declined to comment.
Zapatero came to power in 2004 in the middle of a 15-year expansion fueled by a real-estate boom that drove joblessness to a record low 8 percent. The fallout from the U.S. subprime crisis turned that boom to bust. Stimulus spending and a slump in revenue as the economy contracted converted Spain's budget surplus into the euro-region's third-biggest shortfall last year at 9.3 percent of GDP. That led to a jump in debt that left Spain vulnerable to the spread of the sovereign crisis.
Under pressure from EU allies and bond markets, Zapatero turned his back on his Socialist Party's traditional pro-labor policies. He slashed civil servants' wages, scrapped tax breaks, and froze pensions. The policies helped sap support Socialist candidate Alfredo Perez Rubalcaba, who trails Rajoy by at least 15 percentage points in most opinion polls.
Population Impoverished
Rajoy will inherit an economy on the brink of contraction, where the jobless rate among young people is nearing 50 percent, the banking system is facing a funding squeeze, and poverty is on the rise.
"We are really worried, one out of three jobless people in Europe is Spanish," said Julio Salazar, general secretary of USO union, the nation's third-largest. "Spending cuts is a euphemism; we have entered a spiral which is not only stalling the economy but also generating a general impoverishment of the population."
Unemployment
Marta Jaramillo, a 21 year-old unemployed mother of an 18 month-old son, came to Spain from South America with her family when she was 12 years old. She has worked as a waitress in Madrid and is ready to take any job she can find. Disappointed by Zapatero, she says she'll probably vote for Rajoy.
"When we came from Ecuador, there was more than enough work, and it paid well," she said. "Now my father is unemployed and my mother spends long hours cleaning houses for hardly any money."
Riding his lead in the polls, Rajoy has given little indication of how he plans to speed deficit reduction and boost creditworthiness. Spain lost its AAA rating on in 2009 and its 10-year bond yield of 6.7 percent is slightly higher than that of Mexico, which is rated BBB by Standard & Poor's and Fitch Ratings, five levels below Spain's AA-.
"I expect to see Spain's rating in the spotlight in the coming weeks," said Fadi Zaher, a fixed-income strategist at Barclays Wealth in London. "This is like a vicious circle, Spain is becoming the bridge between peripheral Europe and the core."
EU Forecasts
The European Commission said last week that Spain's economy would expand this year and next at a slower pace than the government forecasts. Without additional austerity measures, the deficit will reach 5.9 percent of GDP in 2012, breaching the 4.4 percent target, the commission said.
Rajoy has pledged to slash "superfluous spending" and not deviate from the budget target "under any circumstances." The PP in its electoral program published Nov. 1 said it would sanction administrations for overspending, and state-owned companies will be sold unless they do a better job than private companies, which will play a bigger role in managing public services and infrastructure.
Voters may be able to get some insight into Rajoy's approach from the efforts of PP-led regional governments. The PP has gained control of 11 Spain's 17 semi-autonomous regions, which account for a third of public spending. The region of Castilla-La Mancha aims to shrink its shortfall to 1.3 percent of GDP from 6.5 percent in two years without raising taxes, while Madrid is battling teachers' unions over staff cuts.
"People know they aren't voting for us to double the minimum wage but for a political leadership which is going to doing what is necessary," the party's economy secretary Alvaro Nadal said in an interview in Madrid on October 25.