Wall Street Protesters Blocked in Attempt to Disrupt NYSE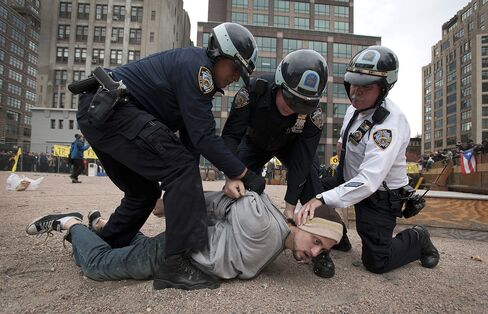 Occupy Wall Street demonstrators, whose attempts to disrupt the New York Stock Exchange were rebuffed by police, took their protest against income inequality to Union Square and the subway system.
More than 1,000 demonstrators filled the Financial District today near the NYSE and Zuccotti Park, the movement's symbolic home since protesters began camping there Sept. 17. Metal barricades blocked streets, and workers were asked to show identification to enter. The market opened on time, and transit officials reported no disruptions to subway service.
Participants later headed north to join students rallying against college indebtedness as police on foot and on motorcycles attempted to keep the streets clear. Shoppers in Manhattan's SoHo neighborhood stared from store windows and snapped pictures. Protesters plan a 5 p.m. downtown rally at Foley Square, for which they have a permit, followed by a march across the Brooklyn Bridge.
"It's a huge waste of taxpayer money to pay all these police overtime for two months," Ken Polcari, a floor trader and managing director at ICAP Corporates, said by telephone from the NYSE, where he's worked for 28 years. "The Big Board isn't going to succumb to a bunch of kids with no message."
At one point, police wrestled with protesters outside 60 Wall St., the U.S. headquarters of Deutsche Bank AG, as workers waiting to get through filmed the action with smart phones. One protester's sign read: "Debt -- the only thing still made in the U.S."
Plastic Handcuffs
Dozens of protesters sat on sidewalks in plastic handcuffs and were hauled away in police vans. Police made 177 arrests, and seven officers and 10 protesters were injured, Commissioner Raymond Kelly said in a briefing at Bellevue Hospital.
Howard Wolfson, Mayor Michael Bloomberg's deputy for government relations, said at a City Hall briefing yesterday that forces would be deployed to deal with tens of thousands of people "aimed at significant disruption."
"I'm definitely eager to show the world and the city that we still care about the occupation," Mark Greif, 36, who teaches English at the New School, said as he gathered with others at Zuccotti Park today. "I'm hoping people will see the commitment of American citizens to having something done about Wall Street excesses."
'99 Percent'
The Occupy Wall Street protests, which began in New York, have spread to cities on four continents, including London, Sydney, Toronto, Rome and Tokyo. The demonstrators refer to themselves as "the 99 percent," a reference to Nobel Prize-winning economist Joseph Stiglitz's study showing the richest 1 percent control 40 percent of U.S. wealth.
In upstate New York, hundreds stormed the Statehouse as buses from Rochester and Buffalo brought protesters to join Occupy Albany, which has set up tents in a nearby park. Signs called on Governor Andrew Cuomo to reconsider his opposition to raising taxes on those who earn $1 million or more.
Officials in Oakland, California, and other cities have shut down camps linked to Occupy Wall Street. A judge yesterday ordered Boston to refrain from removing protesters from Dewey Square until Dec. 1.
National Protests
Advocacy groups and unions are standing in solidarity with New York's demonstrators today for a nationwide day of action, according to MoveOn.org, which was started in opposition to President Bill Clinton's impeachment and became an advocate for overhauling health care.
Protests in almost every state are calling on members of a congressional supercommittee looking for spending reductions to protect programs like Medicare and Social Security and "make the super-rich pay their fair share." Protesters are targeting "decaying bridges" from Los Angeles to Miami to symbolize "failure to put America back to work."
In Portland, Oregon, police arrested 25 protesters sitting on a bridge this morning and temporarily closed the span as a precaution. Other people carrying signs marched across a lower level for bicycles and pedestrians. Mayor Sam Adams cleared camps from two parks last weekend.
"This bridge is falling apart," said Dan Keller, a 51-year-old web designer who said protesters chose the location because, like many around the U.S., it's in disrepair. "It needs funds to fix it up, which will give people jobs."
No More Camping
New York City occupiers lost their campsite at Zuccotti Park in Lower Manhattan on Nov. 15, when police in riot gear swept into the privately owned space beginning about 1 a.m. and arrested about 200 people. The protesters were evicted, then allowed to return without sleeping bags, tents, tarps and other gear.
"Zuccotti Park will remain open to all who want to enjoy it, as long as they abide by the park's rules," Bloomberg said in a statement after lawyers for the demonstrators failed to persuade a judge to reverse the eviction. The mayor is founder and majority owner of Bloomberg News parent Bloomberg LP.
New York City has spent $6 million on protest-related costs, excluding the Nov. 15 raid, said Wolfson and Caswell Holloway, deputy mayor for operations. Protesters won't be allowed to camp at any other city parks, Wolfson said.
Before it's here, it's on the Bloomberg Terminal.
LEARN MORE