Supercommittee Said to Weigh Republican Plan on U.S. Tax Breaks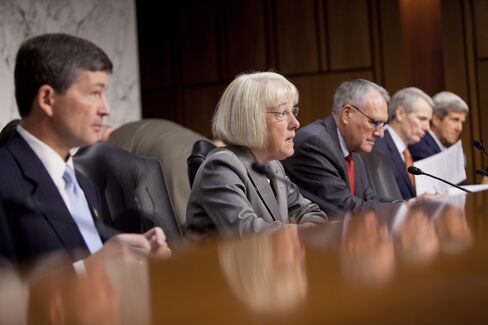 Republicans proposed cutting the U.S. deficit with a tax overhaul to yield about $300 billion and by raising the Medicare eligibility age to 67, said aides familiar with a congressional supercommittee's talks.
Republicans, who until now opposed new tax revenue in any deficit plan, suggested reducing individual tax deductions, exclusions and other breaks and changing the way income tax brackets are indexed to inflation, a Democratic aide said. In exchange, Republicans called for chopping the top marginal tax rate to as low as 28 percent, the aide said. Those changes would net $300 billion in higher revenue, the aide said.
The plan would reduce annual cost-of-living adjustments for Social Security beneficiaries, said the aide, who wasn't authorized to speak publicly.
The proposal also would save money by gradually raising the eligibility age for the Medicare health-care system to 67 from 65, according to another congressional aide. The Republicans' overall proposal would cut about $1.2 trillion from the deficit over 10 years, with about $700 billion of that coming from spending cuts, that aide said.
The 12-member, bipartisan supercommittee faces a Nov. 23 deadline for agreeing on a plan to carve $1.5 trillion out of the federal budget. If the panel doesn't agree, or if Congress rejects its recommendations, $1.2 trillion would automatically be deducted from defense and non-defense programs beginning in 2013.
Kerry, Murray
Senator John Kerry of Massachusetts, a Democrat on the supercommittee, criticized the Republican plan.
"Whatever they put there doesn't get the job done," he told reporters in Washington. "I would not characterize it as substantial, but it is a change," he said. "We have some distance to travel" to reach an agreement.
Senator Patty Murray of Washington, the Democratic co-leader of the supercommittee, declined to discuss the panel's deliberations, though she said, "I have yet to see a real, credible plan that raises revenue in a significant way to bring us to a fair and balanced proposal."
The Republican plan would reduce spending on Medicare by $225 billion, including $75 billion in government reimbursement to health-care providers, the Democratic aide said. Medicaid, the health-care program for the poor, would be cut by about $50 billion. The plan would also increase some government user fees.
35 Percent Tax Rate
The top income tax rate is 35 percent and is slated to increase next year to 39.6 percent. A second Democratic aide said cutting that levy to 28 percent would require eliminating most or all of the big tax breaks such as the deductions for charitable contributions and mortgage interest.
Another path to the goal of a 28 percent rate, with revenue for deficit reduction, would require raising tax rates on capital gains and dividends, said the second Democratic aide who wasn't authorized to speak publicly. Both are now taxed at a top rate of 15 percent, and President Barack Obama's Simpson-Bowles fiscal commission had proposed taxing capital gains as ordinary income.
Republicans have resisted increasing taxes as part of a debt-reduction plan. Democrats have been unwilling to consider cuts in spending on entitlement programs such as Medicare without agreement from Republicans to raise more tax revenue.
Before it's here, it's on the Bloomberg Terminal.
LEARN MORE