JPMorgan Divides Capital Markets Teams Into Debt, Equity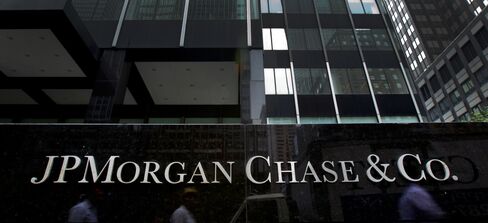 JPMorgan Chase & Co., the biggest U.S. bank, separated responsibility for its capital markets business into two groups, naming new heads for equity and debt.
Andy O'Brien and Jim Casey will become co-heads of global debt capital markets, a team combining debt capital markets and leveraged finance, investment-banking chief Jeff Urwin said in an internal memo obtained by Bloomberg. The two previously ran syndicated and leveraged finance in North America together.
Viswas Raghavan, formerly head of international capital markets, will become global head of equity capital markets as the bank combines its regional teams, according to the New York-based lender. Raghavan will remain based in London.
"Clients in all regions are facing similar issues and increasingly are seeking access to capital outside their home markets," Urwin said. "Investors want to broaden the geographic reach of their investments."
O'Brien and Casey are succeeding Therese Esperdy, who ran global debt capital markets and is leaving to become co-head of Asia Pacific investment banking with Todd Marin, who previously ran the group alone, according to an Oct. 24 internal memo obtained by Bloomberg. Esperdy and Marin will run JPMorgan's investment bank throughout Asia Pacific, except Japan, said the memo from Urwin and Gaby Abdelnour, chairman and chief executive officer for Asia Pacific.
Best-Paid Bank
JPMorgan, the most profitable U.S. bank, was the world's best-paid investment bank in 2010 in the Bloomberg 20 ranking of advisers, with total fees of $4.14 billion. The bank also led the field in fees from bond and equity issues.
So far this year, JPMorgan ranks No. 1 among underwriters in high-yield and high-grade debt and No. 2 behind Bank of America Merrill Lynch in U.S. leveraged loans, according to data compiled by Bloomberg.
O'Brien took the lead in pulling together a $20 billion, unsecured loan to Dallas-based AT&T Inc. in March-- one of the largest unsecured corporate loans ever. The financing package helped the bank land the deal advising the telecommunications company's $39 billion bid for Deutsche Telekom AG's wireless unit, T-Mobile USA.
Before it's here, it's on the Bloomberg Terminal.
LEARN MORE