Record Valuation Makes Massey Blast Costliest Merger: Real M&A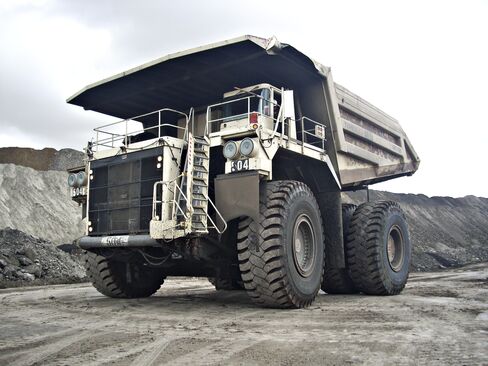 Coal demand is so great Alpha Natural Resources Inc. is buying Massey Energy Co. in the most expensive deal in the industry's history, 10 months after Massey caused the worst U.S. coal mining accident in four decades.
The takeover values Massey at $8.5 billion, including debt, or 23.3 times earnings before interest, taxes, depreciation and amortization last year, more than any coal acquisition of $1 billion or more, according to data compiled by Bloomberg. A record $30 billion in deals may be completed in the industry this year as acquirers pay an average 33 percent premium. That's also the highest in at least a decade and double the historical average.
Acquirers are being forced to spend more than ever to secure coal reserves in nations from Canada to Mozambique as demand from steel and power producers in China and the developing world drives up prices to all-time highs. Alpha Natural, which agreed to pay a 55 percent premium in the biggest coal deal in U.S. history, is betting that Massey can generate earnings that would be the highest in at least a decade, just one year after what may be its first net loss since 2005.
"Everything has to happen right to justify the premium," said Brandon Blossman, an analyst who covers both Alpha Natural and Massey at Tudor Pickering Holt & Co., the Houston-based investment bank specializing in energy companies and headed by former Goldman Sachs Group Inc. partner Bobby Tudor. "In the coal world, things rarely happen perfectly as planned. They paid as much as they possibly could."
Historical Performance
While the deals will help enrich the sellers, paying top dollar in the coal industry's largest takeovers hasn't guaranteed bigger returns for buyers.
In the past five years, at least eight publicly traded coal companies were bought in takeovers valued at $500 million or more, data compiled by Bloomberg show.
Acquirers in the four deals that offered premiums of more than 20 percent underperformed their competitors by 13 percentage points on average in the first year after completing the transaction. Those that paid premiums of less than 20 percent beat their rivals by 45 percentage points.
Xstrata Plc's $919 million purchase of Sydney-based Resource Pacific Holdings Ltd. preceded the largest decline. Zug, Switzerland-based Xstrata, the world's biggest exporter of power-station coal, plunged 80 percent in dollar terms in the first year after the deal closed in April 2008.
Commodity producers in the MSCI World Index of developed nations fell 50 percent in the same span as the credit crisis led to a global economic contraction in 2009, according to the Washington-based International Monetary Fund.
Biggest Premiums
Acquirers are now offering even bigger premiums for coal miners as demand in emerging markets gathers pace.
Coal use in developing countries will climb 20 percent this decade as China and India account for most of the world's increase, according to forecasts from the U.S. Department of Energy. Two-thirds of global coal consumption last year came from emerging economies.
The worst floods in Australia's history are exacerbating shortages after about 75 percent of the state of Queensland, the world's largest producer of coking coal with a greater combined area than Texas, California and New York, was inundated by the natural disaster this year.
Steelmakers in Asia may be forced to pay record prices as the floods push up costs 78 percent, according to Bank of America Corp., while UBS AG is forecasting a "price spike" for metallurgical coal next quarter. Metallurgical or coking coal is an ingredient used to forge steel.
Record Year
"More and more people are recognizing the need to control the assets themselves," rather than buying them from producers, said Wilbur Ross, the billionaire investor who built his fortune buying coal, steel and textile companies and serves as chief executive officer of New York-based WL Ross & Co.
A total of 91 takeover offers for coal mining companies made since the start of last year are pending, data compiled by Bloomberg show. If completed, the deals would be valued at $30 billion including debt, exceeding the annual record of $28.5 billion in completed coal acquisitions in 2008.
"It's a great time to be a seller," said Yemi Oshodi, a managing director of M&A and special situations trading at New York-based WallachBeth Capital LLC. While Alpha Natural is the best suited to buy Massey, overall "these prices, to me, are high. I can't justify these prices going forward," he said.
Deal Terms
Shareholders of Massey, the largest coal producer in central Appalachia, will receive 1.025 Alpha Natural shares plus $10 cash for each share held, the companies said in a statement on Jan. 29. The bid valued Richmond, Virginia-based Massey at $69.33 a share.
Morgan Stanley and Citigroup Inc. of New York are providing financial advice to Alpha Natural. New York-based Cleary Gottlieb Steen & Hamilton LLP is legal counsel. Massey is being advised by Perella Weinberg Partners LP of New York and Zurich-based UBS. Cravath, Swaine & Moore LLP of New York and Atlanta-based Troutman Sanders LLP are Massey's law firms.
There have been 2,030 deals announced globally this year, totaling $169.8 billion, a 13 percent increase from the $149.7 billion in the same period in 2010, data compiled by Bloomberg show. Alpha Natural's purchase of Massey is the third-largest transaction in 2011, the data show.
Average Price
Massey, which owns the mine near Montcoal, West Virginia, where an explosion led to 29 deaths last year, traded at an average price of $44.62 a share in the four weeks before it announced a strategic review on Nov. 22 that included a possible sale of the company.
Alpha Natural won Massey over a competing proposal from St. Louis-based Arch Coal Inc., according to two people with knowledge of the talks, who declined to be identified because the discussions were private. ArcelorMittal of Luxembourg also expressed interest in Massey, one of the people said.
The $8.5 billion price tag is 23.3 times Massey's Ebitda last year, data compiled by Bloomberg show. While at least seven other deals in the coal industry have been worth at least $1 billion, none had a higher multiple, the data show.
Alpha Natural acquired Foundation Coal Holdings Inc. for $2.2 billion in 2009, a deal that valued the Linthicum Heights, Maryland-based company at 5.69 times Ebitda, according to data compiled by Bloomberg.
2011 Valuations
Ted Pile, spokesman for Abingdon, Virginia-based Alpha Natural, said in an e-mail the company used Massey's estimated earnings for 2011 and 2012 in its valuations, which were more relevant and reflected higher prices for steelmaking coal. Based on analysts' estimates of $1 billion for Massey's Ebitda this year, Alpha Natural would be paying a multiple of 8.35, according to data compiled by Bloomberg.
That's 19 percent higher than the median valuation of 7 times for U.S.-traded coal companies, the data show.
Massey spokesman Jeff Gillenwater didn't immediately respond to telephone and e-mail messages seeking comment.
Alpha Natural's deal for Massey would exceed the C$4.4 billion ($4.4 billion) that Walter Energy Inc. agreed to pay for Vancouver-based Western Coal Corp., Bloomberg data show. The two would be among the industry's five largest takeovers.
Walter Energy, the southern Appalachia producer of steelmaking coal, offered C$11.50 for each Western Coal share in cash or 0.114 of a Walter Energy share, the companies said in a statement in December. The deal initially valued the equity at a 59 percent premium to its average price before the companies said they were in exclusive talks on Nov. 18. That paper profit has since swelled to 73 percent.
'Might as Well'
Walter Energy, based in Tampa, Florida, is seeking to borrow at least $2.7 billion to pay for a miner that analysts estimate will more than quadruple its Ebitda this fiscal year.
Caledon Resources Plc, the London-based supplier of steelmaking coal in Australia, is selling itself to China's state-owned Guangdong Rising Assets Management Co. at a 59 percent premium, data compiled by Bloomberg show.
The 263 million pound ($423 million) offer will give Guangdong Rising control of a miner that has lost money in seven of its last eight semi-annual reporting periods. The state-owned firm said it plans to use the acquisition to sell coal in China.
"If I were a seller I would have to look at selling at this point," said WallachBeth Capital's Oshodi. "If you can get this kind of premium you might as well."