Citigroup Bailout Based on 'Fear of the Unknown'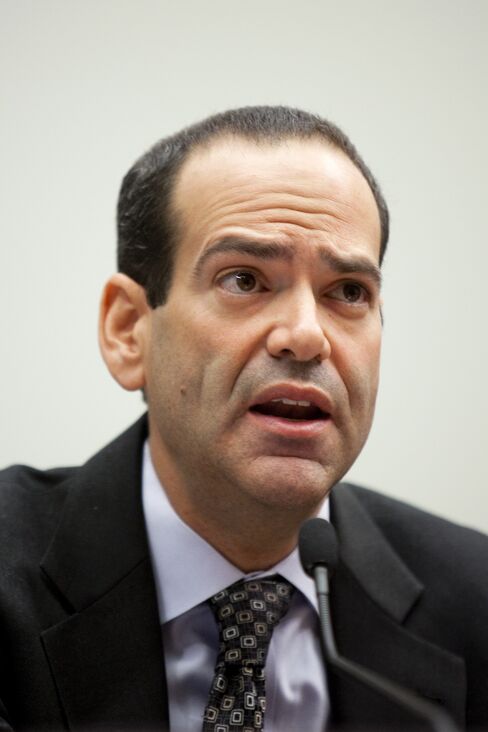 The U.S. Treasury Department's 2008 rescue of Citigroup Inc., once the world's largest bank, was "strikingly ad-hoc," a government bailout watchdog said.
"While there was consensus that Citigroup was too systemically significant to be allowed to fail, that consensus appeared to be based as much on gut instinct and fear of the unknown as on objective criteria," according to a report today from Neil Barofsky, special inspector general for the Troubled Asset Relief Program. "The conclusion of the various government actors that Citigroup had to be saved was strikingly ad hoc."
Treasury in November 2008 gave Citigroup a $20 billion emergency infusion, on top of $25 billion received the prior month, from the $700 billion TARP fund. The government also backed about $300 billion of Citigroup assets, helping to prop up the New York-based bank as its share price plunged below $5 and some depositors withdrew funds.
"The absence of objective criteria for reaching such a conclusion raised concerns about whether systemic risk determinations were being made fairly and with consistent criteria," according to the report.
Treasury Secretary Timothy F. Geithner told Barofsky that creating measurements for systemic risk was impossible because firms would "migrate around" the criteria, according to report. Geithner led the Federal Reserve Bank of New York in 2008 when regulators allowed Lehman Brothers Holdings Inc. to fail and then bailed out American International Group Inc. in the same week.
'Moral Hazard'
"It depends too much on the state of the world at the time," the report cited Geithner as saying. "You won't be able to make a judgment about what's systemic and what's not until you know the nature of the shock" the economy is undergoing.
Geithner said that "we may have to do exceptional things again" if the shock to the financial system is large enough, according to the report. Barofsky said that Geithner's remark "underscores a TARP legacy, the moral hazard associated with the continued existence of institutions that remain 'too big to fail.'"
Citigroup paid back $20 billion of its bailout funds and the Treasury converted the remaining $25 billion into a 27 percent stake in the bank, which it began selling last year. It sold the last of its investment in December, realizing an overall gain for taxpayers of about $12 billion.
'Final Accounting'
"It may have been ad hoc, but it worked," said Michael Goldstein, professor of finance at Babson College in Massachusetts. "Fear of the unknown is a perfectly good reason to try to buy some time and not take the chance of the U.S. economy going into another Great Depression."
The aid was well designed based on "the final accounting of the government's assistance to Citigroup," wrote Tim Massad, Treasury's acting assistant secretary for financial stability, in response to the report.
Citigroup may report on Jan. 18 net income of $11.5 billion for 2010, according to a Bloomberg survey of 10 analysts. The bank posted combined losses of $29.3 billion in 2008 and 2009. Chief Executive Officer Vikram Pandit told analysts in October that the bank should be in a "position to return capital" to shareholders in 2012.
"Citi is a fundamentally different company today," bank spokeswoman Molly Millerwise Meiners said in an e-mailed statement. "We have bolstered our financial strength, overhauled our risk management, reduced our risk exposures, defined a clear strategy and made Citi a more focused enterprise by returning to banking as the core of our business."
Barofsky said that the prospect of additional government relief may encourage excessive risk-taking by executives.
Citigroup "arguably still remains an institution that is too big, too interconnected, and too essential to the global financial system to be allowed to fail," Barofsky said.
Before it's here, it's on the Bloomberg Terminal.
LEARN MORE