Cartwright Sees '50-50' Chance to Avoid Defense Cuts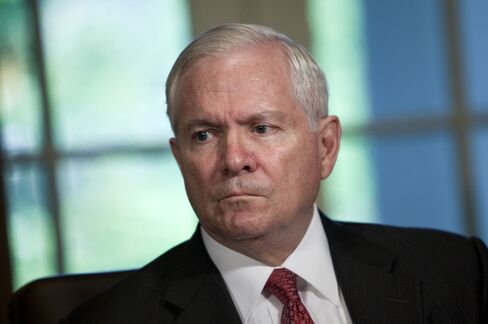 The U.S. defense budget has at least even odds of meeting Defense Secretary Robert Gates's goal of 1 percent spending growth after inflation, the Pentagon's No. 2 uniformed officer said.
"We've got better than a 50-50" chance of avoiding deeper cuts as Congress searches for ways to reduce the deficit, said General James Cartwright, vice chairman of the Joint Chiefs of Staff. "But there are realities we will have to work our way through with the Office of Management and Budget and the Congress."
At the same time, Cartwright said he has "zero faith" the Pentagon will meet a related goal of keeping -- for use on high- priority projects -- all of the money saved from a Defense Department plan to shave $100 billion of overhead and other costs, including $7 billion in 2012. Some of those savings will likely go for deficit reduction, Cartwright said.
"Some of that will migrate out," he said after speaking today to a defense investment conference sponsored by Credit Suisse and "Aviation Week." "I don't think it will be in the large portions. It will be manageable, at least this year."
Budget Pressure
"As you go forward and you try to set that $100 billion aside, it's probably going to continue to leak at a greater rate as the pressure comes on the budget," he said. "It's just logical." The largest projected annual saving is $28 billion in 2015.
On Aug. 9, Gates said that his "greatest fear is that in economic tough times, people will see the defense budget as the place to solve the nation's deficit problems, to find money for other parts of the government."
In the long run, as U.S. force levels are reduced in Afghanistan and Iraq, "my sense is that we'll have a downturn" in Pentagon spending, Cartwright said.
'The efficiency drive will see some funds diverted for deficit reduction, given the current political climate," said Mackenzie Eaglen, a defense analyst for the Heritage Foundation, a Washington-based research group. "If Secretary Gates departs before defending the president's fiscal 2012 budget request on Capitol Hill, all bets are off the table and defense could see even steeper cuts."
Todd Harrison, a defense budget with the nonpartisan Center for Strategic and Budgetary Assessments in Washington, said Cartwright didn't address whether the Pentagon will actually be able to achieve the planned efficiency savings.
"If history is any indicator, they won't be able to save as much as they think," Harrison said.