Putin Promotes Trade Zone From 'Lisbon to Vladivostok'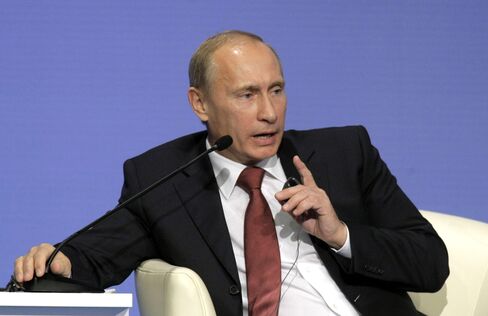 Prime Minister Vladimir Putin proposed closer economic links between Russia and the European Union that would eventually lead to establishing a free-trade zone stretching "from Lisbon to Vladivostok."
The response to the financial crisis should be a "joint continental market," particularly in heavy industry and energy, Putin wrote in a commentary published today in German newspaper Sueddeutsche Zeitung. Putin is on a visit to Germany for talks with Chancellor Angela Merkel and business leaders tomorrow.
"In the future a free-trade zone could come into being and we could even consider more advanced economic integration," Putin wrote. "Indeed, a joint continental market would then be created whose capacities would be in the trillions of euros."
The Russian prime minister said broad-based economic cooperation would take place only in stages and over a long period of time, though he pitched ties with Russia as a remedy to weaknesses in the EU's heavy industry and high-technology goods production, a result, he said, of de-industrialization.
EU and Russian leaders should think "20 to 30, even 50 years" ahead, Putin said. Initial steps would be clearing the way for Russia's membership in the World Trade Organization and establishing visa-free travel between the EU and Russia.
Energy Crisis
Merkel, speaking at an event today in Berlin, said while she supports Putin's proposal in principle, she had to "pour some cold water" on the idea. Russia's trade agreements with Belarus and Kazakhstan "don't exactly make the free-trade zone with the EU easier" because, unlike Russia, those countries are further away from WTO membership, Merkel said. She also took aim at what she called Russia's protectionism.
"I often hear news out of Russia that import customs are relatively surprisingly raised -- and not as often lowered," Merkel said.
Putin said EU states and Russia must consider "strategic alliances" in areas such as shipping, aerospace and auto production as well as the pharmaceutical and energy sectors as a way to promote growth in heavy industry,
Putin criticized efforts by the EU to open up competition in the electricity and natural-gas markets by requiring member states to improve access to transmission networks, such as forcing companies to sell or spin off grids. He said the process could stave off new infrastructure investment and cause a deregulatory spiral similar to that of the financial crisis.
Natural Gas Industry
"Nobody would want a failure of regulation in the natural- gas industry to cause a new crisis, this time in the energy sector," Putin wrote. A better model would be closer cooperation on all levels of the energy production chain, promoted by cross-holding arrangements in the industry, he said.
The regulations would affect OAO Gazprom, Russia's gas export monopoly, which meets about a quarter of European gas needs. Putin may discuss the possibility of E.ON AG selling its 3.5 percent stake in Gazprom at a meeting with Merkel tomorrow.
Putin, whose German became fluent when he was a KGB officer in the eastern city of Dresden before the Berlin Wall collapsed, will also meeting with German executives from companies such as E.ON, Siemens AG and Deutsche Bank AG in Berlin.