EDF to Buy $249 Million Constellation Nuclear Stake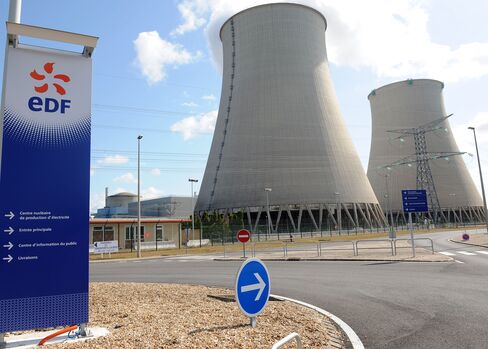 Electricite de France SA, seeking to avoid a $2 billion obligation, agreed to buy the half of a nuclear venture it doesn't own from partner Constellation Energy Group Inc. for $249 million in cash and stock.
Constellation, based in Baltimore, will get $140 million in cash and 3.5 million of its own shares in exchange for its stake in UniStar Nuclear Energy, the owner of sites for at least four new reactors at existing plants, the companies said today in a statement. Constellation will forgo its right under a previous contract to sell $2 billion of plants to EDF.
EDF, Europe's largest power producer, already owns half of UniStar and offered to buy the remaining half on Oct. 13 for "fair market value" if Constellation agreed not to exercise the option to sell 12 of its non-nuclear plants to EDF. Constellation had said it was considering exercising the so-called put, created in 2008 when the companies were fighting off a bid by Warren Buffett's Berkshire Hathaway Inc., citing government delays in loan guarantees.
"The threat of the put option has been removed," Martin Young, a London-based analyst for Nomura International Plc, said in a note to investors today. "EDF will need a new partner. New nuclear in the U.S. is not attractive at this juncture."
Under U.S. law, Paris-based EDF will need a U.S. partner as a foreign company can't "own, control or dominate" the holder of a nuclear power plant license. The company is in the process of building a new reactor at Flamanville in Normandy for an estimated 5 billion euros ($6.4 billion) and pursuing plans to construct four new reactors in the U.K.
Shares Rise
EDF rose 24 cents to 32.595 euros at 5:35 p.m. local time in Paris. Constellation declined 8 cents to $31.13 at 4:01 p.m. in New York Stock Exchange composite trading.
The two companies created the UniStar Nuclear Energy venture in 2007 to build as many as four French-designed nuclear reactors in New York and at the Calvert Cliffs site in Maryland. At the time, EDF's former CEO, Pierre Gadonneix, was seeking to develop and operate 10 reactors around the world by 2020. Henri Proglio, EDF's chief executive officer who took over last year, has been scaling back his predecessor's international expansion plans to cut debt.
Constellation and EDF will remain partners in a group of operating reactors that include the Calvert Cliffs plant in Maryland and the Nine Mile Point and R.E. Ginna nuclear stations in New York. The companies also agreed to modify a power sale agreement from those plants. Terms weren't disclosed.
Lazard Ltd. advised EDF. Morgan Stanley and Rothschild advised Constellation.
Before it's here, it's on the Bloomberg Terminal.
LEARN MORE