Trapped Chile Miners Eat NASA Diet, Prep for Rescue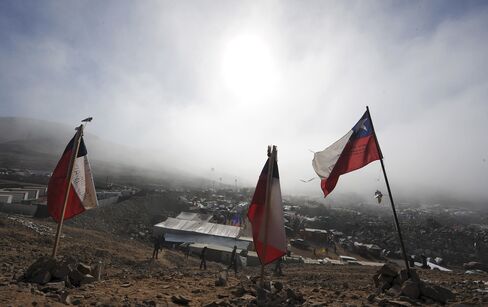 The 33 miners in Chile will spend the next few days in tunnels almost half a mile underground eating a special diet recommended by NASA and doing exercises designed to aid their rescue by midweek.
One of three drills working on the rescue broke through yesterday to tunnels where the miners have been trapped since Aug. 5. Rescuers this morning started installing a metal casing on the walls along one-sixth of the 623-meter (2,040-foot) shaft and tomorrow will install equipment to start bringing miners to the surface by Oct. 13, Mining Minister Laurence Golborne told reporters today.
Officials have "concerns" over the physical toll the extraction will have on the men as they are pulled up to the surface one-by-one in a steel tube 24 inches wide, Health Minister Jaime Manalich told reporters yesterday. Miners in coming days will have to perform "very hard" exercises and eat a special diet that includes saltwater supplements and aspirin to prevent them from suffering from hypertension, thrombosis or other forms of stress during the rescue, he said.
"At this point risks obviously exist and our work has been an incessant effort to try to prevent incidents from occurring," Golborne said yesterday at the mine site in northern Chile's Atacama desert. "You can never say an accident won't ever happen, but we hope that's not what will occur."
Longest Rescue
The miners have been trapped since an access tunnel caved in at Cia. Minera San Esteban Primera SA's San Jose copper and gold mine. Chilean state-run Codelco, BHP Billiton Ltd. and other mining companies, as well as the National Aeronautics and Space Administration, assisted in what has become the world's longest-ever mine rescue.
The men, ranging in age from 19 to 63, are in "good shape" physically and psychologically, Manalich said. Most have skin problems after living in humid conditions for more than two months and some are taking antibiotics to fight off dental infections, he said.
Ten of the trapped miners are receiving special treatment and are undergoing examinations to ensure they will be strong enough for the extraction, the health minister said today.
The miners will be split into three groups for the rescue. The "most skilled" will come out first in case they are needed to go back down to assist others, the health minister said. The weakest will then come out, followed by the rest.
Some of the trapped miners have volunteered to be the last to be extracted, the health minister said today.
Two Days
"This is a rescue operation that will take 48 hours and it's hard to imagine those who are down there will sleep or be able to rest, given the anticipation," Golborne said late yesterday. "As a result, the last to come up must be pretty strong to be in good enough shape to leave after a long time of waiting."
When the rescue starts, a tube will be lowered into the hole, which measures 26 inches at its narrowest point, Enes Zepeda, an engineer and director of Codelco's supervisors' union, said at an event on Oct. 7. Once they start pulling out the men, it will take about 90 minutes per person to complete the rescue, he said.
"We want to proceed as quickly as possible without forgetting that we're taking precautions to rescue the miners alive and without problems," Golborne said today.
'Long Live Chile'
Yesterday, a crowd made up of family members, hundreds of foreign and local journalists and government officials erupted into cheers and chanted "Long Live Chile" as alarm bells signaled that the drill had broken through at 8:05 a.m. local time.
The process was precarious up until the last meter, Jeff Hart, the operator of the drilling rig, said in televised remarks yesterday.
"It was very nerve wracking," said Hart, an operations manager at Layne Christensen Co., a drilling company based in Mission Woods, Kansas, that's assisting in the efforts. "Until you've actually broke through, nothing else matters. You can have a failure in the last meter and lose the entire hole."
Rescue operators have stopped operating one of the three drills, dubbed Plan A, and will continue boring down with an oil rig as a backup should the rescue well fail, Golborne said.
Plan A
The oil rig is about 150 meters shy of its target, lead rescue engineer Andre Sougarret told reporters today. Once the rig breaks through to the underground tunnels where the miners are trapped, workers would need another 10 days to expand the well to a diameter large enough to extract the miners, Golborne said.
"Obviously, it gives us more peace of mind to have an alternative in case something happens," he said.
The miners' only contact with the outside world has been through tiny drill holes through which people on the surface send down food, water, medicine and games such as dominoes.
President Sebastian Pinera, who plans to travel to Ecuador on Oct. 11, hopes to greet the men as they're rescued, he said yesterday. Bolivian President Evo Morales also wants to attend the rescue ceremony to greet the miner from his country who is trapped underground, the nation's official news agency, known as ABI for its initials in Spanish, quoted him as saying.
Chilean rescue workers may accelerate the extraction timeframe or delay it to Oct. 14 depending on how work progresses, Golborne said today.
Before it's here, it's on the Bloomberg Terminal.
LEARN MORE