Hedge Fund Player Dumps Finance Job to Guide, Invest in Artists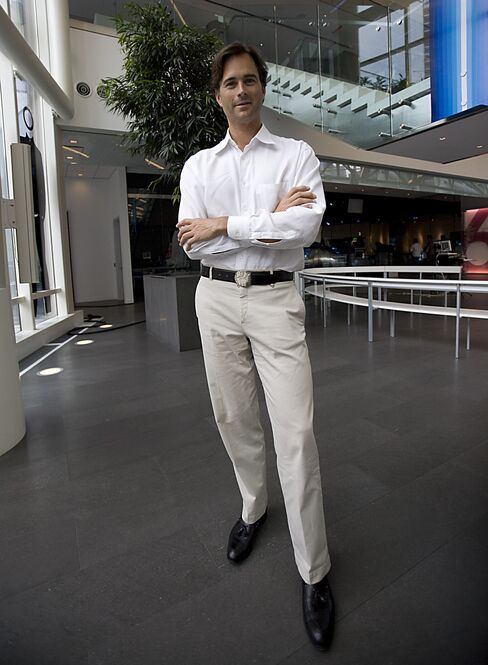 Hedge-fund investor James R. Hedges IV mingled with assorted Bronfmans, Gunds, Sacklers and several hundred other art-world notables at a fundraiser this week, munching the canapes at Manhattan's Four Seasons Restaurant.
The goal was $1 million to help restore a pair of modernist houses owned by the National Trust for Historic Preservation. Yet Hedges, 42, was more than a patron.
Earlier this year, the former president and chief investment officer of LJH Global Investments LLC said goodbye to 18 years in finance to focus on producing, promoting and advising on art. A longtime collector and museum patron, involved with London's Tate Modern, New York's Museum of Modern Art and other institutions, he is now putting his insider's experience to work.
"I'm pragmatic about viewing art as a financial asset,'' Hedges said in an interview this week. "I see it as an inefficient market that is misunderstood, that has got little in the way of transparency and limitations in the way business is conducted. But with all that being said, people can make a tremendous amount of money investing in this field.''
Hedges cites similarities between the art world and the early days of hedge funds: Both are "cottage industries, relationship-based and with zero transparency. They really require special guidance.''
Besides working with collectors in a traditional art- adviser role, Hedges aims to help artists, dealers and institutions find new ways to raise funds.
Video Project
In connection with the fundraiser, Hedges is producing a video by artist Sarah Morris, a visual portrait featuring Philip Johnson's Glass House in New Canaan, Connecticut, and Mies van der Rohe's Farnsworth House in Plano, Illinois, both under the management of the National Trust. Revenue from sales of the limited-edition video will support the houses through an initiative called "Modern Views.'' One hundred artists and architects have donated artworks inspired by the Glass House and Farnsworth House, and proceeds of sales will support preservation at both sites. Morris's video will be screened in Chicago and New York in the fall.
"There are not a lot of people looking to create value for artists,'' said Hedges. "There are art advisers who will create value for collectors. I'm interested in being a catalyst, and doing it in a way that benefits the artist.''
"It's not enough for him to buy a painting and hang it on the wall,'' said dealer Friedrich Petzel, who represents Sarah Morris. "He is more interested in the process.''
Kalup Linzy
Hedges has also teamed up with Lisa Cortes, the executive producer of the movie "Precious,'' to develop a feature film and other artistic projects with performance and video artist Kalup Linzy, who is best known for his satirical videos, often featuring himself in drag.
Hedges, who grew up in Lookout Mountain, Tennessee, credits his grandmother with helping to spark his interest in the arts. When he was a boy, she took him around the Hunter Museum of American Art in Chattanooga. His father is a wood sculptor and painter.
Hedges's art collecting began with photography. He gravitated toward images by the masters including Alfred Stieglitz, Manuel Alvarez Bravo and Henri Cartier-Bresson.
He moved on to the moderns, buying Matisse and Picasso drawings and a Calder mobile. He said he was buying in "a blue-chippy way.'' He progressed to conceptual and minimalist artists such as Dan Flavin, Sol LeWitt, Richard Serra, Brice Marden and Ellsworth Kelly. This phase coincided with a spot on the board of the Dia Art Foundation, which focuses on similar artists.
Titanium Cloud
Hedges got a taste of art production when he was hunting for a sculpture for his loft in Manhattan's Tribeca district. He was enamored with a titanium cloud by sculptor Inigo Manglano-Ovalle (a large version hangs in Bloomberg's New York headquarters) and approached the artist's dealer about producing a smaller version.
Hedges funded the project -- the production cost per cloud was $25,000 -- got his sculpture and helped the dealer sell an additional five. The pieces are now valued at more than $250,000, according to Hedges.
"There are great commercial ideas that have existing audiences, and will garner financial support,'' Hedges said. "You just have to go out and grab them.''
Before it's here, it's on the Bloomberg Terminal.
LEARN MORE