Business
Corporate America Has 1.64 Trillion Reasons to Love Tax Cuts
The earnings windfall is much bigger than expected.
by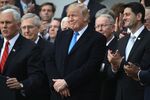 Welcome to Bloomberg Opinion Today, an afternoon roundup of our opinions on business, politics, markets, technology and more. New subscribers can sign up here. 
The Top Five
ICYMI
Stocks flailed. Trump is saving jobs in China. The on-again/off-again Trump-Kim summit might be on again.
$1.64 Trillion Reasons
The Trump tax cuts have so far had a feather-light impact on the paychecks of most American workers. For most American companies, though, they've landed like a ton of bricks – solid-gold ones.
In the first three quarters of 2018, companies in the S&P 500 saved $30 billion thanks to the corporate tax rate dropping to 21 percent from 35, per Stephen Gandel's math. Given the size of the companies involved, $30 billion may not sound like much. But it represents 43 percent of total profit growth in the quarter from a year earlier:

In other words, you can thank tax cuts for nearly half the growth in big-company earnings in the first quarter. For many companies – including a favorite target of Trump's ire, Amazon.com Inc. – the boost was even more substantial, representing all, or nearly all, the quarter's growth.
It gets better: At the rate they're going, S&P 500 companies could save $1.64 trillion in taxes over the next decade, Steve estimates – $300 billion more than lawmakers expected. Now we're talking real money. 
So far, that real money is by far mostly going to shareholders and not workers – but then again, most American workers never liked this tax-cut scheme anyway. They still don't. This was Corporate America's baby all along.
The Economist's cover story this week depicts a bunch of corporate executives in bed with Trump. If that doesn't appeal to you, then maybe these numbers will at least make it easier to understand.
The Bloomberg View
Trump has made a hash of North Korean peace talks so far, but that doesn't mean all hope for a deal is lost, Bloomberg's editors write. "But to get there, Trump and his advisers will need to change their approach, do their homework, and start measuring their words." OK, so maybe all hope is lost.
Turkish President Recep Tayyip Erdogan doesn't seem to understand economics. And yet he keeps insisting on taking control of his suffering country's monetary policy. This is a big reason why the lira is a landfill explosion right now. He's backed off a bit recently, but needs to fully commit to central bank independence to end the crisis, Bloomberg's editors warn.
Paying Defense
By now you've surely heard the U.S. spends astronomically more on defense spending than rivals such as China and Russia – more than the next seven countries combined, in fact. And in sheer dollar amounts that's true. But that's also an overly simplistic way to look at it, suggests Tobin Harshaw. Adjusted for spending on personnel (pay, health care, bowling alleys, etc.) and purchasing power parity, the numbers look a lot different:

We Could Dig Deeper for Welfare
House Republicans want to slash food-stamp spending, but such programs really aren't much of a lift for the budget, points out Justin Fox. In fact, as a percentage of GDP, welfare spending – safety-net stuff that doesn't include Social Security or health spending – is below its long-term average:

Weird Science
More than half of about 3,200 scientists surveyed recently by the journal Nature reported feeling "pressured to get a 'particular result'" in the past year, points out Faye Flam. That's one of the more troubling features of the toxic workplace cultures many laboratory workers described to Nature.
"The competitive nature of science and the egos of the leaders can set up both temptation and rationalization," Faye writes. "Those without power may think they need to cheat to get by, while those with more clout may be sure they know the answers to scientific problems, and feel the ends justify less-than-honest means." To preserve our faith in science, this culture needs to change.
Chart Attack
FIFA is about to make club soccer even more clownishly imbalanced than it already is, warns Alex Webb.

Don't freak out about emerging markets; they have a hidden strength, writes Robert Burgess.

Speed Round
Many Asian nations have laws against "fake news." They have proven to be dangerous in the hands of authoritarians. – Adam Minter
Vladimir Putin convened an impressive gathering of world leaders in St. Petersburg, where they all agreed on almost nothing but how much they dislike Trump. – Leonid Bershidsky
Trump says he's trying to make global trade more fair, but he's really making it more unfair – just in favor of the U.S. – Michael Schuman  
After a fatal crash in Arizona, Uber's self-driving car  looks like nothing more than a modern version of the Mechanical Turk – a machine that needs a human to operate it. – David Fickling 
The Zika virus is terrible – but it can help fight cancer. – Mac Margolis
Iran could be the big loser in Iraq's scramble to put together a government. – Hussein Ibish 
Kickers
Yogurt is good for you. Long before "Solo," a Vietnam vet named Brian Daley was the world's authority on Han Solo's origin story. Five ways your personality changes in the first year of marriage.
Note: Please send yogurt, suggestions and kicker ideas to Mark Gongloff at mgongloff1@bloomberg.net.
***
Like Bloomberg Opinion Today? Subscribe to Bloomberg All Access and get much, much more. You'll receive our unmatched global news coverage and two in-depth daily newsletters, The Bloomberg Open and The Bloomberg Close.
To contact the editor responsible for this story:
Timothy L. O'Brien at tobrien46@bloomberg.net
Before it's here, it's on the Bloomberg Terminal.
LEARN MORE