National
The American Optimism of a Kansas Muslim
The killing of an immigrant in Olathe, Kansas, last year caused global outrage -- and a local outpouring.
by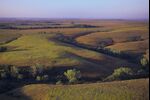 Austin's Bar and Grill on 151st Street in Olathe, Kansas, would look familiar to many suburbanites. The walls are cluttered with television sets featuring basketball, baseball, tennis -- even football out of season. The two-dimensional athletes loom over the weekend-warrior variety -- an almost entirely white, mostly male crowd congregating after work.
I met Moussa Elbayoumy there for dinner recently because I thought the place might be haunted. It's the bar where a bigot with a gun last year murdered Srinivas Kuchibhotla, a 32-year-old Hindu immigrant from India who had worked as an engineer at Garmin International, which is located little more than a mile down the road.
The killing featured the cultural cluelessness typical of racial and religious avengers, such as the self-styled patriot who responded to the Sept. 11, 2001, attacks by randomly murdering a Sikh in Arizona. Kuchibhotla's killer, who wounded two other men, including a white Kansan who bravely tried to intervene, apparently concluded that his Indian targets were Iranian, more or less, and thus deserving of death.
Elbayoumy, a cardiologist who works as a hospital administrator, leads the Kansas chapter of the Council on American-Islamic Relations. A native of Egypt, he has lived in nearby Lawrence for a quarter century. 
Elbayoumy said he doesn't frequent bars, but he expressed little unease about returning to the scene of the crime. It wasn't until he started speaking, however, that I realized I had expected an angry man. Instead, when I asked about the attack, and about the stream of bigotry and scapegoating that flows from the White House, he responded with his own outpouring -- of optimism and gratitude.
"Generally speaking, over the last several years, the instances of hate and anti-immigration were a lot less in Kansas than we have seen in many other states," he said. "We have seen people from all walks of life, from all races and faiths, coming to support the family and coming to the support of the Muslim community."
The Olathe police did a marvelous job showing support, putting the investigation on the right track, making sure the FBI was investigating as a possible hate crime, and so on. And then, a lot of interfaith communities started organizing events within their churches and places of worship. We had all those places of worship, and those homes, displaying signs in three or four different languages, including Arabic, saying, 'We don't care where you were born, you are welcome here' and things like that.
In our conversation, Elbayoumy doesn't dwell on prejudice or politicians. Instead he spoke at length about the expansive power of individuals wielding discrete acts of kindness. The woman who telephoned asking if she could invite some Muslim families -- she knew none -- to dinner at her home. Another who noticed, after the shooting, fewer Muslim women at the supermarket and offered to accompany them shopping if they were feeling afraid.
"That's the kind of community we live in," Elbayoumy said. "It's wonderful to have that."
His optimism is a personal characteristic, fueled by selective encounters. But it's also grounded in faith in his country. "I'm a student of history, and I know our beloved country has gone through other waves like this before, against other different types of people," he said. "And somehow we are always able to find our way back to what's right."
Perhaps that sounds like an idealized portrait. But it brought to mind another, which hangs in the Philadelphia Museum of Art. The celebrated Charles Willson Peale, whose subjects included George Washington, painted Yarrow Mamout (also known as Muhammad Yaro) in 1819. Yarrow, a Muslim and former slave, smiles gently, surely, securely, in Peale's picture.
According to the museum notes, Peale "perceived Yarrow's perseverance through his difficult life as a model of resourcefulness, industriousness, sobriety, and an unwillingness to become dispirited."
The unwillingness to become dispirited is a powerful thing. You can see it in Yarrow's calm satisfaction at his personal triumph. It's a confidence that draws on Yarrow's past but points toward Elbayoumy's future. Muslims lived successfully, securely in America long before Donald Trump. They will do so long after him.
To contact the editor responsible for this story:
Katy Roberts at kroberts29@bloomberg.net
Before it's here, it's on the Bloomberg Terminal.
LEARN MORE