Jobs
Quick Takeaways From the March Jobs Report
The data should ease worry about an overheating economy and a Fed policy mistake.
by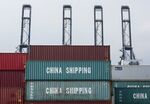 Given heightened international trade tensions, including the possibility of more U.S. tariffs on Chinese imports, along with ongoing transitions in the economy, policy and markets, the U.S. jobs report for March had the potential to either amplify or dampen market volatility. The latter is more likely at the margin, at least in the short term.
Although the job-creation numbers came in below expectations and the previous two months' data were revised lower, wage growth met expectations and the multimonth average pace of employment growth stayed solid. As such, the report released Friday should serve to reduce the concerns of some about the risks of an overheating economy that would increase the chance of a policy mistake by the Federal Reserve.
With nasty weather probably having an unfavorable impact, the economy added a net 103,000 jobs in March, undershooting Bloomberg's median estimate of economists of 185,000. With the revisions to prior months, the three-month moving average is just over 200,000 -- a solid pace for what has already been an impressive multiyear run for job creation.
The most widely watched rate of unemployment remained at 4.1 percent, compared with a consensus expectation of 4 percent. The less-cited but more comprehensive U-6 measure fell by 0.2 percentage points to 8 percent. That provided confirmation of the underlying health of the labor market despite a labor participation rate that, after last month's encouraging 0.3 percentage-point increase, is still just below 63 percent (with an employment-population rate of 60.4 percent). The more disaggregated indicators, including the rates by population segments, were largely unchanged.
The 0.3 growth in average earnings brings the annual rate to 2.7 percent -- as expected. The positive impact on income and purchasing power was somewhat amplified by a slight rise in average hours worked.
Altogether, the report points to a solid labor market that, absent major disruptions to trade, would help underpin 3 percent growth in the economy. The data should diminish concerns about the risk of overheating, counter forecasts that the Fed would hike four times in 2018 (rather than the signaled three), and reduce worries about a policy mistake that would derail growth.
The numbers reinforce what I have suggested is a 65-35 probability that the U.S. economy will be able to navigate well three key ongoing transitions:
out of low and insufficiently-inclusive "new normal" growth toward a higher and more widely distributed expansion,
out of repressed volatility toward a healthy medium-term setting of market functioning, and
away from excessive reliance on monetary policy in the context of a "beautiful" normalization by the Fed.
To contact the editor responsible for this story:
Max Berley at mberley@bloomberg.net
Before it's here, it's on the Bloomberg Terminal.
LEARN MORE