Editorial Board
Gun Safety Is a Cause Worth Marching For
America needs and deserves laws that elevate human beings over guns.
by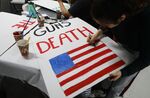 The U.S. loses more than 30,000 people to gun violence each year not because Americans are uniquely bad people, but because America has uniquely flawed laws.
Other nations -- America's peers around the world -- have laws that elevate human beings over guns. Today, in towns and cities across the U.S., Americans will march with the goal of bringing their own laws, which render life cheap and tragedy abundant, better in line with their values.
The students at Marjory Stoneman Douglas High School deserve enormous credit for catalyzing the marches on Washington. They have inspired the nation with their eloquent pleas to legislators who have long bowed to the gun lobby, with ruinous consequences for public safety. And, with backing from Everytown for Gun Safety (which is supported by Bloomberg LP founder Michael Bloomberg), the students have inspired more than 800 towns and cities to hold their own marches -- the largest mass demonstration against gun violence in the nation's history.
Marching is more than an expression of popular will. It's an expression of collective hope. Americans can improve the future by organizing, together, today.
The streets are open for democracy. Please use them.
--Editors: Francis Wilkinson, Francis Barry.
To contact the senior editor responsible for Bloomberg View's editorials: David Shipley at davidshipley@bloomberg.net .
Before it's here, it's on the Bloomberg Terminal.
LEARN MORE