Sparklines
Driving Keeps Getting Safer. Walking Does Not.
The death of a woman struck by an Uber autonomous vehicle is a reminder of the dangers to pedestrians.
by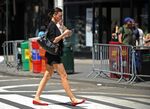 Late Sunday night, an autonomous vehicle being tested by Uber Technologies Inc. struck and killed a woman in Tempe, Arizona, the first known pedestrian fatality involving a self-driving car. Uber has since suspended testing. So has Toyota Motor Corp., which cited the possible "emotional effect" on its test drivers. It is unlikely to be the last such fatality.
Since 1899, more than 3.7 million people have died on the roads in the U.S. By the early 1970s, road fatalities exceeded 54,000 a year. They have since come down significantly, though they have been rising again since 2009.
Still, driving is undeniably safer than it once was. Today, 1.18 people are killed for every 100 million vehicle miles traveled; a century ago, that figure was 24 for every 100 million vehicle miles traveled. Driving in 1921 was 20 times as dangerous as it was in 2016. 
But that number ticked upward for the last two years in which the National Highway Traffic Safety Administration has full-year data. More significant, however, is the rate at which pedestrian fatalities have been rising. Those are at their highest levels since 1990, after falling and then reaching a low of 4,109 in 2009. Since then, pedestrian deaths have risen 46 percent. In 2000, they made up 11 percent of total traffic fatalities; in 2016, that figure was 16 percent.
Distraction-related deaths fell 2.2 percent last year, according to the NHTSA. That's good news, but I think Americans are more distracted than ever, in large part because of smartphones, which beg the attention of both drivers and pedestrians, further shortening our attention spans.
There is one major exception to the trend: New York City.
Last year, pedestrian fatalities in the city fell to 101, the lowest level since recordkeeping began in 1910 and down from an all-time high of 952 in 1929, according to the New York City Department of Transportation. Just as striking: Since the city debuted its Vision Zero plan in 2013, traffic fatalities have declined 44 percent.
The 151 initiatives that make up Vision Zero give me some hope that future traffic -- automated or not -- will be safer for everyone on the road. So far, 69 percent of the program's initiatives are either complete or continuing. Full implementation will hopefully bring fatality rates even lower and serve as a model for cities everywhere.
Get Sparklines delivered to your inbox. Sign up here.
To contact the editor responsible for this story:
Brooke Sample at bsample1@bloomberg.net
Before it's here, it's on the Bloomberg Terminal.
LEARN MORE