view
Macron's Immigration Policy Offends Pretty Much Everyone
But the controversial new law is the president's best bet to reform a dysfunctional system. He might just emerge strengthened.
by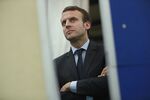 Following the Italian election, French President Macron noted that rising populism and anti-establishment (and anti-Europe) sentiment was linked to growing unease over immigration policies. It won't have escaped him that former Italian Prime Minister Matteo Renzi, whose center-left party lost badly, was once the darling of the media, technocracy and European elite too.
Macron is relying on a new and controversial law to fix France's dysfunctional immigration policy and hopefully prevent a similar fate. The law promises to streamline the processing of asylum applications while introducing tough penalties, including detention, for undocumented immigrants. It is popular with the French right, but viewed as a serious breaking of the faith on the left, the bedrock of Macron's majority. Many in his own party remembered his statements praising Merkel's 2015 stance toward migrants in Germany and calling refugees the "heroes" of modern times.
Macron is certainly right when he says that France's migration and integration policies are broken. Migrants who have been denied refugee status are rarely expelled from the country, a fact that fuels resentment across the whole of society and a problem former President Nicolas Sarkozy had promised but failed to address. Governing parties have long feared that addressing problems with immigration would fuel the vote for the far-right National Front. But their silence left the impression that the extreme right was the only party preoccupied by the subject and exasperated many mainstream voters.
To prevail, Macron needs to be seen both as a defender of refugees — and human rights — by the left, and a policeman of borders for right-wing voters. That was made more difficult by a clumsy launch of the policy. French Interior Minister Gerard Collomb announced the law in December with little warning or consultation. He was heckled by a member of parliament from Macron's Republique en Marche party, who said the new law was "unworthy" of French values. The center-left weekly "L'Obs," which had openly backed Macron during the campaign and his early months in power, ran a cover showing the president encircled with barbed wire and the sarcastic caption "welcome to the country of human rights."
For the first time since May 2017, the government had to back down and promise further discussions with civil society groups before presenting its reform. The addition of new measures to improve immigrant integration seems to have papered over differences for the moment. But Macron will have to work hard in the coming weeks to convince lawmakers and constituents on the left that his policy is both fair and efficient.
Having charted his middle course, Macron must stick to it. The hard left in the country are already disgruntled; there is no benefit to him in seeking to placate them by backtracking on his reform and a sign of weakness might then jeopardize economic reforms that they also oppose. Of course, the anti-immigrant right are unlikely to be satisfied for long by France's harder line on illegal immigration.
He should remind both how his predecessors failed in their own attempts to improve existing policy. Former President Nicholas Sarkozy was aggressive with his rhetoric, but never enacted the tough anti-immigrant approach his backers wanted.
Socialist President Francois Hollande, who had to deal with the Paris bombings and other attacks, was tougher than his electorate might have wanted, and suffered from the comparison with a more courageous Angela Merkel. Appealing to very different electorates is a trick Macron has pulled off so often now that the French media have dubbed his approach "en meme temps" (at the same time) politics.
The stakes are particularly high now. Succeeding on such a divisive and emotionally charged subject would deprive populists of the resentment at failed immigration policies that has fueled their support and could begin the difficult process of reconciling the French with migrants, particularly Muslim ones. And it would show a positive example to a Europe struggling with how to strike the right balance between compassion and control. This is one policy battle he can't afford to lose.
To contact the editor responsible for this story:
Therese Raphael at traphael4@bloomberg.net
Before it's here, it's on the Bloomberg Terminal.
LEARN MORE