view
The Big News Out of the Texas Primary: Women
There are strong signs that a lot of Democratic voters are looking for a woman to support this year. Plus, your morning links.
by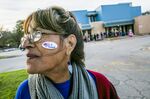 The big news from the Texas primary Tuesday was on the Democratic side, and it's a very simple one: Women. Female candidates outperformed expectations at the ballot box and outperformed their fundraising hauls. As I write this the votes are still being counted, and I'll include a caveat that this is just based on a look at the raw votes, not anything more sophisticated. But there are strong signs that a lot of Democratic voters are looking for a woman to support this year.
Take my home Congressional district, Texas' 21st, which stretches from San Antonio to Austin. Republican Lamar Smith is retiring, and four Democrats ran. One, Joseph Kopser, had the solid backing of many Washington Democrats and seemed to have support from party actors in the state. He raised the most money, by far. But he's finishing second against seemingly obscure candidate Mary Wilson, who raised the least money and yet is in the lead as I write this with 31 percent of the vote to Kopser's 29. We received at least 9 big glossy pieces promoting Kopser, two each from the other two men in the contest, and just a small postcard from Wilson. Kopser also had someone knock on our door, and place two get-out-the-vote calls to our home. Kopser and the other two men each had some impressive endorsements; Wilson doesn't appear to have had any. Either she ran an amazing low-cost stealth campaign, or Democrats in the district simply liked the sound of "Mary" as they scanned the ballot. 
Looking around:
Democratic gubernatorial candidate Lupe Valdez is beating Andrew White by about 16 percentage points.
Two open safe Democratic House seats both went to Latina candidates: Sylvia Garcia in the the 29th district, in the Houston area, and Veronica Escobar in the 16th, in El Paso. Both easily avoided runoffs. Indeed, Escobar and two other women in the 16th combined for about 89 percent of the vote, leaving the rest for three men who ran. 
Everyone expected a closer race between Jay Hulings and Gina Ortiz Jones in the 23rd district, a perennial swing seat running from San Antonio to the edge of El Paso. Instead, Jones surged to 41 percent of the vote. Rick Trevino has a narrow lead over Judy Canales for the other runoff slot, with Hulings finishing fourth. 
In the other seats Democrats are targeting? In the 7th district, the runoff will be between the two women in the race, Lizzie Fletcher and Laura Moser. They combined for about 54 percent of the vote against five men, including the top fundraiser, Alex Triantaphyllis. Another big spender was defeated in the 32nd district. The lone woman in that race, Lillian Salerno, won enough votes to face former NFL player Colin Allred in a runoff. (Okay, make that a good night for women and football players. After all, this is Texas). 
Overall that means every Emily's List endorsed candidate has either won or reached a runoff.
In the other House primaries with no Democratic incumbent and at least one woman and one man running -- solid Republican seats that probably had minimal campaigning -- Democratic women won (or at least had the lead at last look) in eight districts, and two districts have two women headed for a runoff. Only one of these contests was won by a man, plus one other seat where two men made the runoff. A few others are headed to a runoff featuring a man and a woman.
Consensus Democratic Senate nominee Beto O'Rourke easily avoided a runoff, but he ended up with a tougher challenge than expected. A woman, Sema Hernandez, took 24 percent of the vote after what I believe was a minimal campaign. 
I didn't count up the results in state legislative races and other campaigns, but from a glance it appears to be more of the same.
I think most Democratic consultants nationwide would have said for several years that, all else equal, women have a bit of an edge over men in Democratic primaries. But I don't think that's been the case in Texas, where only two of the 11 Democratic members of the House are women. 
Of course, it's hard to tell whether all else is equal. It's possible that the women doing well on Tuesday were just an unusually good crop of candidates. But I think that's the least likely explanation. Part of it, no doubt, is that there were lots more women running. Other than that, it was either driven by organized activists who didn't show up on anyone's radar or a voter-driven phenomenon. The latter doesn't happen often, but it seems likely this time. 
It's also possible that I'm missing some sort of ideological-driven voting or ethnic voting or some other factor. But I don't think so.
One thing that I think is fairly safe to say is that Democrats don't seem to be throwing away chances by choosing women regardless of their strength as a candidate. And some of the much-touted men who lost elsewhere seem to have turned out to be duds, like Jay Hulings in Texas' 23rd district, a former federal prosecutor who evidently looked better on paper than he did on the stump. Despite getting the endorsements of former U.S. Housing Secretary Julián Castro and Congressman Joaquin Castro, he garnered just 15 percent of the vote.
What does it mean for the other 49 states when they choose their nominees? We'll have to see. Maybe Texas was just catching up to the rest of the Democratic Party. But maybe it's something we're going to see repeated in state after state. All I can say is that if I were advising a Democratic woman trying to decide whether to jump into a tough-looking primary for a winnable seat, these Texas results would make me more comfortable urging her to go for it. And I'd have to think that men running in Democratic primaries this year should start figuring out what might work for them, because whatever men running in Texas were trying sure didn't seem to be it.
1. Matthew Dickinson at the Monkey Cage on why John Kelly has struggled as White House chief of staff. 
2. Dan Drezner on how the Trump administration isn't learning on the job, and heading for even more personnel problems.
3. My View colleague Timothy L. O'Brien on Trump's poor-quality staff. 
4. Alice Rivlin defends centrists.
5. Greg Sargent argues that Trump just isn't trying to govern in the public interest. Worth a look. I'm all for presidents governing in their own political self-interest; I'm not sure Trump is doing that, either. 
6. And as usual, my voting statistics for another Election Day. I voted, and voted, and voted -- a whopping 63 different contests, though that does include 12 party advisory propositions, an odd thing that Texas and some other states put on their primary ballots. Still, that's a lot. I suspect I cast as many votes on Tuesday as people in some nations do in decades, even if they show up every time. 
At any rate: This was the first Election Day of the year here in my precinct and the fourth of the two-year and four-year cycles. With 63 more votes, I've now cast 83 votes since November 2016. And I'll be back at it again soon, since we have runoffs in Texas. If you don't think that's too many elections and too many things to vote for ... well, I'd like to hear an argument for it. 
To contact the editor responsible for this story:
Mike Nizza at mnizza3@bloomberg.net
Before it's here, it's on the Bloomberg Terminal.
LEARN MORE