view
Powell Wants to Keep the Party in Markets Going
His congressional testimony was more bullish than it seemed.
by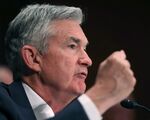 Investors appear to be on alert for a more hostile Federal Reserve after recent testimony to Congress from Jerome Powell that was widely described as hawkish. His comments, however, are more aptly characterized as bullish, and investors should be careful not to conflate the two stances. The Fed chair was suggesting the central bank will remain fairly accommodative, and won't become restrictive. That should provide some relief to equity investors.
In his prepared remarks, Powell said the Federal Open Market Committee would "continue to strike a balance between avoiding an overheated economy and bringing PCE price inflation to 2 percent on a sustained basis." Markets latched onto the word "overheated" as a sign the Fed would be more inclined to lean against higher inflation.
Yet, he went on to say in a question-and-answer session that there was "no evidence that the economy was currently overheating." Moreover, Powell suggested that the measure known as NAIRU -- the non-accelerating inflation rate of unemployment -- could be as low as 3.5 percent, which would tend to reinforce the notion that fears of overheating may be premature.
Clearly, Powell is bullish on the economy:
While many factors shape the economic outlook, some of the headwinds the U.S. economy faced in previous years have turned into tailwinds: In particular, fiscal policy has become more stimulative and foreign demand for U.S. exports is on a firmer trajectory.
It is important to emphasize the word headwinds because it has been used by the Fed in the recent past. In a December 2015 speech, Powell's predecessor, Janet Yellen, noted that "the marked decline in the neutral federal funds rate after the crisis may be partially attributable to a range of persistent economic headwinds that have weighed on aggregate demand."
She went on to list six headwinds: tighter underwriting standards, household deleveraging to reduce debt burdens, contractionary fiscal policy at all levels of government, weak growth abroad coupled with a significant appreciation of the dollar, slower productivity and labor force growth, and elevated uncertainty about the economic outlook. Many of these factors are beyond the Fed's control, but, more importantly, many are moving in a positive direction.
Fed officials have something specific in mind when they talk about headwinds -- they are trying to determine the overall stance of monetary policy. The approach can be called loose when the federal funds rate is below neutral. So, if the economy is facing many headwinds, the neutral rate is lower than it would otherwise be. That means a low federal funds rate may, on its own, overstate the degree of monetary policy accommodation. 
Powell's contention that headwinds are turning to tailwinds is another way of saying that neutral interest rates are rising. Thus, in order to keep the degree of monetary accommodation steady, the Fed has to hike rates. If policy makers actually want to tighten policy, they'll have to increase rates even faster. During his testimony, Powell provided a strong indication that he was willing to endorse a fourth hike in 2018. That, however, does not necessarily indicate a meaningful change in his policy.
One way to determine whether neutral rates are rising is if economic growth continues to come in above trend and/or if the unemployment rate continues to decline. Because neutral rates are difficult to determine in real time, it is fair to assume they are rising in an environment of above-trend growth. After all, if the economy was growing at trend for a period of time, rates could reasonably be considered to be at neutral levels.

For equity market investors, there is a big difference between a Fed that is hiking to chase neutral rates higher and one that is hiking to slow the economy. The former appears to be the case today. Investors looking to Washington for policy-related risk should look to the White House and Congress, not the Fed. The central bank may no longer be as much of a friend to markets, but it certainly isn't an enemy.
To contact the editor responsible for this story:
Max Berley at mberley@bloomberg.net
Before it's here, it's on the Bloomberg Terminal.
LEARN MORE