view
These Banks Can't Pretend They're Not Important
History suggests that freeing midsize banks from special scrutiny would be a bad idea.
by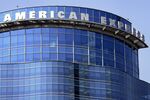 Judging from their latest effort to roll back the Dodd-Frank Act, congressional Republicans think that regulators shouldn't worry so much about the country's next-to-largest banks — the ones with between $50 billion and $250 billion in assets.
Are they right? History suggests not.
Following through on President Donald Trump's promise to ease financial regulations, legislators have introduced a bill that, among other things, would raise to $250 billion (from $50 billion) the threshold above which banks must submit to special supervision by the Federal Reserve. As a result, some 25 institutions would be freed from annual stress tests and other burdensome requirements.
The rationale is that they're not really big or systemically important enough to merit the added scrutiny. So how important are they?
One indicator would be how the government treated such institutions during the 2008 financial crisis. If it saw fit to bail them out, then perhaps they are too big to ignore. It did: The Treasury spent more than $45 billion in all bailing out some of the very same banks that the bill would now free from scrutiny. Here's a list:
Granted, those banks generally have more capital now than they did back then. Would they have enough to absorb losses and avoid bailouts in the next crisis? Well, that's what the stress tests are supposed to determine. Unfortunately, in the most recent round of tests — which weren't terribly stressful and set a low bar for passing — several just barely squeaked by. Some of the biggest came within a percentage point of the minimum required "CET1" capital ratio, which is troubling given that such ratios can be off by more than a percentage point. Here's a ranking:
There are good arguments for raising the $50 billion threshold — say, to $100 billion. And smaller banks shouldn't necessarily face the same requirements as the biggest. Judging from the record, though, it's probably not a good idea to let the next-to-biggest banks return to business as usual.
To contact the editor responsible for this story:
Stacey Shick at sshick@bloomberg.net
Before it's here, it's on the Bloomberg Terminal.
LEARN MORE