Europe
Why Polish Jews Are Growing Uneasy
The country's ruling Law & Justice Party is finding out that national revival is a dangerous game.
by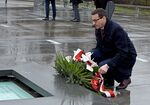 A month ago Poland passed the revised statute of its state-run Institute of National Remembrance, making it illegal to apportion any blame for Nazi crimes to Poland. Yet Mateusz Szpytma, the INR's deputy president, still can't explain to me what exactly one needs to say to end up in prison for three years.
"Ask the prosecutor," is all Szpytma will say. But doesn't the law empower the institute to make official complaints in such cases? Szpytma, on the defensive and looking sorry he agreed to talk to a journalist, shakes his head: The IPN, he insists, won't have anything to do with punishing people for what they say about Polish history. It exists to do research, not to create an official version of that history.
I can see why Szpytma, a historian who has studied the Holocaust in Poland, is uncomfortable. The whole business with the law smacks of authoritarian attempts to weaponize history. With the nationalist Law and Justice (PiS) party in power, Poland's reputation is at risk. After spending several days in Warsaw talking to the ruling party's functionaries and opponents, I don't believe the PiS leadership is anti-Semitic or bent on imposing an ethnic nationalist dictatorship on Poland. I'm concerned, however, that it is powerless by now to do anything about the demons it's woken. In this part of the world, they can be hard to put back to sleep.
It's easy to conclude that the law was a case of political ineptitude on the part of PiS leaders. Almost everyone I spoke to in Warsaw last week believed the swift passage of the bill, which had been sitting in parliament without movement for two years, was a knee-jerk response to a TV broadcast that showed a Polish neo-Nazi group meeting in a forest; the PiS apparently decided to demonstrate that it, or Poland, had nothing to do with Nazi crimes. But the bill was passed the day before International Holocaust Remembrance Day -- a coincidence the party failed to consider.
Regardless of the timing, it caused a major diplomatic crisis with Israel, where it's seen as an attempt to abrogate responsibility for the numerous cases of Nazi collaboration preserved in victims' family histories. It was also roundly condemned in the U.S., where actors ranging from Jewish organization to the State Department felt compelled to react. Poland -- already in conflict with the European Union over charges it is tampering with the rule of law -- hardly needed any of this for the sake of a law that's basically unenforceable: Even Szpytma cannot formulate exactly what it's supposed to punish.
In an interview in Warsaw, Prime Minister Mateusz Morawiecki was clearly pained when asked about the situation. "I think that the timing in particular of this law on the Institute of National Remembrance and the coincidence with the 73rd anniversary of liberating Auschwitz is not good," he said. "But I'm not blaming anyone because I believe that this happened coincidentally, by accident and not by the bad will of anybody."
Polish President Andrzej Duda signed the law but sent it to the Constitutional Court to look over. Officials have said no one will be prosecuted until the court has passed its judgment. Since the constitutional court is now firmly under PiS control, it can be expected to try to help the party find a way out of the mess it has created. Meanwhile, the law is going into effect on Wednesday, and at least one person intends to try it out.
That person is Konstanty Gebert, a veteran journalist at Gazeta Wyborcza, which follows a fiercely anti-PiS editorial line. Gebert, who is also an active member of Warsaw's small Jewish community, says the day the law goes into effect, he's going to publish a column in which he'll say that "multiple members of the Polish nation" collaborated with the Nazis. Gebert doubts he'll be prosecuted, not just because the government is waiting for a constitutional court ruling but because the last thing it needs is for the scandal to deepen.
The problem, however, isn't strictly with the law. On Feb. 19, Poland's Jewish organizations issued a strongly worded statement expressing a growing fear of an anti-Semitic resurgence. "On the eve of the 50th anniversary of the anti-Semitic events of March 1968 and 75 years after the Warsaw Ghetto Uprising, Polish Jews do not feel safe in Poland," the statement said.
I asked Gebert if he, too, felt something was wrong. "Since 1989, I've assumed my Jewishness would become irrelevant -- it's been a good place to live," he said. "Now, I'm no longer sure if my granddaughter will live here. I'm very conscious of my kippah now. This I didn't expect."
It's not as if there's been any violence against Jews -- so far, attacks have only occurred against Roma and Muslims, the latter convenient scapegoats for the PiS as it vows to prevent Muslim immigration to Poland. But the political climate has turned more hostile.
The Auschwitz memorial has had to argue with Polish nationalists on Twitter since some of them were banned from bringing Polish flags into the former death camp. The official explanation was that flags were permitted but not if they were attached to a stick; in response, the nationalists posted pictures of people in Auschwitz carrying Israeli flags on sticks. Other recent Auschwitz controversies have included the singing of the Polish national anthem and the supposed lack of signs pointing out that some of the death camp's victims were ethnic Poles, while Jews have plenty of such signs.
Anti-Semitic comments have been heard on Polish state television, which PiS has turned into a propaganda machine, and late last week, a PiS senator, Waldemar Bonkowski, shared on Facebook a Nazi propaganda film depicting the supposed cruelty of the Jewish police in the Warsaw ghetto during World War II. 
Bonkowski has been suspended from the PiS, and the party's leader, Jaroslaw Kaczynski, recently warned Poles against anti-Semitism, calling it "a serious disease of the mind and soul" and saying it was the devil who was whispering incitement in Poles' ears. This is in line with long-standing PiS policy, which is harsher on Jew-hatred than that of many western European political parties, especially leftist ones.
Gebert is certain the party's leaders aren't anti-Semitic. "They just can't afford to lose the anti-Semitic vote," he says. "Their nightmare is Hungary, where the ruling nationalist party faces opposition from the right. That would be the end of the PiS dream of a constitutional majority, and even its current simple majority could slip away."
The problem is likely broader than that, though. The PiS took power with a narrative that was attractive to many Poles, even those who didn't believe in the rest of their right-wing ideals. It's a flashback to national poet Adam Mickiewicz's description of Poland as the "Christ of nations" -- a nation suffering for others and overdue for redemption. Poland's desire to distance itself from the Holocaust is a defense against attacks on the purity of the suffering. In a similar vein, Morawiecki has been claiming that Poland didn't exist as a state during communism (as he said in the interview last week, "there was a Communist Poland, on the wrong side of the Iron Curtain, which had a completely different narrative, a completely different dependency -- namely, the people in power were related 100 percent to Moscow.")
The idea that Poles were blameless in everything that happened to their country in the 20th century creates a kind of bubble. It prevents the PiS leadership from thinking ahead of other nations' reactions to its national remembrance laws and to pronouncements like the one Morawiecki made at the Munich Security Conference, speaking in the same breath of Polish, Russian, Ukrainian, German -- and Jewish "perpetrators" of the Holocaust. The international outcry that follows is written down to "anti-Polonism," as Morawiecki put it in the interview. The PiS leaders' failure to anticipate it is something different than ineptitude. It's insensitivity inherent in the PiS worldview.
"There is this sense that a Pole is better than a non-Pole -- it's not openly official, but it's just under the surface," says Andrzej Mikolajewski, an entrepreneur and activist with the left-wing Razem political party. "Because of this, there are suddenly lots of 'others' who are not quite like us."
There's only a short step from this to anti-Semitism or, indeed, anti-anything non-Polish. Not just Muslims and Roma but also the 2 million Ukrainians doing temporary work in Poland are potential targets, especially given the tension between Poland and Ukraine over the two people's World War II-era history with each other.
Mikolajewski hopes the current crisis will teach the government something and perhaps force it to take a step back on the ethnic nationalism. The danger is that the PiS is caught in its own narrative. Polls taken since the IPN crisis show the party gaining popularity, and one even shows it with more than 50 percent of the potential vote. It's hard to go back on something that increases one's popularity. In a way, Poland's current leadership is a hostage to the resentments it has stirred as it tried to raise Poles' sense of self-worth.
To contact the editor responsible for this story:
Therese Raphael at traphael4@bloomberg.net
Before it's here, it's on the Bloomberg Terminal.
LEARN MORE