White House
Trump Goes All In on Turning Teachers Into Rambos
How the president figured out his gun policy.
by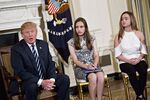 In a meeting at the White House late yesterday afternoon with students and parents who have endured school shootings, including the recent murders in Parkland, Florida, President Donald Trump advocated making teachers part of the solution.
"If you had a teacher with -- who was adept at firearms, they could very well end the attack very quickly," the president said. "We're going to be looking at that very strongly."
In other words, during those first horrifying, chaotic moments when a gunman bursts into a classroom brandishing an assault rifle, a teacher could just turn to the students and say: "Kids, open up your books to chapter three and read silently while I take out this shooter." Blam, blam, blam. Problem solved.
This is one of the more bonkers prescriptions Trump has offered for solving the nation's gun problem. It also lays bare the tragicomic path the president usually follows toward any policy position, how easily swayed he is by the last person he speaks with, and how intractable he can be once he latches on to an idea, no matter how far-fetched or perilous. (There was also The Wall, auditing the 2016 election for fraudulent votes, the Muslim ban, firing James Comey, hiring Steve Bannon.)
Immediately after recommending that schools turn educators into Rambos, Trump faced widespread criticism from teachers, students, parents, policy analysts and Democrats. (Republicans, on the other hand, appear to share the president's perspective, while independent voters seem evenly split on the issue.) And once criticized, of course, he dug in. On Thursday morning, he unleashed a series of tweets outlining how he felt about arming teachers:
It may not be surprising that the president has gone all in on arming teachers, but it is curious. In the wake of the last week's shooting, he had embraced some sensible first steps toward combating the gun problem, including banning bump stocks and tightening background checks and mental health screenings for gun buyers. (Last year, the president signed into law GOP legislation that made it easier for people with mental health issues to purchase guns.)
If you buy into the idea that Ivanka Trump is a leavening agent in the White House, you can imagine her, after the Parkland shootings, whispering in her father's ear, advising him to rethink some of his stances on guns. After all, she was the only one of the president's three eldest children who tweeted out her own thoughts about the shooting on the day it happened:
Eric Trump retweeted one of his father's tweets that day. Donald Trump Jr., an avid hunter who has pushed for looser gun regulations, tweeted only a love note from the family business and had nothing at all to say on Twitter about the shootings:
So it's also easy to imagine Donald Jr. getting hold of his father, after Ivanka, and reacquainting him with the National Rifle Association's talking points on school shooters and the limits of gun control. In due course, arming teachers became the leading wedge of the president's response to the Parkland shooting. He even added some can-do corporate thinking to the mix: offering bonuses to teachers who carry guns in the classroom.
His Twitter salvos Thursday morning also complicated things for his adviser Kellyanne Conway, who had taken to the airwaves the night before to slam reporters and critics for emphasizing Trump's enthusiasm for arming teachers.
"Those who are focused only on the small discussion yesterday about the possibility of allowing some educators and administrators to be armed at some schools, to focus on that alone today is disingenuously covering the fuller discussion yesterday," she told Fox News. "And frankly, it's disrespectful to the people who are in that room raising any number of different issues."
"I think it benefits us all that you have a non-politician here in the White House behind me because he can see this with a certain clarity that others perhaps cannot," she added.
The president doesn't have clarity on gun control, however. Arming teachers would violate a 1990 federal law that designates school campuses as gun-free zones. And Trump's suggestion overlooks the fact that Marjory Stoneman Douglas High School had an armed security guard on campus -- who didn't encounter the gunman during the shootings.
As the Daily Show demonstrated in its exploration of what can happen when a "good guy with a gun" tries to protect against a "bad guy with a gun," it can lead to lots of innocent bystanders getting shot (including the good guy). Arming teachers and other good guys is, the show observed, "way more complicated than movies, video games and politicians make it seem." And more complicated than Trump himself understands.
To contact the editor responsible for this story:
Mary Duenwald at mduenwald@bloomberg.net
Before it's here, it's on the Bloomberg Terminal.
LEARN MORE