view
Kushner Has Trump's Trust. He Needs Clearance Too.
Put the infighting aside and consider this: Shouldn't the president's advisers have access to the best information available?
by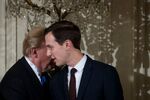 The reported struggle over security clearance between White House chief of staff John Kelly and presidential adviser (and son-in-law) Jared Kushner is a fascinating example of palace intrigue. But as engrossing as it may be to speculate about whether Kelly is trying to marginalize Kushner by denying him access to the presidential daily brief, we shouldn't neglect one basic truth. It's ultimately up to President Donald Trump to decide who he wants to advise him -- and we should all want those counselors to be able to provide the best advice possible.
More than any other part of the government, including the rest of the executive branch, the White House is the president's space to control as he chooses. It's right and proper that Trump fill his office with people he trusts.
As I argued when some questioned the propriety of Kushner serving in the White House at all, given his familial relationship with Trump, it makes no sense to deny the president access to the advisers he wants. Much better that the advisers should be official, known to the public and subject to laws governing their ethics than that they be unofficial, secret and outside the reach of regulation.
The same argument applies in spades to security clearance. If Trump wants Kushner's advice on national security and foreign relations matters, it is much better for Kushner to have access to the information and documents that the intelligence community thinks are relevant and that are included in the daily brief.
The alternatives would be for Trump to pass on classified information to Kushner, thereby arguably declassifying it, or for Kushner to have to fly blind, giving advice without access to the relevant intelligence.
Each of these alternatives is far worse than simply allowing Kushner the clearance he needs so long as Trump is relying on him for advice.
Fortunately, the legal structure of clearances reflects that logic. The president has the authority to grant interim clearances for as long as he likes. That's the basis for Kushner's access now.
The vetting process for clearances can drag out for various reasons. One is that the career civil servants who do most of the heavy lifting think the material they must review is so complex that they aren't confident that they can issue a clearance without the risk that they have missed something.
Here's where incentives come in. As well-meaning, careful, human bureaucrats, the civil servants' incentive is to avoid issuing a clearance that might later turn out to have been unwarranted. They have little or no incentive to issue a clearance when they aren't ready. Under these circumstances, it makes sense for the president to have the option of the interim clearance.
In his memo last week to the White House counsel, the national security adviser and the deputy chief of staff for operations, Kelly said he planned to discontinue clearance investigations that were pending since June 1. He then added that "going forward" he would "limit access to certain highly classified information" for people with interim clearances, subject to his own approval.
The likely implication is that Kelly wants to block Kushner's access to some aspects of the daily brief. Kelly indirectly confirmed that in a statement released by the White House. In it, he said rather pointedly that he had full confidence in Kushner's performance of his "duties" connected to foreign policy, "including" the Israel-Palestine peace process and the U.S. relationship with Mexico. By specifying these particular areas, Kelly seemed to be saying he would restrict Kushner's access to these subjects rather than permitting him to see the whole daily brief.
From a bureaucratic perspective, this looks like the chief of staff trying to prevent Kushner from advising Trump on other subjects. If indeed those were the only subjects on which Trump was seeking Kushner's advice, the restriction might conceivably make sense. Need to know, after all, means need to know.
But the reality could very well be different. Trump may still be consulting Kushner on a wider variety of topics -- and Kelly may be trying to make that harder using the bureaucratic tool of the security clearance. That's a bad idea if the goal is getting Trump the highest quality version of the advice he actually wants to hear.
Of course, Kelly works for Trump, too. If Trump wants to tell Kelly to reverse course, he can. In that sense, Trump, rather than Kelly alone, would be to blame if the restriction blocked Kushner's access to information that would actually help him advise Trump.
But it seems possible that Trump might not want to get involved in the feud, or might not fully grasp that the advice he would be receiving Kushner would be of lower quality without the information.
If that is so, then Trump himself would be falling into the bureaucratic trap of thinking that he can't have the advice he wants from advisers he prefers. And that would be a bad result for the president who, like his predecessors, needs all the help he can get.
To contact the editor responsible for this story:
Stacey Shick at sshick@bloomberg.net
Before it's here, it's on the Bloomberg Terminal.
LEARN MORE