view
Devin Nunes's Safe Seat Is Looking Less Safe
The congressman's pro-Trump zeal is helping Democrat Andrew Janz raise funds.
by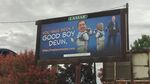 This is how it begins.
"I'm a registered Democrat. In 2016, at the end of the year, I'm sort of looking around to see what I can do to make sure that there is never a Trump presidency again. Just trying to figure out what I could do from my position as somebody who's semi-active in the community."
It's 8:30 p.m., and Andrew Janz has made it clear he would prefer to be home eating dinner with his wife. Instead he's at the Elbow Room, a bar and grill in Fresno, California, giving another interview.
The 34-year-old prosecutor is running for Congress because, well, Trump. "I think Donald Trump doesn't have the moral character to be president of the United States," he said.
A deputy district attorney in Fresno County, Janz had not previously run for office. Nor had he been even "semi-active" in Democratic politics -- which aren't all that lively to begin with in this Central Valley district dominated by Big Agriculture and Republicans.
The local Democratic organization has "a long track record of not getting Democrats elected to office," Heather Greven, Janz's campaign manager, pointed out.
The bad news for Janz is that the incumbent Republican congressman in this district beat his 2016 opponent by 35 percentage points. The good news is that the congressman is Devin Nunes, who for millions of Democrats across the country has become the face of Republican capitulation to a corrupt presidency. A lot of Democrats would like to see Nunes ousted.
In addition to using his chairmanship of the House Intelligence Committee to thwart investigation into Russian sabotage of the 2016 election, Nunes has repeatedly used his position to coordinate committee work with White House spin, including creating a bogus counter-narrative that the Obama White House had illegally "unmasked" Trump campaign personnel who were under scrutiny for their contacts with Russians.
California's 22nd district, despite a Hispanic plurality and a nonwhite majority, is nowhere near a top target for Democrats in Washington, however. Nunes, who grew up in an affluent farm family, was first elected in 2002 and has been easily re-elected since. He has loads of money: At the end of 2017 his campaign reported $3.8 million in cash on hand, enough to flood the district, which contains only one television market, Fresno, along with small towns and farmland.   
While Nunes's seemingly boundless loyalty to Trump has endeared him to the president's biggest fans, it has also motivated Democratic partisans. 
"We get a stack of envelopes like this every day," Janz said, forming a two-inch gap between thumb and index finger. "Some have checks in them and stuff."
Janz launched his campaign last April, and raised about a quarter million dollars in all of 2017. That's not bad for a newbie. Since February 2, however, the date when Trump released a memo written by Nunes's staff with the goal of undermining the Russia investigation, Janz has raised an additional $510,000, according to Greven. It's still a long-shot campaign. But it looks slightly different than it did a few months ago.
A child of an immigrant father from Canada and an immigrant mother from Thailand, Janz spoke Thai at home before learning English. Even though he was born in the U.S., he identifies viscerally with Dreamers, the undocumented immigrants who were brought to the U.S. as children. "I see myself in them," he said.
Janz recognizes that to have a chance in a district rated +8 Republican by the Cook Partisan Voting Index, the personal impetus for his run -- Trump -- must defer to a more compelling local message.
"My message has been Devin Nunes is fooling around in Washington with all of his fake memo stuff while he should instead be working on issues that people care about back here at home," Janz said. "You know, the Central Valley is one of the most under-served regions of the country. We have high poverty rates. We have some of the highest illiteracy rates. We have some of the most underfunded schools. We have some of the most contaminated water here in the district."
Janz is hoping that two high-profile Hispanics running statewide will boost Hispanic turnout in the district. Former Los Angeles Mayor Antonio Villaraigosa is running for governor and state Senator Kevin de Leon is running for U.S. Senate. Both are expected to make the general-election runoff.
But Hispanic turnout is a biennial disappointment to Democrats. Greven said the campaign will invest in Spanish media, but isn't expecting a windfall that's unlikely to materialize. "Our strategy is to win voters who vote," she said.
Janz talks of the Democratic Party as the party of Franklin Roosevelt, the New Deal and nation builders. "I'm talking about bringing projects to the Central Valley. That is my focus. Water, infrastructure and, to go along with that, it's gonna bring a lot of jobs, too."
He's not the only Democrat running in the race. But he seems to be the one who figured out how to capitalize on fear of Trump and loathing of Nunes. If a national Democratic wave election does take shape, there will be odd congressional districts that unexpectedly flip to the Democrats in November. The 22nd district of California probably won't be one. But it could be.
To contact the editor responsible for this story:
Katy Roberts at kroberts29@bloomberg.net
Before it's here, it's on the Bloomberg Terminal.
LEARN MORE