view
Why Europe's Google Rulings Don't Benefit Consumers
Consumers and small businesses aren't getting much from Europe's antitrust activism because it's not really their fight.
by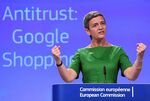 Perhaps the most baffling aspect of the European Commission's ruling against Google last year, which included a 2.42 billion euro ($3 billion) fine, is that the remedial action Google was allowed to take didn't make the market in question, shopping searches, any fairer or any more accessible to smaller players than it was before the ruling. Now there's a reason to expect the ruling in another Google case -- the one dealing with the company's treatment of phone makers who use its Android operating system -- to be just as useless for the cause of fair competition.
Reporters for Politico have discovered that FairSearch, the non-profit group that filed the Android complaint in 2013, is under the full legal control of two giant companies: U.S.-based Oracle and South Africa-based Naspers, which owns shares in China's Tencent and Russia's Mail.ru. At the time the complaint was filed, Microsoft was also part of the effort, but it left FairSearch in 2015. Other companies that have been mentioned as FairSearch members are so-called adherent members without voting rights who "do not participate actively in the achievement of the association's goals."
This makes sense on a certain level: The small firms don't have the deep pockets to hire expensive lawyers and PR consultants (FairSearch is working with elite firms Clifford Chance and Burson Marsteller). FairSearch has rejected Politico's findings as immaterial, and some of its "adherent members" have backed this stance. But the implication is clear: If, at the end, it all comes down to Oracle's and Naspers's desire to keep Google in check, Google may end up punished but consumers and smaller companies won't get much out of it.
That's exactly what happened last year. The search monopolist was slapped with the fine (which it's contesting) for prominently surfacing its own  suggestions when a user searched for a product to buy, and burying comparison websites' competing results. It was told to fix the problem andcame up with an auction-based mechanism for the top spots on the search output page, in which competitors could bid for space against Google Shopping. That service was required to show a profit so it couldn't always outbid the others. It hasn't worked. Search for something to buy in any European country and you'll get results from Google Shopping. Google has told me that competitors were placing ads, too, but I don't know what one needs to do, or how many times a search needs to be repeated, finally to stumble upon an alternative. 
In the Android case, which is likely to be resolved in the next few months, the idea is to stop Google from forcing phone makers to preinstall its apps and from barring access to the Google Play store -- the official source of Android apps -- for producers who install Android "forks," versions of the system that Google doesn't support. As an Android user, I'm not sure how the EU can help me with any of this. I want the Google apps preinstalled, rather than the useless bloatware supplied by phone makers such as Samsung. Even if I cannot remove an app that came with my phone -- which traditionally has been easier on Android than on Apple's MacOS -- the various interfaces available for the system can be tweaked so that I'll never see it. It's easy for an Android user to replace the default browser if one doesn't like Google's Chrome (I've done so) and to use a search engine other than Google (sadly, none works as well -- but privacy advocates aren't prevented from using DuckDuckGo, for example). And as for Android forks, they're for geeks who are fine with common applications not working right on their devices.
Nor is it clear how a ruling against Google could address any of Oracle's or Naspers's direct competition concerns. Oracle's beef with Google is about the use of elements of Java, an Oracle-owned programming language, in Android. Naspers is a major player in online classified ads, a business in which it clashes with Google. Neither would benefit directly from a change in Google's relationships with phone makers. 
One can, however, easily see Oracle and Naspers rejoice at another publicity black eye for Google and another huge fine. Margrethe Vestager, the competition commissioner, is the European Commission's undisputed star, who is often mentioned as a potential successor to its current president, Jean-Claude Juncker. But what if her crusade against U.S. tech is no more than a reflection of the increasingly high-stakes lobbying game played in Brussels by non-European tech giants?
Google's declared EU lobbying costs, between 5.25 million and 5.5 million euros in 2016, the latest year for which data have been available, were higher than any other non-communication company's except Spain's Ferrovial Agroman and fellow U.S. giant General Electric. But because of how the disclosures are regulated, that spending isn't entirely transparent. Google, for example, is a member of powerful associations such as BusinessEurope, one the EU's biggest lobbying spenders in its own right; these groups get the U.S. company's executives into high-level meetings, too, but their lobbying budgets are separate.
As for FairSearch, it declared lobbying spending of between 50,000 and 99,000 euros in 2016, but at the same time Politico confirmed that it transferred up to 199,000 euros to Burson Marsteller and up to 49,000 euros to another PR firm, FIPRA International, that year. That money is, of course, separate from Oracle's own reported lobbying budget of up to 899,000 euros and from Naspers's smaller one of up to 50,000 euros. All the tech firms' Brussels lobbying spending has increased in recent years.
The lobbying competition is a game of one-upmanship. Whether consumers benefit or suffer is, to put it generously, not the only consideration. But given the enormous budgets dedicated to swaying EU officials, it's not easy for consumers or small businesses to be heard, much less usefully served by the bureaucrats' decisions. 
To contact the editor responsible for this story:
Therese Raphael at traphael4@bloomberg.net
Before it's here, it's on the Bloomberg Terminal.
LEARN MORE