view
It's Getting Harder to Tell Banks From Tech Companies
Just imagine the day that Goldman Sachs offers an Uber-for-mergers app.
by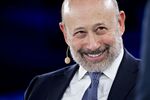 This post originally appeared in Money Stuff.

You know, someone invented the XIV ETN. And someone invented the VIX, and VIX futures. And when you read the technical specifications for all of those things, it is clear that they are not trivial feats of engineering. Teams of marketers and traders and quants and technologists and lawyers put many hours into getting them just right, so that they would work as intended. They are technologies, highly engineered tools designed to help customers do things that they couldn't have done before. They are financial technologies, built not out of screens and circuit boards but out of formulas and hedging strategies and legal documents, but that is what you'd expect: Financial firms ought to innovate in financial technology.
Yesterday Goldman Sachs Group Inc. Chief Executive Officer Lloyd Blankfein presented at the Credit Suisse Financial Services Conference, and his presentation is kind of a weird read. The running theme is that Goldman is doing technology stuff to win business. "Engineering underpins our growth initiatives," says a summary page, and it doesn't mean financial engineering. In fixed income, currencies and commodities, engineers are 25 percent of headcount, and the presentation touts growth in Marquee (its client-facing software platform) and "systematic market making." In equities, Goldman touts its quant relationships. In consumer banking (now a thing!), the centerpiece is Marcus, Goldman's online savings and lending platform. And in investment banking, "Engineering enhances client engagement through apps, machine learning and big data analytics." Apps! I hope there is an Uber-for-mergers app: You put in your location and the enterprise value of your deal, and it tells you that a Goldman Sachs banker will be at your office within 7 minutes. Of course the dream is that one day she won't even need to show up, and the app will do the whole merger for you.
This is obviously good and sensible. Making finance more efficient is good, reaching out to customers with technology is good, a big investment bank is probably as well positioned to build banking and trading apps as anyone else. It is just different, though. Instead of developing new financial technologies, Goldman is developing new computer technologies for its financial clients. Financial technology itself, the business of engineering new tools of finance, is perhaps stagnating a bit. "People are -- not unreasonably -- skeptical of financial innovation that is actually financial innovation, that finds new ways to slice cash flows and allocate risks," I wrote a little while ago. Now the innovation is in apps.
(Disclosure: I used to work at Goldman designing derivatives, not apps. Also I have a Marcus savings account.)
If you'd like to get Money Stuff in handy email form, right in your inbox, please subscribe at this link. Thanks! 
To contact the editor responsible for this story:
James Greiff at jgreiff@bloomberg.net
Before it's here, it's on the Bloomberg Terminal.
LEARN MORE