Latin America
Ecuador Strikes a Blow for Common Sense
A referendum rejects rulers for life, corrupt officials and oil rigs in nature preserves.
by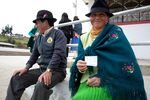 When Lenin Moreno won the presidential election in Ecuador last April, no one expected a political miracle. The former vice president to Rafael Correa, he won by a narrow margin and seemed to harbor no ambitions beyond warming the throne for his jefe's presumptive return to the palace in 2021.
What Ecuador got instead was an insurrection. Just ask Correa: Having done pretty much as he pleased with the impoverished Andean nation for the last decade, the cashiered caudillo has since watched his protege pick apart his "Citizens Revolution," reform by reform.
The assault deepened on Sunday, when voters weighed in on a multi-question ballot to alter key articles of the constitution, on matters from mining to corruption. The centerpiece of the referendum? Restoration of the term limits that Correa, in the tradition of Latin American strongmen, had engineered away in a referendum of his own in 2015. Partial returns Monday morning confirmed polls that renewed term limits were set to pass by a landslide, effectively barring Correa from the presidency for life.
Apostasy was the last thing Ecuadoreans might have expected from Moreno, who is as understated and conciliatory as Correa was volcanic and brash. But Ecuadoreans like what they've seen so far.  
Just 10 months into his term, Moreno has reached out to business leaders and opposition parties, ended the feud with media, and cracked down on corrupt officials. Tellingly, he did nothing to protect Vice President Jorge Glas, a Correa confidant, who was convicted in December for allowing bribes from the ubiquitous Brazilian contractor Odebrecht -- an unmistakable flag to the ethically challenged political establishment.
"The Glas case was a signal to everyone else that they can expect no quarter or special treatment under Moreno," Aristodimos Iliopulos, an analyst at the Economist Intelligence Unit, told me. "Moreno has shown he's a brilliant politician. No one expected him to do what he's done as quickly as he has."
The referendum gave Ecuadoreans the opportunity not only to reset term limits but also to reverse key mileposts of the Bolivarian socialism -- the late Hugo Chavez's them-against-us, gringo-thrashing political brand -- that enchanted Andean populists even as it poisoned politics and corroded national institutions. Voters signed onto provisions barring mining and oil drilling in protected zones, blocking officials facing corruption charges from seeking office and curbing the power of the Correa-friendly Citizen Participation Council.
Moreno's victory on all counts suggests how badly his predecessor's cachet has faded. Correa once famously answered rumored death threats by tearing open his shirt to offer his chest on a balcony; last month he ducked behind umbrellas as protestors pelted his anti-referendum campaign swing with eggs.
Yet don't hold your breath for an outburst of Morenismo, a Thermidor of ideological counter-reform. While Moreno has eased tensions with the markets and international lenders, he is no counterrevolutionary. Rather he's more of a soft-spoken left-winger, who saw an opening and moved quickly to gather power and void Correa's stranglehold on national institutions.
Morenismo has improved Ecuador's political outlook, upgraded from a "hybrid regime" to a "flawed democracy" on the Economist Intelligence Unit's annual Democracy Index. Yet no one is touting Moreno to order public-sector layoffs or aggressive public spending cuts, despite a gaping fiscal deficit amounting to 5.9 percent of gross domestic product, Fitch Ratings reported in a client note. Indeed, by pumping up the national debt, adding another $3 billion just last month, Moreno signaled he has no plans to sacrifice the timid economic recovery to fiscal retrenchment, according to Eurasia Group.
With national debt rising to half of gross domestic product and $8.25 billion in new financing needed through 2018, Ecuador arguably needs more than gradualism. Yet Ecuador's creditors should bear in mind that Moreno also is struggling against a formidable political deficit, and he knows that more aggressive adjustment could threaten the fair-weather political alliance he's relied upon to change course and keep Correa's camp at bay.
"Moreno took office as a weak president sitting atop two very strong factions of hardcore Correa supporters, both of whom want power and independence," Andres Mejia Acosta, a political analyst at King's College, London, told me. "He'll have to work hard to avoid becoming a hostage." Just don't call him a placeholder.
To contact the editor responsible for this story:
James Gibney at jgibney5@bloomberg.net
Before it's here, it's on the Bloomberg Terminal.
LEARN MORE