White House
I've Watched Trump Testify Under Oath. It Isn't Pretty.
In a 2007 deposition in my libel case (which he lost), he was underprepared and overconfident.
by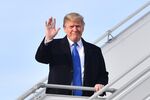 "There's been no collusion whatsoever. There's been no obstruction whatsoever." —Donald Trump, Jan. 24, 2018
President Donald Trump held an impromptu press briefing in the White House early Wednesday evening, popping into a meeting of reporters and his chief of staff and telling the group that he's "looking forward" to speaking "under oath" with Special Counsel Robert Mueller.
That's the Robert Mueller who is overseeing a Justice Department investigation into whether Trump's presidential campaign colluded with the Kremlin to tilt the 2016 election in his favor. That's the Robert Mueller who is examining whether Trump and others in his orbit obstructed law-enforcement efforts to examine that matter. And that's the Robert Mueller scouring the president's businesses and finances. He's already indicted four former Trump insiders for a variety of crimes, including lying to the Federal Bureau of Investigation.
Yet the president mustered the bravado to tell reporters last night that he "would love to" sit down with Mueller in two or three weeks.
Sometimes love is blind.
Whether he realizes it or not, Trump is in a perilous position. He presides over a chaotic White House stocked with competing interests and egos, he's mired in a complex investigation and he's advised and protected by a relatively scanty phalanx of private attorneys. If the president goes mano-a-mano with Mueller, the outcome of that encounter is likely to hinge on how careful, credible and capable he is under oath.
Speaking from experience, I think the president's attorneys should grab their worry beads. Trump sued me for libel in 2006 for a biography I wrote, "TrumpNation," alleging that the book misrepresented his business record and understated his wealth. Trump lost the suit in 2011, but during the litigation my lawyers deposed him under oath for two days in 2007. We had the opportunity to ask Trump about his business and banking practices, his taxes, his personal finances and his professional relationships.
Trump's attorney then was Marc Kasowitz, who also briefly represented the president when the Justice Department investigation first got rolling in Washington. My attorney was Mary Jo White, a former federal prosecutor steeped in many of the same legal traditions and courtroom experiences as Mueller. It didn't go well for the future president.
Hammered by White and her deputies, Trump ultimately had to admit 30 times that he had lied over the years about all sorts of stuff: how much of a big Manhattan real estate project he owned; the price of one of his golf club memberships; the size of the Trump Organization; his wealth; his speaking fees; how many condos he had sold; his debts, and whether he borrowed money from his family to avoid going personally bankrupt. He also lied during the deposition about his business dealings with career criminals.
Trump's poor performance stemmed in part from the fact that he was being interrogated by shrewd attorneys wielding his own business and financial records against him. But there were lots of other things that went wrong as well.
Trump is impatient and has never been an avid or dedicated reader. That's OK if you'd rather play golf, but it's not OK when you need to absorb abundant or complex details. Lawyers typically prepare binders full of documents for their clients to pore over prior to a deposition, hoping to steel them for an intense grilling. My lawyers did that prior to my own deposition in the Trump lawsuit. But Trump didn't appear to be well prepared when we deposed him, a weakness that my lawyers exploited (and that Mueller surely would as well).
Trump, for example, had submitted a document to the court from his accountant outlining his assets and liabilities. He was proud of the document's glowing conclusions but hadn't seemed to have read most of it prior to sitting down with my lawyers – including a section that said that the report wasn't a reliable gauge of his wealth. Trump seemed surprised when my lawyers pointed that out.
Trump also has a well-known inability to stick to the facts and a tendency to dissemble and improvise. While under oath, he'll try to avoid saying that he's lied in the past until he's presented with documentation proving otherwise.
"How do you differentiate between exaggeration and a lie?" one of my lawyers, Andrew Ceresney, asked when discussing inflated sales figures Trump had used to promote a property.
"You want to put the best spin on a property," Trump replied. "No different than any other real estate developer, no different than any other businessman, no different than any politician."
Ceresney pointed out that there was a difference, though: the actual sales figures for the property being discussed, which Ceresney possessed. This is relevant today, because Trump probably doesn't know which documents Mueller has collected. If the president sits down under oath and lies, it's likely that Mueller will have a raft of paperwork on hand to document that fact.
Trump has also courted the spotlight for so long that there's an ample public record going back decades of statements he's made on a wide array of subjects. That's not true of most people sitting for a deposition, but it's true for Trump and it's a problem for him. My lawyers unearthed wildly conflicting statements Trump had made about his wealth over the years, for example, but they only had media and books to rely on. Mueller can dig into the president's ill-considered and possibly damaging Twitter rants about what he calls the Russia "witch hunt," the FBI and his life in the Oval Office.
Trump's campaign and White House aides may have done any number of problematic things without Trump knowing about them, and that could protect him from being charged with setting illegal things in motion (like obstructing a federal investigation, for example). But another Trump weakness is that he basks in the perception that he's the man in charge and everyone else follows his orders.
At moments during his deposition in my libel case, Trump would have been well served to acknowledge that others in his organization – like his chief financial officer – had independently decided to gather and report certain problematic financial information. But Trump couldn't resist saying that his minions at the Trump Organization and elsewhere were just following his orders, a boast that also raised the legal stakes for himself (even if he didn't realize that's what he was doing).
Trump's enthusiasm for a get-together with Mueller clearly freaked out his lawyers, who scrambled to roll back the president's statements shortly after he made them. His lead lawyer, Ty Cobb, said that the president was speaking off the cuff and that a more considered approach to Mueller and his team might be taken.
"He's ready to meet with them, but he'll be guided by the advice of his personal counsel," Mr. Cobb said of the president.
I'm not so sure. Cobb's client hasn't often been guided by advice from anyone. He's probably not going to start now.
To contact the editor responsible for this story:
Jonathan Landman at jlandman4@bloomberg.net
Before it's here, it's on the Bloomberg Terminal.
LEARN MORE