Social Media
Germany Is Attacking Facebook for the Wrong Reason
The regulatory attack on personal data harvesting is based on the unproven assumption that the data are valuable.
by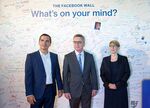 Of all the regulatory threats to Facebook's dodgy business model, Germany's is the hardest to shake off. The German Federal Cartel Office has questioned the company's use of third-party data to help target advertisements. Now that Chancellor Angela Merkel is likely to keep her job through 2021, Facebook faces ever-increasing pressure on this front. But no matter how unpleasant this challenge is to Facebook, it's not enough to bring about fundamental change. 
U.S. internet giants are very much on Merkel's mind. Speaking at the Davos forum on Wednesday, she said:
There are big American companies that have access to data. Data are the raw material of the 21st century. The answer to the question "To whom do data belong?" determines, in the final analysis, whether democracy, participation, digital sovereignty and business success are compatible. 
Europeans, Merkel said, haven't quite decided yet on what the answer should be. "There is great danger that we may be too slow and the world will roll over us while we're having a philosophical discussion about data sovereignty," she continued. "That means we must take action. I believe that with our European socially-oriented market model we have a chance to contribute to a fair digital age in which the privatization of personal data isn't normal."
Merkel's public rhetoric is often calmingly understated, but not in this case. Since she's close to forming a stable coalition government with the Social Democrats, no personnel shakeup is likely to derail Federal Cartel Office head Andreas Mundt's attempt to revise Facebook's data use practices. 
A month ago, the antitrust regulator issued a preliminary assessment that "Facebook is abusing this dominant position by making the use of its social network conditional on its being allowed to limitlessly amass every kind of data generated by using third-party websites and merge it with the user's Facebook account." The third-party data providers include Facebook-owned services such as Instagram and WhatsApp as well as outside websites with integrated Facebook elements such as a like button. By interacting with these elements, users provide Facebook with data about their interests and internet browsing behavior, which Facebook can use to target ads. 
Facebook is open about collecting a broad variety of personal information, from facial recognition data to, yes, "likes" on other sites. Privacy-minded people can easily find out what Facebook knows about them and even download the data. So it's not as if users were deceptively kept in the dark about Facebook's harvesting of "21st century raw materials." That, however, is not the Federal Cartel Office's main concern; it's that Facebook, as a company dominant in its market, forces users to agree to these harvesting practices: They don't really have any place else to go for their digital social needs if they feel uncomfortable about how their data are used. If it's a choice "between accepting 'the whole Facebook package,' including an extensive disclosure of personal data, or not using Facebook at all," as the regulator put it in a December document, and if Facebook is a dominant company, it's illegal in Germany.
Facebook doesn't deny collecting the data but denies dominance. In fact, most German internet users aren't on Facebook: It has 31 million users in the country, about 43 percent of its internet population. In the U.S., Facebook's penetration rate is about 62 percent. But, according to the Federal Cartel Office's definition of Facebook's market, it only competes with smaller general interest social networks such as Google Plus and some tiny German offerings, not even with professional networks such as LinkedIn and Xing, its competitor popular in German-speaking countries, or with messenger apps. The regulator argues these smaller networks can't be good substitutes to Facebook: "There are high barriers to entry. On account of the network effects, users are practically 'locked in' and find it extremely difficult to switch to one of Facebook's competitors."
Though the Federal Cartel Office says it's unlikely to make a decision before early summer, it appears unlikely that Mundt is going to give up on the case -- both because of Merkel's political priorities and because he appears to feel that the investigation serves a bigger purpose. "We are blazing a trail in this case," he told Financial Times this week. "We are looking very closely at the connection between data and market dominance, data and market power, and the possible abuse of data collection."
If Facebook is slapped with an adverse decision, as is likely, and if German courts uphold it, Facebook will need to give users an opportunity to opt out of having certain kinds of data stored on its servers. That in itself won't hurt it much. It will just create another checklist page that more privacy-focused users will be able to visit. Not a huge price to pay.
Both Merkel and the privacy advocates accept it as a given that data are indeed "the raw material of the 21st century." But what if the data collection is a red herring for regulators? That is, what if the real dominance concern isn't the impact on consumer privacy but the potential that Facebook has for abuse in it's "data-based" advertising model?
To answer that question, a different line of investigation is needed. How do the companies use what they harvest? Is Facebook's ability to get information about "likes" on websites actually helping it to target ads? Does that make the ads any more effective? Could Facebook perhaps be overestimating -- or, more likely, overselling -- its ability to target advertising any better than a print magazine or a TV station might?
No independent public research into the efficiency of Facebook's ad targeting is available, because Facebook won't allow outside ad efficiency audits. Its offering to advertising could be fraudulent, for all we know, and the data collection, such as it is, could be harmless and thus unnecessary. That advertisers seem to buy into Facebook's promises is no proof that these promises are legit: Advertisers are human, and they can be swayed by futuristic rhetoric. Even Merkel is not immune.
Opening up the Facebook (and Google) black box would be a more relevant approach for European regulators to take. Who knows, Merkel might find out that this century's real raw materials aren't too different from last century's. And in any case, it could be useful for future data regulation to know what kinds of data are valuable and thus especially sensitive.
To contact the editor responsible for this story:
Therese Raphael at traphael4@bloomberg.net
Before it's here, it's on the Bloomberg Terminal.
LEARN MORE