Prophets
Trump's First Year Echoes Obama's Record on the Economy
The two presidents are in a dead heat in terms of gross domestic product and real consumer spending.
by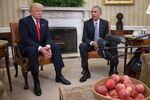 The first year of Donald Trump's presidency was marked by some of the worst political turbulence in modern U.S. history. But when it comes to the economy and markets, the surprise is how little change, good or bad, has occurred.
Let's start with economics. The prevailing view is that conditions have improved over the past year. I've compared the performance of some indicators during Trump's first year to the averages for President Barack Obama's first and second terms.
Based on official data through the third quarter of 2017, augmented by consensus estimates for the fourth quarter, the U.S. economy grew at an annual rate of 2.3 percent from a year earlier. That is a smidgen above the annual average growth rate of Obama's second term (2.2 percent), which itself was a significant improvement from the 0.9 percent average rate in his first term, when the economy was dragged down in its first year by the deepest recession of the postwar era.
In other words, comparing the final Obama term with the first Trump year shows a dead heat in terms of gross domestic product.
The same is true for real consumer spending: 2.8 percent estimated rate in 2017 versus a 2.7 percent annual average in Obama's second term.
Trump does better in business investment spending -- real fixed non-residential capital formation was up an estimated 4.5 percent in 2017, versus an annual average of 3 percent under Obama from 2013 to 2016. The acceleration last year was boosted by expectations for corporate tax and regulatory relief.
Forward-looking indicators also tip the scales to Trump. The composite ISM index of manufacturing and services climbed steadily last year to an average of 57.0, compared with 55.4 during Obama's second term.
What about corporate profits? Estimated after-tax profits growth under Trump comes to 6.8 percent, almost exactly the same as the average annual rate over Obama's entire tenure (6.7 percent), albeit a sharp jump compared with Obama's second-term average of 0.9 percent.
Next to GDP growth, job creation is the most widely followed metric of economic performance. Based on U.S. non-farm private payrolls, Trump comes up short. Last year there were slightly more than 2 million such jobs created, a figure the Obama administration surpassed handily each year of its second term (an average of more than 2.4 million jobs per year). Indeed, Trump's job creation was lower than in any of the last six years of the Obama administration. Only if one includes the deep recession of 2009 (almost 5 million jobs lost), does the Obama full-term average compare unfavorably to Trump's first year.
Finally, consider the decline in the unemployment rate. The civilian number peaked at 10 percent in October 2009 (during Obama's first term) and fell to 4.7 percent at the end of his second term. Over the past year, it has declined further to its present level of 4.1 percent. The rate of decline may have sped up a bit in 2017, but the fall in joblessness under Obama is nevertheless clear.
How do the data stack up from a financial market perspective?
The S&P 500 index rose about 24 percent in 2017. That tops the four- and eight-year average gains of the Obama administrations, though in two years (2009, 2013) the Obama market did better. Still, the first-year Trump performance is impressive. It would rank well above the long-term average annual advance and it came against a backdrop of already elevated profit margins and valuations.
On a different comparison, however, the Trump equity rally looks less remarkable. Compared with common currency returns in Europe, Japan and emerging markets, the S&P 500 lagged behind last year.
Giving Trump full credit for the bull market is also going too far. Overseas markets were driven by improving global growth and surging domestic profitability, factors beyond the reach of the president's powers. Those drivers also helped lift U.S. profits (about one-third of S&P 500 earnings are foreign-derived).
Moreover, the dollar fell during most of Trump's first year. That further boosted the dollar value of foreign-sourced U.S. earnings, but also reduced Americans' purchasing power. Neither is a plus for the administration.
Lastly, U.S. bond yields rose, in fits and starts, over 2017. Much of that move reflected the Federal Reserve's decision to lift short rates. But rising long-term U.S. Treasury yields since mid-2017 mostly reflect higher expected inflation, not rising real rates of interest. Put differently, the bond market prices skepticism about the central tenant of "Trumponomics," namely that deregulation and tax cuts will sustainably lift U.S. real growth.
To be sure, the measures used above are not conclusive. Data will be revised. Other measures (productivity, per-capita income growth, Gini coefficients) might yield different answers. And a president's true impact can only be evaluated after considerable time has elapsed.
Still, the preliminary conclusion is that the Trump record is modest, at best. The economy performed well in 2017, but not significantly better than its prior trend. The corporate sector showed more vigor, responding to a more business- and tax-friendly administration. But improved economic and financial conditions abroad also helped. Meanwhile, U.S. job creation slowed somewhat and the dollar weakened.
Neither the gains nor the losses can be fully ascribed to Trump. Perhaps, therefore, the biggest surprise is that, for all the fire and fury, less has changed than one might think.
To contact the editor responsible for this story:
Max Berley at mberley@bloomberg.net
Before it's here, it's on the Bloomberg Terminal.
LEARN MORE